I enjoyed glorious weather with friends at the beach this week, and several days later, I'm still dealing with the nasty sunburn it cost me. I applied sunscreen, I swear I did. In fact, I'm diligent about it. The truth is that I'm still repenting for my teen years filled with baby oil and major skin damage. So to tell you I was surprised by my burn is an understatement. I've even considered that the can of spray sunscreen I used was defective.
My legs and one patch on my chest are scorched. It hurts to bend my left knee still and wearing a bra has proved to be impossible. Ouchy ouch ouch. I've practically been bathing in aloe vera.
Looking back, I think I see where I went wrong.
1. Lotion and solid sticks, in general, work best. Spray is convenient, but there's no way to make sure you've covered every inch of exposed skin. Lotions and solid sticks require you to actually smooth them over skin, thus feeling an area that isn't yet protected. I have a policy of applying lotion at home before venturing out to the beach, pool, or water park and using spray only for reapplications. That morning, I put lotion on the kids only. When we got to the beach, I broke my own rule and only used spray on my skin. Bad, bad decision.
2. It takes approximately 15 minutes for sunscreen to soak into your skin and protect you. After spraying my legs, I, almost immediately went into the ocean.
3. You may have to reapply more often than you realize. Between the water, sweat, and high UV index that day, I should have been repplying at least once an hour. I only did it once over the course of a five hour day.
4. Pay attention to the wind while applying spray sunscreen. Despite this experience, I know I won't give up the convenience of spray sunscreen. However, it's typically pretty breezy at the beach, which likely affected how well the spray covered me.
5. Covering up can be the key. I wish I brought an extra towel, wet it in the ocean, and laid it over my legs. That trick works to keep you cool, but covered.
Do you have sun safety tips to share?
BEACH TRIP HACKS EVERY PARENT REALLY NEEDS THAT ARE PURE GENIUS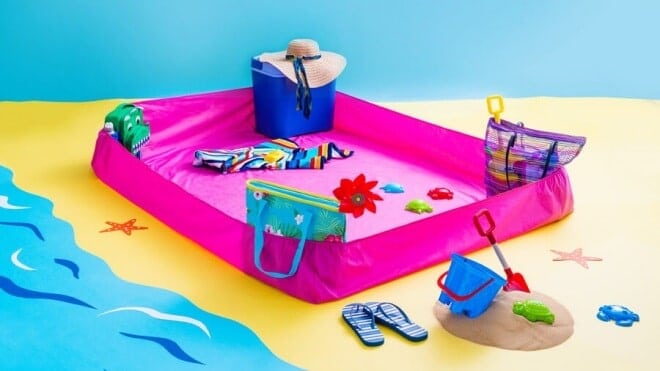 A family beach trip with kids sounds like the perfect summer outing ... in theory. The reality involves packing tons of gear and snacks, struggling to slather squirmy kids in sunscreen, and lots of sand, of course -- getting everywhere from your sandwich to your sandals. There has to be an easier way, right? Turns out, there is!