Wednesday, August 3, 2022
Watermelon is the perfect fruit to enjoy on August 3rd. It is also National Watermelon Day. Enjoyed by many, it is a favorite at summertime events such as picnics and fairs. Watermelon is 92% water, which is why it is so refreshing. It's summer in a slice try our Watermelon Cake recipe that is almost too pretty to eat (we said almost).
Watermelon is a vine-like flowering plant originally from southern Africa. Its fruit, which is also called watermelon, is a special kind referred to by botanists as a pepo, a berry which has a thick rind (exocarp) and fleshy center (mesocarp and endocarp). Pepos are derived from an inferior ovary and are characteristic of the Cucurbitaceae. The watermelon fruit, loosely considered a type of melon – although not in the genus Cucumis – has a smooth exterior rind (usually green with dark green stripes or yellow spots) and a juicy, sweet interior flesh (usually deep red to pink, but sometimes orange, yellow, or white).
The fruit was likely first cultivated for its ability to hold plentiful water in a desert landscape, especially since the wild melon was bitter or tasteless.  Seeds and art found in tombs of Pharaohs are substantial evidence of the watermelon's value. Cultivation and breeding brought out the better qualities of sweet and tender fruit we enjoy today.
Watermelons can grow enormous, and you will find competitions across the country which award prizes each year for the largest one.  The Guinness Book of World Records states that the heaviest watermelon weighed 262 pounds.

Five Food Finds about Watermelons:
By weight, watermelon is the most-consumed melon in the U.S., followed by cantaloupe and honeydew.

Watermelon is 92% water.

The first recorded watermelon harvest occurred nearly 5,000 years ago in Egypt.

Watermelon's official name is Citrullus Lanatus of the botanical family Curcurbitaceae. It is cousins to cucumbers, pumpkins and squash.

Early explorers used watermelons as canteens.
Watermelon Cake recipe
Total: 3 hours 30 mins
Yield: 16 servings
INGREDIENTS
• 1 box vanilla cake mix, plus ingredients called for on box
• 2 tsp. red gel food coloring, divided
• 1 c. semisweet chocolate chips
• 1 tbsp. all-purpose flour
• 1 1/2 c. butter, softened
• 6 c. powdered sugar
• 2 tsp. pure vanilla extract
• 4-6 tbsp. heavy cream
• 1 tsp. green gel food coloring
• White fondant
• 1/2 tsp. Black gel food coloring
DIRECTIONS
1. Preheat oven to 350°. Line two 8" round cake pans with parchment paper and grease with cooking spray.

2. Prepare cake mix according to package instructions, then stir in 1 teaspoon red gel food coloring to achieve desired color.

3. In a small bowl, toss chocolate chips and flour until completely coated (to prevent the chocolate chips from sinking). Gently fold chocolate chips into the batter.

4. Divide cake batter between prepared pans and bake according to package instructions or until a toothpick inserted into the center comes out clean, about 25 minutes. Let cakes cool in pans for 10 minutes, then invert onto wire racks to cool completely.

5. Make frosting: In a large bowl using a hand mixer, beat butter and about half of the powdered sugar until smooth. Add the remaining powdered sugar, vanilla and 4 tablespoons heavy cream and beat until fluffy. If the mixture is too stiff, add more heavy cream.

6. Divide frosting into two medium bowls and one small bowl. Leave one medium-size bowl of frosting white and stir the remaining teaspoon red gel food coloring into the other medium bowl of frosting. Stir the green food coloring into the smaller bowl of frosting.

7. Place a dab of white frosting on the cake plate (to keep cake in place) and place parchment strips on each side of the cake plate. Place down first cake and top with white frosting, then top with second cake and frost with a thin crumb coat of white frosting.

8. Place the remaining white frosting into a piping bag fitted with a small round piping tip, and the red and green frosting into piping bags fitted with larger round piping tips.

9. Starting at the bottom of the cake, pipe one row of green frosting at the bottom. Then pipe a thin line of white frosting above the green frosting. Finish the rest of the cake by piping rows of red frosting on the sides and top of the cake.

10. Smooth the rows of green, white and red frosting with an offset spatula held vertically, or a bench scraper.

11. Knead black gel food coloring into a golf-ball size piece of fondant. Roll out the black fondant to 1/8" thickness with a rolling pin. Cut out 20 to 30 "watermelon seeds" using a small petal-shaped cookie cutter.

12. Place fondant watermelon seeds on the red part of the frosted cake in two rows.
THE ISSUES WITH SKINNY MEN
NATIONAL ICE CREAM SANDWICH DAY
GROW LONGER NATURAL EYELASHES RIGHT NOW (7 EASY WAYS)
BEACH TRIP HACKS EVERY PARENT REALLY NEEDS THAT ARE PURE GENIUS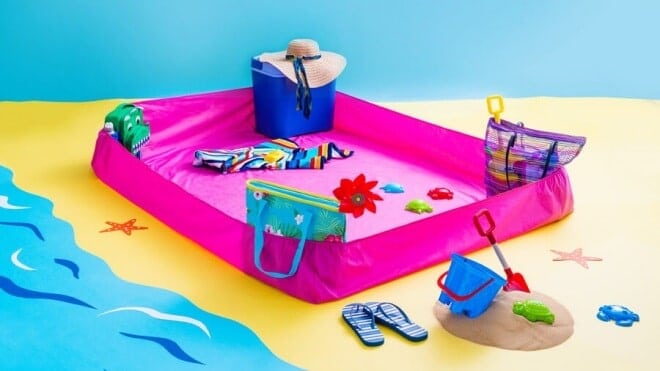 A family beach trip with kids sounds like the perfect summer outing ... in theory. The reality involves packing tons of gear and snacks, struggling to slather squirmy kids in sunscreen, and lots of sand, of course -- getting everywhere from your sandwich to your sandals. There has to be an easier way, right? Turns out, there is!
7 TELLTALE SIGNS TO EASILY SPOT A LIAR
8 FOODS THAT CAN HELP SOOTHE A HEADACHE
Reach for one of these healthy ingredients the next time your head is pounding.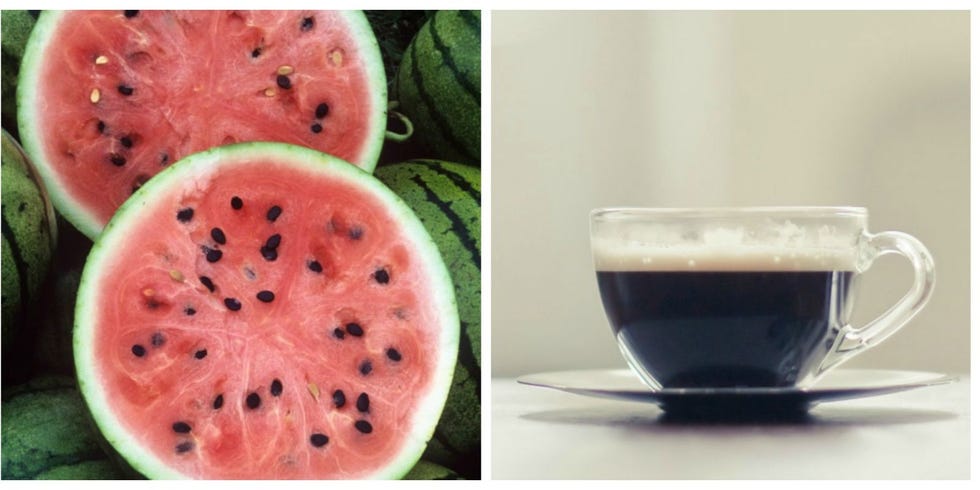 When a headache strikes, you may run through your usual routine: Turn out the lights, lie down and pop a pain pill. But did you know that certain foods may ease, and even prevent, headaches? Add these soothing foods to your shopping list and find out for yourself.
NUTRITIONISTS SELECT THE TOP 15 HEALTHY FAST FOOD RESTAURANTS