Packed with flavor, protein and nutrients, veggie burgers show up at backyard barbecues, tailgate parties and on the menus of high-class restaurants.  Grill them, fry them or bake them. Layer all your favorite toppings like onion, tomato, lettuce, cheese, ketchup and mustard between crusty roll or bun and take a big juicy bite.  That's one way to celebrate National Veggie Burger Day.
HOW TO OBSERVE
Give a veggie burger a taste. Have a veggie burger cook-off.  Invite your friends and family to grill up and stack up their favorite burger combos and share! Use #VeggieBurgerDay to share on social media.
HISTORY
Amy's Kitchen founded National Veggie Burger Day to encourage everyone to eat a veggie burger and celebrate the positive impact plant-based veggie burgers have on us and the planet. The Registrar at National Day Calendar declared the day to be observed annually in 2017.
Ultimate Sriracha Veggie Burger
If you need to convince a meat-eater that veggie burgers can be drool-worthy, this is the perfect recipe. Anyone who tastes this burger will not be missing anything … except perhaps a few pleasantly burned taste buds
Ingredients
• 1/4 cup vegan mayonnaise
• 2 tsp. ground cumin
• 1 clove garlic, minced
• 2 Tbsp. plus 1/4 cup Sriracha
• 1 3/4 cups cooked black beans or 1 15-oz. can black beans, rinsed and drained
• 1 Tbsp. ground flaxseeds
• 3 Tbsp. water
• 3 Tbsp. extra-virgin olive oil
• 1 cup diced red onion
• 8 oz. cremini or button mushrooms, thinly sliced
• 2 Tbsp. minced fresh cilantro
• 2 cloves garlic, peeled
• 1 Tbsp. Bragg Liquid Aminos or low-sodium soy sauce
• 2 tsp. freshly ground black pepper
• 1 1/2 cups fresh bread crumbs
• 4 sesame seed buns or ciabatta rolls
• Arugula leaves, for garnish
• 1 roasted red bell pepper, cut into long strips
• 1 ripe Hass avocado, pitted and sliced just before serving
Directions:
1. Combine the vegan mayonnaise, cumin, garlic, and 2 tablespoonfuls of the Sriracha in a small bowl and stir until well combined. Cover and refrigerate until ready to use.
2. Spread the black beans in a single layer on a clean kitchen towel or on paper towels. Cover with an additional towel or more paper towels and pat dry.
3. In a small bowl, mix the flaxseeds and water and let sit for several minutes, until a gel forms.
4. Heat the oil in a large cast-iron or nonstick frying pan over medium-high heat. Add the onion and sauté until softened, about 5 to 7 minutes.
5. Add the mushrooms and sauté until they have given off their moisture and begin to brown, about 5 to 7 minutes. Remove from the heat and let cool slightly.
6. Transfer to a food processor and add the beans, flaxseed gel, cilantro, garlic, remaining Sriracha, Bragg Liquid Aminos, pepper, and 1 cupful of the bread crumbs. Pulse until just combined, with some chunky bean bits still intact. Form the mixture into 4 patties and let sit while you preheat the grill. If the patties aren't firm enough to hold their shape, incorporate additional bread crumbs by hand, then form into patties again.
7. Lightly oil a grill or grill pan and preheat to medium-high heat. Using a metal spatula, gently transfer the patties onto the grill. Cook until well browned on both sides, about 10 minutes total, gently flipping once about halfway through. Lightly toast the buns during the last minute or two of cooking, if desired.
8. To assemble the burger, spread the refrigerated Sriracha-cumin sauce on the top and bottom of each bun. Load each up with a patty, a small handful of arugula, and one-fourth of the red bell pepper and avocado. Serve immediately.
Note: For a gluten-free version of this burger, substitute almond flour for bread crumbs and use gluten-free hamburger buns or wrap your topped burgers in large leaves of iceberg, Boston, or Bibb lettuce.
 
Makes 4 servings
8 FOODS THAT CAN HELP SOOTHE A HEADACHE
Reach for one of these healthy ingredients the next time your head is pounding.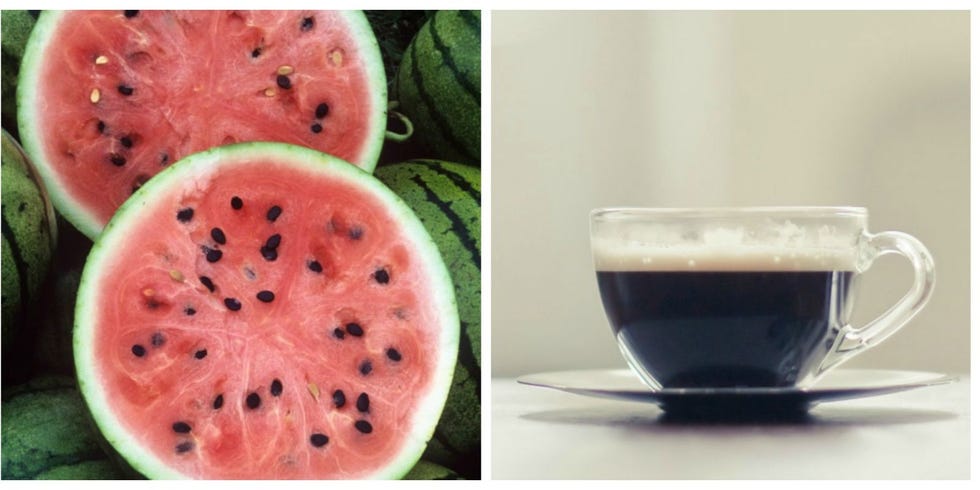 When a headache strikes, you may run through your usual routine: Turn out the lights, lie down and pop a pain pill. But did you know that certain foods may ease, and even prevent, headaches? Add these soothing foods to your shopping list and find out for yourself.