Wednesday, August 31, 2022
Observed annually on August 31, National Trail Mix Day honors the mix that was developed as a healthy snack to be taken along on hikes. Find a taste perfect for travel with the Trail Mix Cereal Treats recipe listed below.
Trail mix is an ideal hike snack food because it is very lightweight, easy to store, nutritious and provides a quick energy boost from the carbohydrates in the dried fruits or granola as well as sustained energy from the fats in the nuts. One claim to the invention is held by two California surfers, who in 1968 blended peanuts and raisins together for an energy snack. However, in the 1958 novel The Dharma Bums written by Jack Kerouac, trail mix is mentioned when the two main characters describe the planned meals in preparation for their hiking trip.

Five Food Finds about Trail Mix:
• Trail mix is a combination of dried fruit, grains, nuts, and sometimes chocolate, developed as a snack food to be taken along on outdoor hikes.
• Trail mix is considered an ideal snack food for hikes, because it is tasty, lightweight, easy to store, and nutritious, providing a quick boost from the carbohydrates in the dried fruit and/or granola, and sustained energy from the mono- and polyunsaturated fats in nuts.
• Many claim that trail mix was first invented in 1968 by two California surfers who blended peanuts and raisins together for an energy snack.
• However, trail mix is also mentioned in Jack Kerouac's 1958 novel The Dharma Bums as the two main characters describe their planned meals in their preparation for a hiking trip.
• The recipe for trail mix is most likely European in origin, where it has been known as a snack under various names in various countries since the 17th century.
Trail Mix Cereal Treats
..................................................................................
Total                Yield                    Level
1 hr               24 Treats               Easy
..................................................................................
INGREDIENTS
• 4 tablespoons unsalted butter, plus more for greasing
• One 10-ounce bag mini marshmallows
• Kosher salt
• 6 cups oven-toasted rice cereal, like Rice Chex
• 1/2 cup salted and roasted almonds, roughly chopped
• 1/2 cup raisins, dried cranberries or cherries
• 1/4 cup salted and roasted sunflower seeds
• 1/2 cup candy-coated chocolate candies, such as M&M's
DIRECTIONS
1. Grease a 1/4 dry measuring cup and the cups the muffin tray with butter.

2. Melt the butter in a large pot over medium heat. Add the marshmallows and a large pinch of salt and cook, stirring occasionally, until the marshmallows melt completely, about 5 minutes. Remove from the heat. Add the cereal, almonds, raisins and sunflower seeds and stir with a rubber spatula, making sure to scrape down to the bottom, until the cereal is completely coated. Let the mixture cool for a few minutes and then quickly fold in the candy.

3. Use the prepared measuring cup to mound the mixture into the cups of the prepared muffin tray. Pat the domes together gently to help the treats hold their shape. Let sit at room temperature until firm, about 30 minutes.

4. Store at room temperature in an airtight container for up to 3 days.

NATIONAL TOASTED MARSHMALLOW DAY
JUST IN TIME FOR THE 4TH OF JULY ON HOW TO MAKE PATRIOTIC POPCORN
STILL HUNGRY? FOODS THAT MAKE YOU WANT MORE — HERE'S WHAT TO EAT INSTEAD
7 TELLTALE SIGNS TO EASILY SPOT A LIAR
8 FOODS THAT CAN HELP SOOTHE A HEADACHE
Reach for one of these healthy ingredients the next time your head is pounding.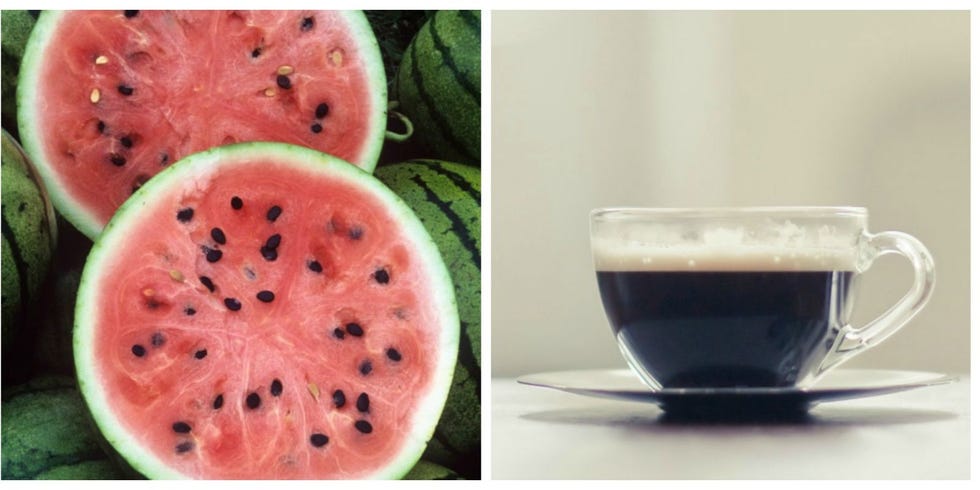 When a headache strikes, you may run through your usual routine: Turn out the lights, lie down and pop a pain pill. But did you know that certain foods may ease, and even prevent, headaches? Add these soothing foods to your shopping list and find out for yourself.
STUBBORN CARPET STAINS AND HOW TO REMOVE THEM! (YES, EVEN CAT PEE)
NUTRITIONISTS SELECT THE TOP 15 HEALTHY FAST FOOD RESTAURANTS