Tuesday, August 30, 2022
On August 30 be sure to stock up on one of America's favorite fire roasted treats. It's National Toasted Marshmallow Day! Find a taste of the outdoors in summer with the Homemade Toasted Coconut Marshmallows listed below.
Get your friends together, gather up some firewood, a few long sticks and a bag of marshmallow and you have the makings of a great night ahead of you. Toasted marshmallows are a special part of summer evenings around a bonfire. One of the popular ways to enjoy a delicious warm, gooey toasted marshmallow is with chocolate and graham crackers in a S'more.

Five Food Finds about Marshmallow:
• This confection is the modern version of a medicinal confection made from Althaea officinalis, the marshmallow plant.
• Not all marshmallows are vegan, most marshmallows contain eggs or animal based gelatin.
• The marshmallow is a confection that, in its modern form, typically consists of sugar, corn syrup, water, gelatin that has been softened in hot water, dextrose, vanilla flavorings, and sometimes coloring, whipped to a spongy consistency.
• The marshmallow probably first came into being as a medicinal substance, since the mucilaginous extracts comes from the root of the marshmallow plant, Althaea officinalis, which were used as a remedy for sore throats.
• Concoctions of other parts of the marshmallow plant had medical uses as well.
Homemade Toasted Coconut Marshmallows
..................................................................................
Prep                  Cook                    Ready
20 min               20 min               40 min
..................................................................................
INGREDIENTS
• 2 cup shredded coconut
• 1 cup water, divided
• 3 envelope unflavored gelatin
• 1 1⁄2 cup white sugar
• 1 cup light corn syrup
• 1⁄4 tsp kosher salt
• 2 tsp vanilla extract
• 1⁄2 tsp coconut extract
• 1⁄2 tsp oil
DIRECTIONS
1. Preheat oven to 350 degrees F (175 degrees C).

2. Spread out coconut in a shallow baking pan and toast, stirring occasionally, for 7-10 minutes or until golden brown.

3. Pour 1/2 cup water into a large bowl, sprinkle in gelatin, and set aside to soften.

4. Heat remaining 1/2 cup water, sugar, corn syrup, and salt in a small heavy saucepan over low heat, stirring continuously until the sugar dissolves. Increase heat to medium and bring to a boil, without stirring, washing any sugar crystals down the side of the pan with a pastry brush dipped in cold water. Place a candy thermometer in the syrup and continue boiling, without stirring, until the syrup reaches 240 degrees F (115 degrees C). Remove from heat and allow to stand until the bubbles dissipate.

5. With a mixer on low speed, carefully pour the hot syrup slowly over the gelatin in a thin stream down side of bowl. Increase speed to high and beat until very thick, about 15 minutes. Add vanilla and coconut extracts and beat for 1 minute more.

6. Grease a pan with oil, then evenly sprinkle the bottom with 1/2 cup toasted coconut. Pour marshmallow mixture into the prepared pan and smooth the top with dampened fingertips (it will be sticky). Evenly sprinkle the top with 1/2 cup toasted coconut. Let stand, uncovered, at room temperature until firm, about 2 hours or up to overnight.

7. Run a sharp knife around edge of the pan and invert the marshmallow onto a cutting board. Cut into 3/4 inch wide strips, then cut each strip into 3/4 inch squares. Put the remaining toasted coconut in a small bowl and dip marshmallows to coat completely.
STILL HUNGRY? FOODS THAT MAKE YOU WANT MORE — HERE'S WHAT TO EAT INSTEAD
BACK PAIN? HERE ARE THE 5 BEST EXERCISES FOR PEOPLE WITH BACK PAIN
7 TELLTALE SIGNS TO EASILY SPOT A LIAR
8 FOODS THAT CAN HELP SOOTHE A HEADACHE
Reach for one of these healthy ingredients the next time your head is pounding.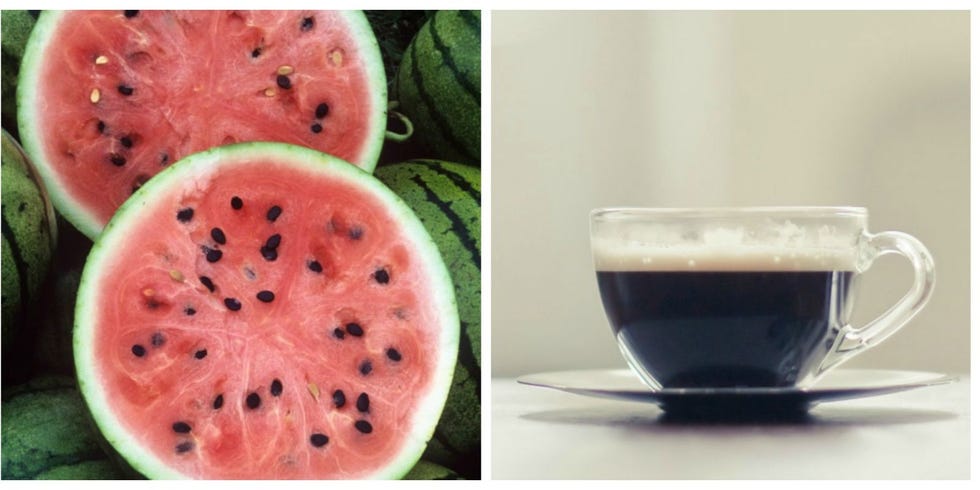 When a headache strikes, you may run through your usual routine: Turn out the lights, lie down and pop a pain pill. But did you know that certain foods may ease, and even prevent, headaches? Add these soothing foods to your shopping list and find out for yourself.
STUBBORN CARPET STAINS AND HOW TO REMOVE THEM! (YES, EVEN CAT PEE)
NUTRITIONISTS SELECT THE TOP 15 HEALTHY FAST FOOD RESTAURANTS