Made from the blue agave plant, tequila has a deep and storied history. Named after the small town of Tequila in a valley west of Guadalajara in Jalisco, Mexico, the spirit was known as mezcal wine about the time the conquistadors came to the continent.
Many names we recognize on the labels today were the very first commercial producers of tequila. In fact, Jose'Antonio Cuervo held the first license for manufacturing the favored beverage, courtesy of the King of Spain. He kept well-known company. Don Cenobio Sauza and Félix López, also producers of tequila, whose businesses continue in some form today.
Agave grows in a variety of ways.  Blue agave, grown in the highlands region, is larger in size and sweeter in aroma and taste.  Agave grown in the lowland regions have a more herbaceous fragrance and flavor. Like similar legislation for bourbon and cognac, Mexican law states tequila is only tequila if it is produced within Jalisco and limited regions in the states of Guanajuato, Michoacan, Nayarit, and Tamaulipas.  If the same ingredients are distilled anywhere else, it's not tequila.
While many have enjoyed tequila cocktails such as the margarita or tequila sunrise, a good tequila can be savored like a good whiskey.  Tequila is experiencing a renaissance of sorts as savvy drinkers discover tequila doesn't have to be the fire water of our youth.

Five Food Finds about Tequila:
• Over 50 million liters of tequila are consumed in America annually.
• Studies have shown that consuming tequila can cut your risks of dementia by 37%.
• Some tequila is aged in barrels. Many are aged up to 30 years to create the perfect flavor.
• It also has a component that can help lower LDL levels, aka bad cholesterol.
• A 1918 flu epidemic led to a tequila boom in Mexico. Doctors advised ailing patients to drink tequila, lime, and salt as a remedy.
HOW TO OBSERVE
Enjoy National Tequila day with some friends (Remember always to drink responsibly and never drink and drive).  Post on social media using #NationalTequilaDay.
HISTORY
Within our research, we were unable to identify the origin of National Tequila Day.
Beer Margaritas
Total              Yield
     5 min            6 servings
INGREDIENTS
1 (12 fluid ounce) can frozen limeade concentrate
12 fluid ounces tequila
12 fluid ounces water
12 fluid ounces beer
ice
1 lime, cut into wedges
DIRECTIONS
1. Pour limeade, tequila, water, and beer into a large pitcher. Stir until well-blended, and limeade has melted. Add plenty of ice, and garnish with lime wedges. Adjust with additional water, if needed.

BEACH TRIP HACKS EVERY PARENT REALLY NEEDS THAT ARE PURE GENIUS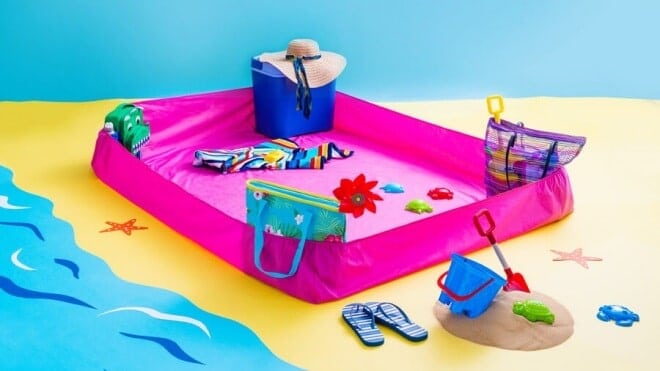 A family beach trip with kids sounds like the perfect summer outing ... in theory. The reality involves packing tons of gear and snacks, struggling to slather squirmy kids in sunscreen, and lots of sand, of course -- getting everywhere from your sandwich to your sandals. There has to be an easier way, right? Turns out, there is!