Sunday, August 21, 2022
National Sweet Tea Day is observed annually on August 21st. This day is set aside to celebrate one of summer's favorite drinks. Brew and enjoy a glass of sweet tea with friends using this Southern Sweet Iced Tea recipe listed below.
Sweetened, with or without lemon, it is loved by many and enjoyed by the glass full all summer long. Sweet tea can be found in many flavors including lemon, peach, raspberry, lime, passions fruit, strawberry and cherry.

Five Food Finds about Tea:
• Many say iced tea was 'invented' at the 1904 St. Louis World's Fair where ice was added to hot tea to cool down the visitors.
• Thomas Sullivan 'accidentally' invented the teabag when he sent out tea samples in small silk pouches to customers in 1904. The pouches proved much less messy thatn raw tea leaves. The rest is history.
• Tea is believed to have arrived in Europe thanks to a Portuguese Jesuit priest named Jasper de Cruz after visiting China in 1590.
• Drinking tea helps boost the immune system do to its natural antibacterial properties.
• Tea can also help regulate cholesterol.
Southern Sweet Iced Tea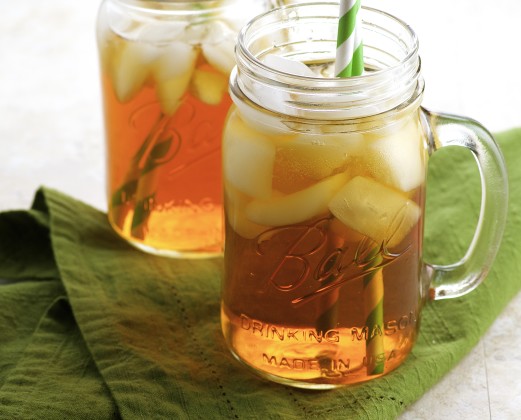 Yields
2 Quarts
INGREDIENTS
• 6 regular tea bags
• 1⁄8 teaspoon baking soda
• 2 cups boiling water
• 1 1⁄2-2 cups sugar
• 6 cups cold water
DIRECTIONS
1. In a large glass measuring cup, place the tea bags and add the baking soda.

2. Pour the boiling water over the tea bags.

3. Cover and steep for 15 minutes.

4. Take out the tea bags and do not squeeze them.

5. Pour the tea mixture into a 2-quart pitcher; add the sugar.

6. Stir until the sugar is dissolved.

7. Add in the cold water.

8. Let cool; chill in the refrigerator and serve over ice.
NATIONAL CHOCOLATE PECAN PIE DAY
Saturday, August 20, 2022
National Pecan Pie Day is observed each year on July 12. However, if you add some chocolate to this delicious dessert, you can celebrate National Chocolate Pecan Pie Day on August 20. Enjoy and share with your friends and family the delicious Chocolate Pecan Pie Bars recipe listed below.