Friday, August 19, 2022
National Soft Ice Cream Day is observed annually on August 19th. Soft service ice cream is the result of air being introduced to the dairy product during the freezing process. In honor of Soft Ice Cream Day try this delicious treat Cinnamon Ice Cream recipe listed below.
In 1934 on Memorial Day weekend, Tom Carvel had a flat tire on his ice cream truck in Hartsdale, New York. After pulling into a parking lot, he began selling the softened ice cream to vacationers driving by. With amazement, seeing the love that people had for soft ice cream, he concluded that a fixed location selling the new-found dessert was potentially a good business idea. In 1936, Carvel opened his first store on the original broken down truck site, selling his secret formula soft serve ice cream dispensed from his patented super low-temperature ice cream machines.

Five Food Finds about 5 amazing Ice Cream facts:
• An average dairy cow can produce enough milk in her lifetime to make a little over 9,000 gallons of ice cream.
• The first ice cream recipe was handwritten in the recipe book of Lady Anne Fanshawe in 1665.
• Chocolate ice cream was invented long before vanilla, and the first documented recipe for it appeared in the book The Modern Steward, published in Italy in 1692.
• In the U.S., all ice cream needs to have a minimum of 10% milkfat if it is to be labeled "ice cream". This includes custard based (French Style) ice creams.
• The Häagen-Dazs brand was established by two Americans – Reuben and Rose Mattus – and the name was made up to sound Danish and sophisticated. The Danish language does not actually use umlauts.
Cinnamon Ice Cream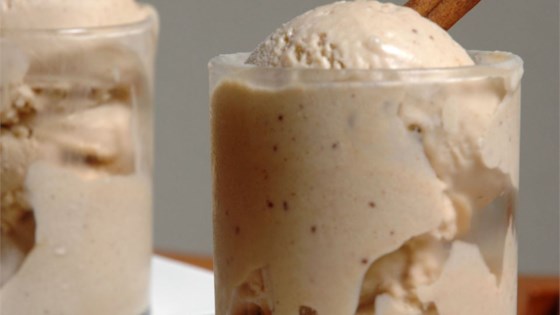 Prep           Cook             Ready In
5 m               15 m                 1 h  50 m
INGREDIENTS
• 1 cup white sugar
• 1 1/2 cups half-and-half cream
• 2 eggs, beaten
• 1 cup heavy cream
• 1 teaspoon vanilla extract
• 2 teaspoons ground cinnamon
DIRECTIONS
1. In a saucepan over medium-low heat, stir together the sugar and half-and-half. When the mixture begins to simmer, remove from heat, and whisk half of the mixture into the eggs. Whisk quickly so that the eggs do not scramble. Pour the egg mixture back into the saucepan, and stir in the heavy cream. Continue cooking over medium-low heat, stirring constantly, until the mixture is thick enough to coat the back of a metal spoon. Remove from heat, and whisk in vanilla and cinnamon. Set aside to cool.

2. Pour cooled mixture into an ice cream maker, and freeze according to the manufacturer's instructions.
NATIONAL ICE CREAM PIE DAY
Thursday, August 18, 2022
National Ice Cream Pie Day is observed annually on August 18th. This food holiday honors this refreshing frozen dessert that comes in many delicious flavors. Plus enjoy a cool and buzzy ice cream pie for a slow summer day with the Chocolate Crunch Ice Cream Pie recipe listed below.