Wednesday, September 21, 2022
Each year on September 21, people across the United States celebrate National Pecan Cookie Day. This delicious cookie can be eaten and enjoyed morning, noon and night by hungry snackers everywhere. To celebrate National Pecan Cookie Day, try this "tried and true" Raisin Pecan Oatmeal Cookies recipe listed below.
Another pecan related celebration is National Pecan Day on April 14. Pecan is an Algonquian word, meaning "a nut requiring a stone to crack". A member of the hickory family, the pecan is native to central and southern United States.

Five Food Finds about Pecan Cookie:
• If the body does not get enough zinc, it may have difficulty producing testosterone – a key hormone in initiating sexual desire in both men and women. Pecans provide nearly 10 percent of the recommended Daily Value for zinc.
• It would take 11,624 pecans, stacked end to end, to reach the top of the Empire State Building in New York City.
• Texas adopted the pecan tree as its state tree in 1919. In fact, Texas Governor James Hogg liked pecan trees so much that he asked if a pecan tree could be planted at his gravesite when he died.
• Albany, Georgia, which boasts more than 600,000 pecan trees, is the pecan capital of the U.S. Albany hosts the annual National Pecan Festival, which includes a race, parade, pecan-cooking contest, the crowning of the National Pecan Queen and many other activities.
• Pecan trees usually range in height from 70 to 100 feet, but some trees grow as tall as 150 feet or higher. Native pecan trees – those over 150 years old – have trunks more than three feet in diameter.
Raisin Pecan Oatmeal Cookies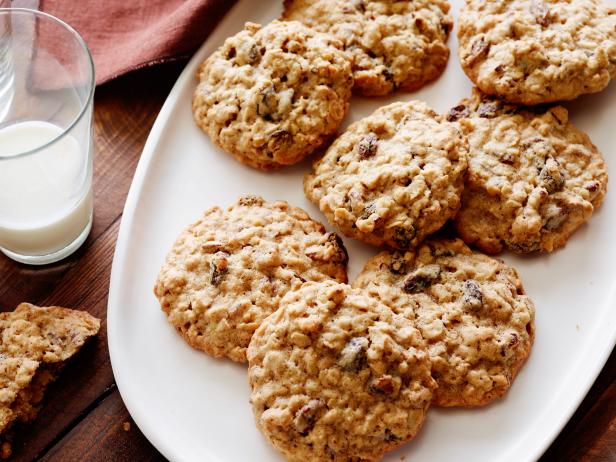 ...................................................................................
Prep                  Cook                    Yield
               5 min                25 min              30 to 35 Servings
..................................................................................
INGREDIENTS
• 1 1/2 cups pecans
• 1/2 pound (2 sticks) unsalted butter, at room temperature
• 1 cup dark brown sugar, lightly packed
• 1 cup granulated sugar
• 2 extra-large eggs, at room temperature
• 2 teaspoons pure vanilla extract
• 1 1/2 cups all-purpose flour
• 1 teaspoon baking powder
• 1 teaspoon ground cinnamon
• 1 teaspoon kosher salt
• 3 cups old-fashioned oatmeal
• 1 1/2 cups raisins
DIRECTIONS
1. Preheat the oven to 350 degrees F.

2. Place the pecans on a sheet pan and bake for 5 minutes, until crisp. Set aside to cool. Chop very coarsely.

3. In the bowl of an electric mixer fitted with the paddle attachment, beat the butter, brown sugar, and granulated sugar together on medium-high speed until light and fluffy. With the mixer on low, add the eggs, one at a time, and the vanilla.

4. Sift the flour, baking powder, cinnamon, and salt together into a medium bowl. With the mixer on low, slowly add the dry ingredients to the butter mixture. Add the oats, raisins, and pecans and mix just until combined.

5. Using a small ice-cream scoop or a tablespoon, drop 2-inch mounds of dough onto sheet pans lined with parchment paper. Flatten slightly with a damp hand. Bake for 12 to 15 minutes, until lightly browned. Transfer the cookies to a baking rack and cool completely.
NATIONAL CHOCOLATE PECAN PIE DAY
Saturday, August 20, 2022
National Pecan Pie Day is observed each year on July 12. However, if you add some chocolate to this delicious dessert, you can celebrate National Chocolate Pecan Pie Day on August 20. Enjoy and share with your friends and family the delicious Chocolate Pecan Pie Bars recipe listed below.