Peaches 'n' Cream sounds like a perfect way to start summer solstice.  Actually, it sounds like the perfect way to end summer solstice as well!  
(See National Daylight Appreciation Day for the meaning of summer solstice.)
Peaches 'n' Cream is a simple, traditional and delicious summertime dessert.  Of course, the Georgia peach is in season during the month of June, as are those grown in Florida, California and South Carolina.  Make some homemade vanilla ice cream to sweeten the deal and your peaches 'n' cream will be all the cooler.  
It's interesting to note that doctors theorize Typhoid Mary may have spread the bacteria through cut up raw peaches in frozen ice cream.  So, wash those hands vigorously! 

• Did you know? Peaches were once known as Persian apples.

• "You're a real peach" originated from the tradition of giving a peach to the friend you liked.

• Peaches were mentioned as early as 79 A.D. in literature.

• A medium peach contains only 37 calories.

• There are over 700 varieties of peaches-some Chinese varieties are even flat like hockey pucks!
HOW TO OBSERVE
Give this peachy recipe a whirl, Peaches and Cream Muffins
Use #NationalPeachesnCreamDay to share on social media.
HISTORY
Within our research, we were unable to find the creator of National Peaches 'n' Cream Day.

 
Peaches and Cream Muffins Recipe
Fresh or frozen peaches star in these pretty crumb-topped muffins from Deanne Bagley of Bath, New York. "Breakfast muffins are a must at our house," she relates. "Our two girls love these not-too-sweet treats."
TOTAL TIME:
Prep:                 15 min.
Bake:                 20 min.
YIELD:               10 servings
Ingredients
• 1 egg
• 1/2 cup milk or sour cream
• 1/4 cup vegetable oil
• 1-1/2 cups all-purpose flour
• 1/2 cup sugar
• 2 teaspoons baking powder
• 1/2 teaspoon salt
• 1 cup chopped fresh or frozen peaches, thawed
Directions
1. In a bowl, beat egg; add milk and oil. Combine flour, sugar, baking powder and salt; stir into the egg mixture just until moistened. Stir in the peaches.
2. Fill greased or paper-lined muffin cups three-fourths full. Bake at 400° for 20-25 minutes or until a toothpick inserted in a muffin comes out clean. Cool for 5 minutes before removing from pan to a wire rack. Yield: 10 muffins.
8 FOODS THAT CAN HELP SOOTHE A HEADACHE
Reach for one of these healthy ingredients the next time your head is pounding.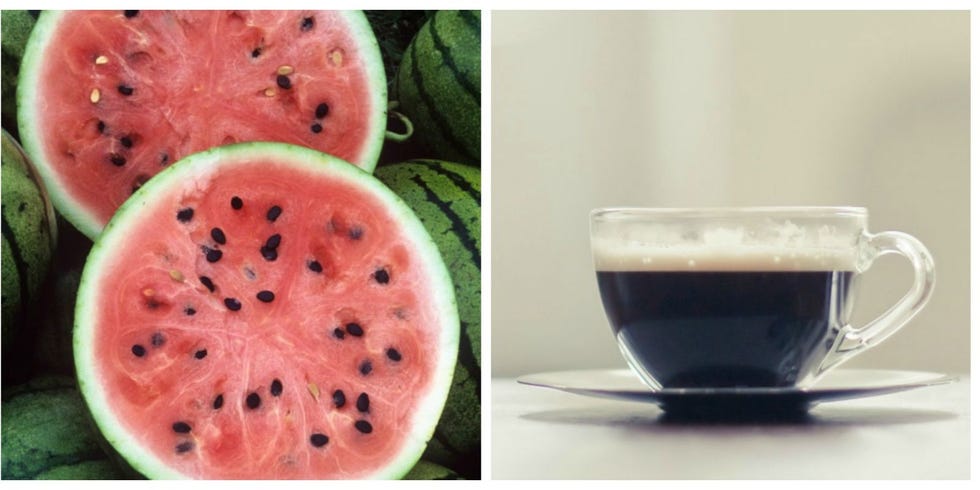 When a headache strikes, you may run through your usual routine: Turn out the lights, lie down and pop a pain pill. But did you know that certain foods may ease, and even prevent, headaches? Add these soothing foods to your shopping list and find out for yourself.