Monday, September 26, 2022
The table is set, the batter is mixed, the griddle is hot, and the butter and syrup are ready. This means you are prepared for National Pancake Day. This food holiday is observed each year on September 26, so all the more reason to try this delectable Banana and Pecan Pancakes with Maple Butter recipe listed below.
You may not have time to make a pancake breakfast, but that is okay, pancakes make a great dinner as well. Pancakes can be served at any time and with a variety of toppings or fillings from sweet jams and syrups to savory meats and sauces.

Five Food Finds about Pancakes:
• The tradition of eating pancakes on Shrove Tuesday (Pancake Day) is almost 1000 years old.
• One pancake fan ran a marathon while continually tossing a pancake for three hours, two minutes and twenty seven seconds.
• The first ready-mix food to be sold commercially was Aunt Jemima pancake flour. It was invented in 1889 in St. Joseph, Missouri, USA.
• The first pancake recipe appeared in an English cookbook in the fifteenth century.
• Celebrity chef Aldo Zilli set the world record for the highest pancake toss in 2005 with a toss of 329cm.
Banana and Pecan Pancakes with Maple Butter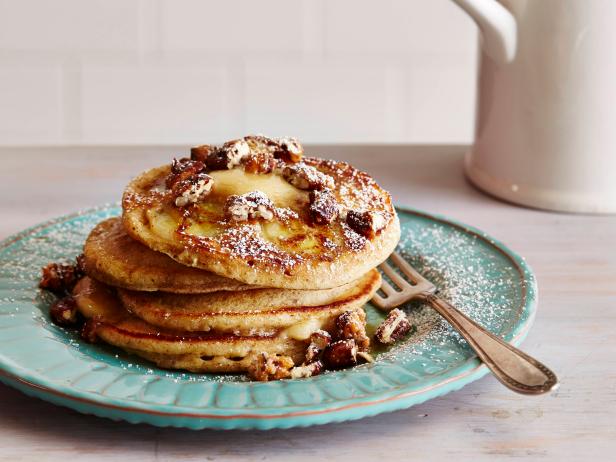 ..................................................................................
Prep                  Cook                    Yield
  20 min               10 min              6 Servings
..................................................................................
INGREDIENTS
• 2 cups buttermilk
• 3 eggs
• 1 teaspoon pure vanilla extract
• 2 cups all-purpose flour
• 1 1/2 teaspoons baking powder
• 1 teaspoon baking soda
• 1 pinch salt
• 4 tablespoons sugar
• 1/2 cup pecans, toasted and finely ground (not chopped)
• 1/2 stick unsalted butter, melted
• 3 bananas, peeled and sliced in 1/4-inch circles
• Maple Butter, recipe follows
• Confectioners' sugar, to garnish
• Candied Pecans, to garnish
Maple Butter:
• 2 sticks unsalted butter, softened
• 1/4 cup pure maple syrup
• 2 tablespoons honey
DIRECTIONS
Special equipment: 1 piece parchment or greaseproof paper
1. Preheat the oven to 200 degrees F.

2. In a large mixing bowl whisk the buttermilk, eggs, and vanilla together so they are well combined. In a separate bowl mix the flour, baking powder, soda, salt, and sugar. Combine the wet ingredients with the dry and stir with a spoon to get rid of the lumps. Fold in the pecans, most of the melted butter and whisk until batter is smooth. Heat a griddle or skillet over medium low heat and swirl around a little melted butter to keep the pancakes from sticking. Using a ladle pour the batter into the pan, see Cook's note*

3. Cook the pancakes on 1 side until they are set and then lightly press the bananas into the batter. When small bubbles appear on the uncooked surface, flip the pancakes and cook until golden on both sides, about 8 minutes. Transfer pancakes to a warming plate in the oven while you make the rest.

4. To serve, slice the maple-honey butter, layer it between the stack of pancakes and place in the oven to melt for 1 1/2 minutes. Sprinkle with confectioner's sugar and candied pecans.
Maple Butter:
In a mixing bowl, using a spatula mash the butter with the maple syrup and honey until well blended. Roll it up in the paper, like a tube and twist the ends. Chill in the refrigerator for 30 minutes.
Cook's Note:
The trick to perfect round pancakes is pouring all the batter in the same spot and letting it roll out to a complete circle.
Sunday, September 25, 2022
National Lobster Day is observed each year on September 25th. Celebrate by enjoying a delicious lobster meal at your favorite seafood restaurant or by cooking a lobster dish at home. Try this easy to prepare salad features succulent lobster tossed with yellow bell peppers, crunchy celery and spicy onions all in a creamy base Maine Lobster Salad recipe listed below.