Thursday, September 15, 2022
Observed annually on September 15th, National Linguine Day is a favorite of young and old alike. From the Liguria region of Italy, linguine means "little tongues" in Italian. Treat your family to a slow-cooked sauce with onion, chicken, and fresh herbs over whole wheat linguini with this Chicken and Onions Over Linguini recipe listed below.
Made from durum semolina flour, linguine is one of the world's oldest kinds of pasta. Fettuccine and linguine developed around 400 years ago. While both are thin, flat noodles, linguine is more narrow and elliptical in shape causing it to be a more delicate pasta. As a result, linguine is paired with thinner, lighter sauces.

Six Food Finds about Linguine:
• The name linguine means "little tongue" in Italian.
• It is often mis-spelled as "linguini."
• Linguine originated on the coast of Italy in Liguria, which is why linguine and seafood make a great pair.
• Italy is the leading consumer of pasta, with nearly 60 pounds per capita per year.
• Americans eat an average of 19 pounds of pasta every year.
• Linguine by definition is a type of pasta characterized by it's long, slender, flat strips.
Chicken and Onions Over Linguini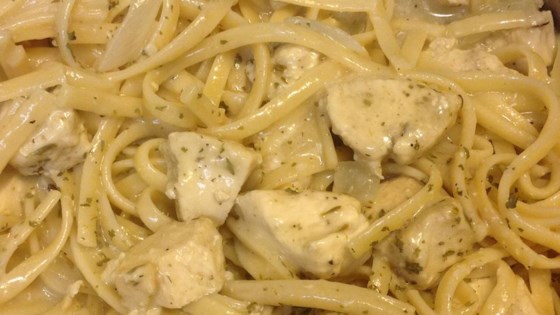 ..................................................................................
Prep                  Cook              Ready In
15 min               25 min              40 min
..................................................................................
Ingredients
• 1 (8 ounce) package linguine pasta
• 2 tablespoons butter
• 2 tablespoons extra-virgin olive oil
• 1 onion, cut into large dice
• 4 green onions, cut into 1/4-inch pieces, white and green parts separated
• 2 skinless, boneless chicken breast halves, cut into 1/4-inch pieces
• 3 sprigs fresh thyme
• 1 clove garlic, minced
• salt and ground black pepper to taste
• 1 cup grated Parmesan cheese
Directions
1. Bring a large pot of lightly-salted water to a boil. Cook the linguine in the boiling water until tender but still firm to the bite, about 11 minutes. Drain, reserving about 3/4 cup of the pasta water. Place the drained pasta in a large bowl.
2. Melt the butter with the olive oil in a large skillet over low heat. Cook the diced onion and white parts of the green onion in the butter and oil for about 10 minutes.
3. Stir the green parts of the green onions, the chicken, thyme, and garlic into the onions and continue cooking until the onions are translucent and the chicken is no longer pink in the center, about 10 minutes more.
4. Stir the reserved pasta water into the mixture and remove from the heat. Season with salt and pepper. Pour the mixture over the drained pasta and toss to coat. Sprinkle the Parmesan cheese over the pasta and stir.
NATIONAL CREAM FILLED DONUT DAY
Wednesday, September 14, 2022
National Cream Filled Donut Day is held annually on September 14th to recognize one of our favorite foods. Whether you enjoy a vanilla, chocolate or many of the other varieties, cream filled donuts offer many ways to satisfy your sweet tooth, especially with the Cream Filled Doughnuts recipe listed below.
STILL HUNGRY? FOODS THAT MAKE YOU WANT MORE — HERE'S WHAT TO EAT INSTEAD
7 TELLTALE SIGNS TO EASILY SPOT A LIAR
MOVE OVER KALE, SEAWEED IS THE NEW SUPERFOOD
8 FOODS THAT CAN HELP SOOTHE A HEADACHE
Reach for one of these healthy ingredients the next time your head is pounding.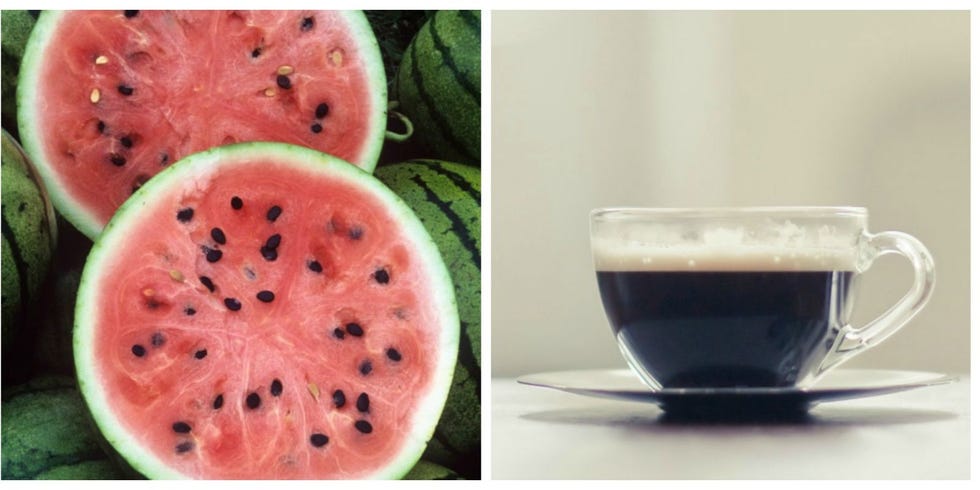 When a headache strikes, you may run through your usual routine: Turn out the lights, lie down and pop a pain pill. But did you know that certain foods may ease, and even prevent, headaches? Add these soothing foods to your shopping list and find out for yourself.
STUBBORN CARPET STAINS AND HOW TO REMOVE THEM! (YES, EVEN CAT PEE)
NUTRITIONISTS SELECT THE TOP 15 HEALTHY FAST FOOD RESTAURANTS