Monday, August 15, 2022
Are you hungry? Pie lovers and lemon lovers from across the country get your forks ready. August 15th is National Lemon Meringue Pie Day, so get the recipe right here below for "Grandma's Lemon Meringue Pie"!
Served as a dessert, lemon meringue pie is a baked pie usually made with a crust of shortbread pastry, lemon curd filling and a fluffy meringue topping.

Five Food Finds about Lemons:
• Lemon trees bloom and produce fruit year-round. Each tree can produce between 500 and 600 pounds of lemons in a year.
• Add the juice of one lemon to an equal amount of hot water for an anti-bacterial gargle.
• Food historians say lemons have been in cultivation around the Mediterranean from as early as the first century A.D.
• High in vitamin C, lemons prevent scurvy, a disease that causes bleeding gums, loose teeth and aching joints. To this day, the British Navy requires ships to carry enough lemons so that every sailor can have one ounce of juice a day.
• California and Arizona produce 95% of the entire U.S. lemon crop.
Grandma's Lemon Meringue Pie
      Prep              Cook             Ready In
30 m               10 m                 40 m
Ingredients
• 1 cup white sugar
• 2 tablespoons all-purpose flour
• 3 tablespoons cornstarch
• 1/4 teaspoon salt
• 1 1/2 cups water
• 2 lemons, juiced and zested
• 2 tablespoons butter
• 4 egg yolks, beaten
• 1 (9 inch) pie crust, baked
• 4 egg whites
• 6 tablespoons white sugar
Directions
1. Preheat oven to 350 degrees F (175 degrees C).
2. To Make Lemon Filling: In a medium saucepan, whisk together 1 cup sugar, flour, cornstarch, and salt. Stir in water, lemon juice and lemon zest. Cook over medium-high heat, stirring frequently, until mixture comes to a boil. Stir in butter. Place egg yolks in a small bowl and gradually whisk in 1/2 cup of hot sugar mixture. Whisk egg yolk mixture back into remaining sugar mixture. Bring to a boil and continue to cook while stirring constantly until thick. Remove from heat. Pour filling into baked pastry shell.
3. To Make Meringue: In a large glass or metal bowl, whip egg whites until foamy. Add sugar gradually, and continue to whip until stiff peaks form. Spread meringue over pie, sealing the edges at the crust.
4. Bake in preheated oven for 10 minutes, or until meringue is golden brown.
Footnotes:
Tip: Aluminum foil can be used to keep food moist, cook it evenly, and make clean-up easier.
NATIONAL RASPBERRY CREAM PIE DAY
Monday, August 1, 2022
National Raspberry Cream Pie Day is observed annually on August 1st.  This day is in theme with other raspberry holidays in this same time period.  Raspberries are most plentiful this time of year.  Our recipe for raspberry cream pie is incredibly delicious with it's buttery graham cracker crust, creamy cream cheese center and luscious raspberry topping. You won't be able to stop at one piece!
Tuesday, July 12, 2022
National Pecan Pie Day is observed annually on July 12th.  The delicious pecan pie is made primarily with corn syrup, pecan nuts, salt and vanilla flavoring with some variations including sugar syrup and molasses or maple syrup.  Chocolate and bourbon whiskey are popular additions in some regions of the country.  Pecan pie is often served with vanilla ice cream or whipped cream.
STILL HUNGRY? FOODS THAT MAKE YOU WANT MORE — HERE'S WHAT TO EAT INSTEAD
NATIONAL STRAWBERRY RHUBARB PIE DAY
BEACH TRIP HACKS EVERY PARENT REALLY NEEDS THAT ARE PURE GENIUS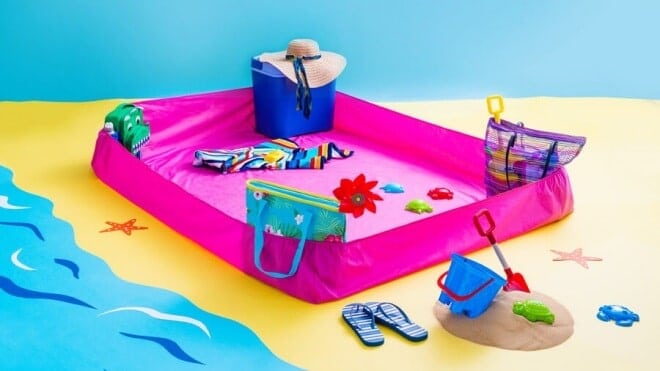 A family beach trip with kids sounds like the perfect summer outing ... in theory. The reality involves packing tons of gear and snacks, struggling to slather squirmy kids in sunscreen, and lots of sand, of course -- getting everywhere from your sandwich to your sandals. There has to be an easier way, right? Turns out, there is!
NATIONAL COCONUT CREAM PIE DAY
NATIONAL BLUEBERRY PIE DAY
TODAY'S "HEALTHY" SMOOTHIES ARE THE SAME AS JUNKFOOD
HOW TO IDENTIFY & REMOVE TOXINS TO REJUVENATE YOUR BODY
A FATHER'S INFLUENCE ON KID'S EATING BEHAVIOR