The early version of the jelly-filled doughnut consisted of a bit of jam sandwiched between two rounds of yeast bread dough and deep-fried in lard. Whether the anonymous author actually invented the idea or recounted a new practice, the concept of filling a doughnut with jam spread across the globe.
Although most modern versions of doughnuts have a sweet interior, the original filled doughnuts were primarily packed with meat, fish, mushrooms, cheese, or other savory mixtures. At that time, sugar was still very expensive and rare in Germany, so savory dishes were much more practical. In the sixteenth century, the price of sugar fell with the introduction of Caribbean sugar plantations. Soon sugar and, in turn, fruit preserves proliferated in Europe. Within a century of the jelly doughnut's initial appearance in Germany, every northern European country from Denmark to Russia had adopted the pastry, although it was still a rare treat generally associated with specific holidays.
Much later, someone in Germany invented a metal pastry syringe with which to inject jelly into already fried doughnuts, making the treat much easier and neater, and in the twentieth century, machines were developed to inject doughnuts in mass production.

• The donut or doughnut is a deep-fried piece of dough or batter. It comes from the Dutch origin of olykoeck or "oily cake". The two most common types of donuts are the flattened sphere (you know…the ones that are injected with jelly or custard) and the ring donut.

• Internationally, Dunkin' Donuts has over 1700 locations in 29 countries and over 6,000 stores in 30 countries world-wide! In the U.S. there are over 4,400 locations across 36 states.

• Krispy Kreme is probably best known for their fresh, hot, glazed, yeast-raised doughnuts. The company's "Hot Doughnuts Now" flashing sign is an integral part of the brands appeal and fame.

• Jelly-filled and Chocolate frosted also rank as their top sellers. Coconut Crunch, although not a number one seller, still remains one of the over 52 varieties of donuts the chain produces on a yearly basis.

• Americans consume 10 billion doughnuts annually. It really is too big of a number when you consider that as of 1997, there were 6,792 doughnut shops in the U.S. alone. In 2005, I can only imagine that the number of doughnut shops has increased dramatically. Unfortunately, 1997 was the last year that all overall statistics and data is available on this subject (or at least that I can find!).
HOW TO OBSERVE
Try this Jelly Doughnut recipe.  Use #JellyDonut to post on social media.
 
HISTORY
Within our research, we were unable to find the creator of National Jelly-Filled Doughnut Day.

Jelly Doughnuts
Where doughnut shops tend to rely on fluorescent red, sickly sweet jelly, you are free to use jelly (or jam, or marmalade, or whatever you like) that actually tastes good. The only specialty tool you'll need is a pastry bag. But you can also poke a funnel into the side of the doughnut and spoon the jelly into the center of the pastry.
INGREDIENTS
• 1 ¼ cups milk
• 2 ¼ teaspoons (one package) active dry yeast
• 2 eggs
• 8 tablespoons (1 stick) butter, melted and cooled
• ¼ cup granulated sugar
• 1 teaspoon salt
• 4 ¼ cups all-purpose flour, plus more for rolling out the dough
• 2 quarts neutral oil, for frying, plus more for the bowl.
PREPARATION
1. Heat the milk until it is warm but not hot, about 90 degrees. In a large bowl, combine it with the yeast. Stir lightly, and let sit until the mixture is foamy, about 5 minutes.
2. Using an electric mixer or a stand mixer fitted with a dough hook, beat the eggs, butter, sugar and salt into the yeast mixture. Add half of the flour (2 cups plus 2 tablespoons), and mix until combined, then mix in the rest of the flour until the dough pulls away from the sides of the bowl. Add more flour, about 2 tablespoons at a time, if the dough is too wet. If you're using an electric mixer, the dough will probably become too thick to beat; when it does, transfer it to a floured surface, and gently knead it until smooth. Grease a large bowl with a little oil. Transfer the dough to the bowl, and cover. Let rise at room temperature until it doubles in size, about 1 hour.
3. Turn the dough out onto a well-floured surface, and roll it to 1/2-inch thickness. Cut out the doughnuts with a doughnut cutter, concentric cookie cutters or a drinking glass and a shot glass (the larger one should be about 3 inches in diameter), flouring the cutters as you go. Reserve the doughnut holes. If you're making filled doughnuts, don't cut out the middle. Knead any scraps together, being careful not to overwork, and let rest for a few minutes before repeating the process.
4. Put the doughnuts on two floured baking sheets so that there is plenty of room between each one. Cover with a kitchen towel, and let rise in a warm place until they are slightly puffed up and delicate, about 45 minutes. If your kitchen isn't warm, heat the oven to 200 at the beginning of this step, then turn off the heat, put the baking sheets in the oven and leave the door ajar.
5. About 15 minutes before the doughnuts are done rising, put the oil in a heavy-bottomed pot or Dutch oven over medium heat, and heat it to 375. Meanwhile, line cooling racks, baking sheets or plates with paper towels.
6. Carefully add the doughnuts to the oil, a few at a time. If they're too delicate to pick up with your fingers (they may be this way only if you rose them in the oven), use a metal spatula to pick them up and slide them into the oil. It's O.K. if they deflate a bit; they'll puff back up as they fry. When the bottoms are deep golden, after 45 seconds to a minute, use a slotted spoon to flip; cook until they're deep golden all over. Doughnut holes cook faster. Transfer the doughnuts to the prepared plates or racks, and repeat with the rest of the dough, adjusting the heat as needed to keep the oil at 375. Glaze or fill as follows, and serve as soon as possible.
7. When the doughnuts are cool enough to handle but still warm, roll them around in a shallow bowl of granulated sugar to coat. Fill with your favorite jelly.
8 FOODS THAT CAN HELP SOOTHE A HEADACHE
Reach for one of these healthy ingredients the next time your head is pounding.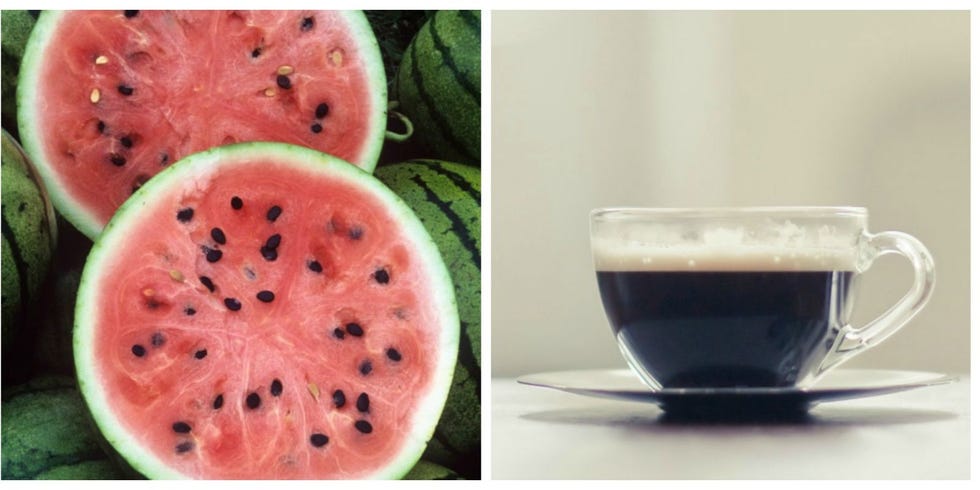 When a headache strikes, you may run through your usual routine: Turn out the lights, lie down and pop a pain pill. But did you know that certain foods may ease, and even prevent, headaches? Add these soothing foods to your shopping list and find out for yourself.