Thursday, September 1, 2022
September 1, 2019, is National Gyro Day. A gyro is a Greek dish. It is most commonly made with pork, chicken, beef, veal or lamb on a rotisserie. Share your great taste in food like your favorite actor, Tom Hanks using the Homemade Gyros (for Tom Hanks) recipe listed below.
Gyros are believed to have originated in Greece. The meat is then wrapped in a flatbread with cucumber, tomato, onion and tzatziki sauce. To celebrate Gyro Day, be sure to visit your favorite restaurant serving Gyros to get your fix!

Five Food Finds about Gyros:
• A gyro is a dish of meat roasted on a vertical spit. It is usually served as a sandwich, also called a gyros, with tomato, onion, and tzatziki sauce, wrapped in pita bread.
• To make gyros, pieces of meat are placed on a tall vertical spit, which turns in front of a source of heat, usually an electric broiler.
• If the meat is not fatty enough, strips of fat are added so that the roasting meat remains always moist and crisp.
• The rate of roasting can be adjusted by varying the strength of the heat and the distance between the heat and the meat, allowing the cook to adjust to varying rates of consumption.
• The outside of the meat is sliced vertically in thin, crisp shavings when done. It is generally served in an oiled, lightly grilled piece of pita, rolled up with various salads and sauces.
Homemade Gyros (for Tom Hanks)
..................................................................................
Prep                  Cook                    Total
20 min               1 hr               1 hr 20 min
..................................................................................
INGREDIENTS
• Gyro meat:
• 1 lb ground lamb
• 1 lb ground beef
• 1 teaspoon dried oregano
• 1 teaspoon cumin
• 1 medium onion (finely minced or grated)
• 3 cloves garlic (finely minced or grated)
• 2 tablespoons bread crumbs
• 1 tablespoon olive oil
• salt and pepper to taste
• Tzatziki sauce:
• 1 cup Greek yogurt
• ⅓ cup cucumber (grated and drained)
• 1 garlic clove (chopped)
• 1 tablespoon dill (chopped)
• 2-3 tablespoons lemon juice
• salt and pepper to taste
• To serve:
• flatbread or pita bread
• lettuce
• red onion
• tomatoes
DIRECTIONS
1. For the gyro meat:

2. Preheat oven to 350F. Mix all the ingredients in a food processor or mixer, until the mixture is pasty and sticky. Grease a loaf pan with olive oil, and press the mixture into the pan. Make sure you make everything tight and compact. Bake for about 1 hour or until the internal temperature reads 175F. Let it rest before slicing.

3. For the tzatziki:

4. Combine all the ingredients and let sit in the fridge for at least two hours or overnight.

5. Serve in a flatbread with lettuce, tomato, thinly sliced red onions and sauce!
JUST IN TIME FOR THE 4TH OF JULY ON HOW TO MAKE PATRIOTIC POPCORN
STILL HUNGRY? FOODS THAT MAKE YOU WANT MORE — HERE'S WHAT TO EAT INSTEAD
7 TELLTALE SIGNS TO EASILY SPOT A LIAR
MOVE OVER KALE, SEAWEED IS THE NEW SUPERFOOD
HOW TO IDENTIFY & REMOVE TOXINS TO REJUVENATE YOUR BODY
8 FOODS THAT CAN HELP SOOTHE A HEADACHE
Reach for one of these healthy ingredients the next time your head is pounding.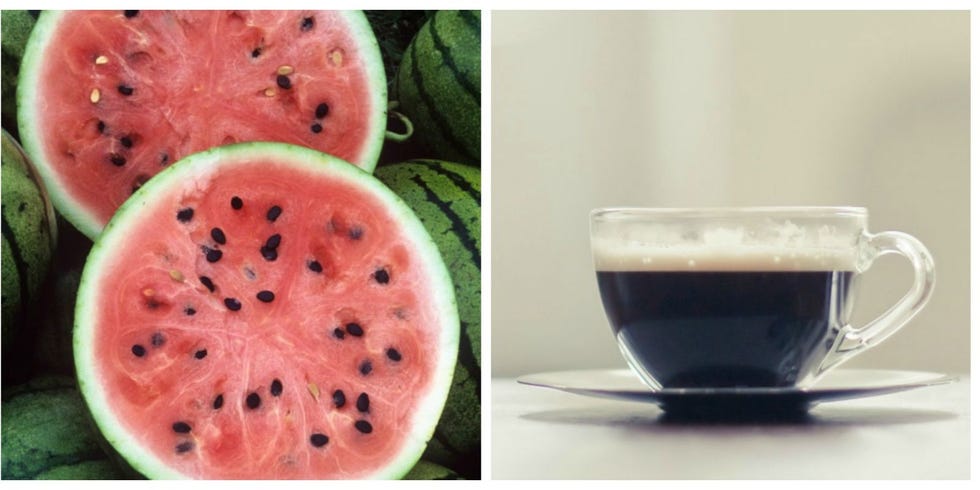 When a headache strikes, you may run through your usual routine: Turn out the lights, lie down and pop a pain pill. But did you know that certain foods may ease, and even prevent, headaches? Add these soothing foods to your shopping list and find out for yourself.
STUBBORN CARPET STAINS AND HOW TO REMOVE THEM! (YES, EVEN CAT PEE)
NUTRITIONISTS SELECT THE TOP 15 HEALTHY FAST FOOD RESTAURANTS