Wednesday, October 12, 2022
A heavily seasoned, stew-like dish is in the spotlight on National Gumbo Day which is annually observed on October 12. Try the taste of Louisiana with the Chicken and Okra Gumbo recipe listed below.
Originating in southern Louisiana during the 18th century, Gumbo is a dish that typically consists of a strongly flavored stock, meat or shellfish, a thickener and seasoned vegetables. The seasoned vegetables may include celery, bell peppers and onions which are a trio known in Cajun cuisine as the "holy trinity. The dish is commonly served over rice.
Gumbo arose from a West African word for okra, which many believe is how the name and the ingredient also intertwined. Gumbo is thought to have been first documented in 1802 and was listed in various cookbooks in the latter 19th century. It gained widespread popularity in the 1970s when the United States Senate cafeteria added Gumbo to the menu in honor of Louisiana Senator Allen Ellender. Gumbo is the official cuisine of the state of Louisiana. Since 1989, New Iberia, Louisiana has held The World Championship Gumbo Cook-Off.

Five Food Finds about Gumbo:
• Gumbo is the official cuisine of the state of Louisiana.
• There are several different varieties of gumbo based on the type of thickener used to create the dish.
• Creole gumbo contains shellfish and tomatoes whereas Cajun gumbo is generally spicier with shellfish or chicken.
• Gumbo may have flavors rooted in Native American, African, Caribbean, Spanish, and French cuisines.
• No one is certain behind the dish's origin; the oldest mention is by French explorer C.C. Robin on the Acadian coast in 1803.
Chicken and Okra Gumbo Recipe
....................................................
YIELD:  Makes 10 servings
....................................................
INGREDIENTS

1 broiler/fryer chicken (2-1/2 to 3 pounds), cut up
2 quarts water
1/4 cup canola oil or bacon drippings
2 tablespoons all-purpose flour
2 medium onions, chopped
2 celery ribs, chopped
1 medium green pepper, chopped
3 garlic cloves, minced
1 can (28 ounces) tomatoes, drained
2 cups fresh or frozen sliced okra
2 bay leaves
1 teaspoon dried basil
1 teaspoon salt
1/2 teaspoon pepper
1 to 2 teaspoons hot pepper sauce
2 tablespoons sliced green onions
Minced fresh parsley
Hot cooked rice

DIRECTIONS
1. Place chicken and water in a large kettle. Cover
   and bring to a boil. Reduce heat; cover and simmer for 30-45
   minutes or until chicken is tender.

2. Remove chicken; reserve broth. Set chicken aside until cool
   enough to handle. Remove chicken from bones; discard bones and
   cut into meat into cubes; set aside.

3. In a soup kettle, combine oil or drippings and flour until
   smooth. Cook over medium-high heat for 5 minutes, stirring
   constantly. Reduce heat to medium. Cook and stir about 5
   minutes more or until mixture is reddish-brown
   (the color of a penny). Turn the heat to high. Stir in 2 cups
   reserved broth. Bring to a boil; cook and stir for 2 minutes
   or until thickened.

4. Add the onions, celery, green pepper and garlic; cook and stir
   for 5 minutes. Add the tomatoes, okra, bay leaves, basil, salt,
   pepper and pepper sauce. Cover and simmer for 1 hour. Add
   chicken; heat through.

4. Discard bay leaves. Garnish with green onions and parsley.
   Serve with rice. Yield: 10 servings.


NATIONAL ANGEL FOOD CAKE DAY
8 FOODS YOU DIDN'T KNOW COULD KILL YOU
STILL HUNGRY? FOODS THAT MAKE YOU WANT MORE — HERE'S WHAT TO EAT INSTEAD
7 TELLTALE SIGNS TO EASILY SPOT A LIAR
8 FOODS THAT CAN HELP SOOTHE A HEADACHE
Reach for one of these healthy ingredients the next time your head is pounding.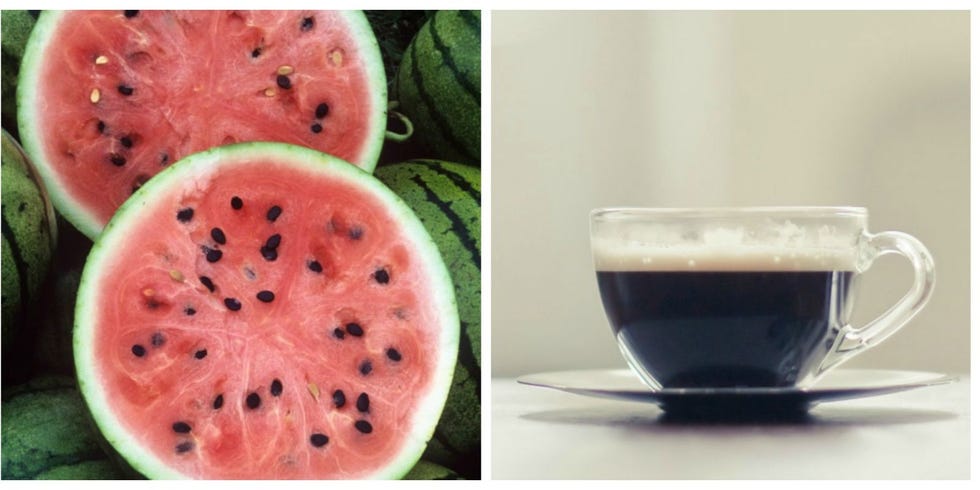 When a headache strikes, you may run through your usual routine: Turn out the lights, lie down and pop a pain pill. But did you know that certain foods may ease, and even prevent, headaches? Add these soothing foods to your shopping list and find out for yourself.
SUFFERING FROM ECZEMA? HERE'S THE RIGHT WAY TO WEAR MAKEUP
STUBBORN CARPET STAINS AND HOW TO REMOVE THEM! (YES, EVEN CAT PEE)
NUTRITIONISTS SELECT THE TOP 15 HEALTHY FAST FOOD RESTAURANTS