Wednesday, July 14, 2021
National Grand Marnier Day is observed annually on July 14th. An 1880s French invention by Alexandre Marnier-Lapostolle, Grand Marnier adds a splash of orange liquor to mix drinks or desserts. Also enjoyed neat, this cognac concoction blended one of the most expensive fruits of the time with a strong spirit. The result was truly grand.

Grand Marnier is used in a long list of desserts including liquor cream buns, Yule log, cranberry sauce, Crepes Suzette and Grand Marnier souffle creme brulee'.  Grand Marnier is also used in the sauce of the roasted duck dish, "Canard a l'Orange."
Some examples of the mixed drinks including Grand Marnier are: Cosmopolitan, Margarita, Sidecar, Dirty Harry, Grand Mimosa, B-52, the Grand Marnier Smash, Grand Smash, Smash Marnier, Bloody Smash, Maced Marnier, Ace Marnier Smash,  Frosty Smash, Smace, Grand Hound, Blood Pug, Clarke, Nogley and the Grand Marnier Fireball.

Five Food Finds about Grand Marnier:
• In order to manufacture the most prestigious liqueur in the world, better known as Grand Marnier, only the finest ingredients have to be used in order to achieve the quality that is expected from one when purchasing such a product.
• The Cognac is one of them. The other key ingredient being the oranges that are going to give the flavor which will make Grand Marnier stand out in terms of quality and unique taste.
• The oranges used in the manufacturing of Grand Marnier are "bitter oranges" carefully selected from plantations around tropical regions of the world such as the Caribbean's.
• They need to be of a very special species better known as "Citrus Bigaradia" so when the peel is dried, it will still retain a very strong perfume that will give this unique aroma and character to this liqueur.
• Still made to the jealously-guarded original recipe created by Alexandre Marnier-Lapostolle, this blend of the essence of orange, cognac and sugar syrup gives birth to the noble amber liqueur.
HOW TO OBSERVE
Make something that uses Grand Marnier as an ingredient. Post on social media using #NationalGrandMarnierDay.
HISTORY
We were unable to locate the creator of National Grand Marnier Day.
---
Grand Marnier Cake
Prep             Cook                  Yield
30 mins            50 mins                 1 Cake
Ingredients
• 1 cup butter, softened
• 1 1/2 cups sugar, divided
• 3 eggs, separated
• 2 cups all-purpose flour
• 1 teaspoon baking powder
• 1 teaspoon baking soda
• 1 cup sour cream
• orange zest from 1 orange
• 1/2 cup chopped pecans
• 1/4 cup orange juice
• 1/3 cup Grand Marnier liqueur (or more orange juice may be used)
• pecan halves
Directions
1. Cream butter with 1 cup of the sugar until light and fluffy.
2. Beat in egg yolks.
3. Sift together the dry ingredients; add to the first mixture alternately with sour cream, beating until smooth.
4. Stir in orange zest and chopped pecans.
5. Beat egg whites until stiff; fold into batter.
6. Pour batter into a buttered 9-inch tube pan and bake at 350 F for 45 to 50 minutes.
7. Combine remaining 1/2 cup sugar with orange juice and Grand Marnier; pour over hot cake.
8. Decorate top with pecan halves. Cool on rack before removing from pan.
8 FOODS THAT CAN HELP SOOTHE A HEADACHE
Reach for one of these healthy ingredients the next time your head is pounding.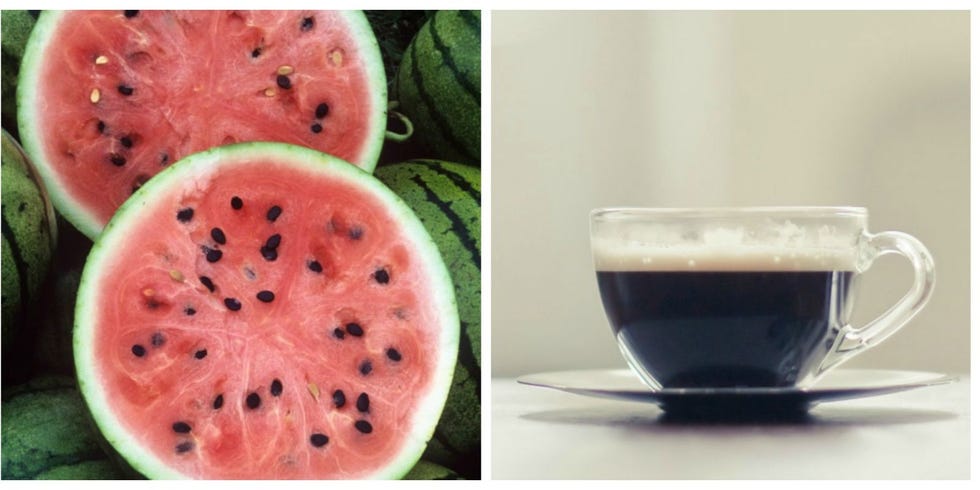 When a headache strikes, you may run through your usual routine: Turn out the lights, lie down and pop a pain pill. But did you know that certain foods may ease, and even prevent, headaches? Add these soothing foods to your shopping list and find out for yourself.