French fries, also known as chips, fries, finger chips or French-fried potatoes, are batons of deep-fried potatoes and are common fixtures at fast food restaurants that are loved by adults and kids alike!
A wide selection of condiments such as ketchup, ranch dressing, vinegar, mayonnaise, honey mustard, cheese and many more compliment French fries. Sweet potatoes make an alternate, healthier offering of fries found on menus around the country. Other varieties are baked and come in unusual shapes such as curls, waffles, crinkle or tornado cut.
The expression "French Fried Potatoes" first occurs in print in English in the 1856 work Cookery for Maids of All Work by E. Warren.
It is believed by some that the term "French" was introduced to the potatoes when the American soldiers arrived in Belgium during World War I and consequently tasted Belgian fries. It is suggested that they called them "French" as it was the official language of the Belgian Army at that time.

Five Food Finds about French Fries:
• French fries are, perhaps, poorly-named, since they originate in Belgium and are most popular in America.
• In England these are referred to as "chips"
• Though French fries were invented in Europe, the potatoes, from which they are made, originated in the Americas and were imported.
• Leaving the potato skin on French fries actually leaves in important vitamins that are lost if the skins are peeled away.
• The first occurrence of French fries in America may have been at a diplomatic dinner hosted by Thomas Jefferson.
HOW TO OBSERVE
To celebrate National French Fry Day, share some French fries with your friends and have them seasoned, cut and shaped how you like them! Post on social media using #NationalFrenchFryDay .
HISTORY
Within our research, we were unable to find the creator or origin of National French Fry Day.
---
How to Make McDonald's French Fries Recipe at Home
  Category                         Yield                  Cook Time
Side Dishes, Potato            2 servings                 30 Minutes
Ingredients
• 2 Idaho russet potatoes
• 1/4 cup corn syrup
• 1 1/2 cups water
• 6 cups peanut oil
• 1/4 cup beef lard
• 2 teaspoons salt, to taste
• 1/4 teaspoon beef bouillon granules (optional)
Directions
1. Peel potatoes and julienne the peeled potatoes into shoestring french fries. They should be 1/4-inch by 1/4-inch thick and about 4 inches to 6 inches long.
2. In a large bowl combine corn syrup and water, being sure to mix throughly until the corn syrup is evenly distributed. Add the french fries to the sugar water solution. Refrigerate for about 30 minutes.
3. While the french fries are soaking, in a heavy bottomed stock pot or deep fryer, heat peanut oil in a deep fryer until it reaches 375ºF.
4. Remove french fries from sugar water and pat dry. Carefully add them to the oil and partially fry them for 1 to 1 1/2 minutes. They should just start to turn a light golden brown. Remove them from the fryer and place on a paper towel-lined plate. Place them in the refrigerator for 10 to 15 minutes.
5. While they're cooling, add the beef fat to the peanut oil. Heat the oil to 400ºF. Remove the french fries from the freezer and carefully add them back to the beef fat oil. Fry for 5 to 7 minutes or until they are golden brown. Drain the french fries and place in a large bowl.
6. Sprinkle generously with salt and toss the fries until they are coated. Serve immediately.

NOTES:
If doubling the recipe, do not double the oil. Cook in batches, and add 1/4 cup oil and 1 tablespoon lard if needed.
8 FOODS THAT CAN HELP SOOTHE A HEADACHE
Reach for one of these healthy ingredients the next time your head is pounding.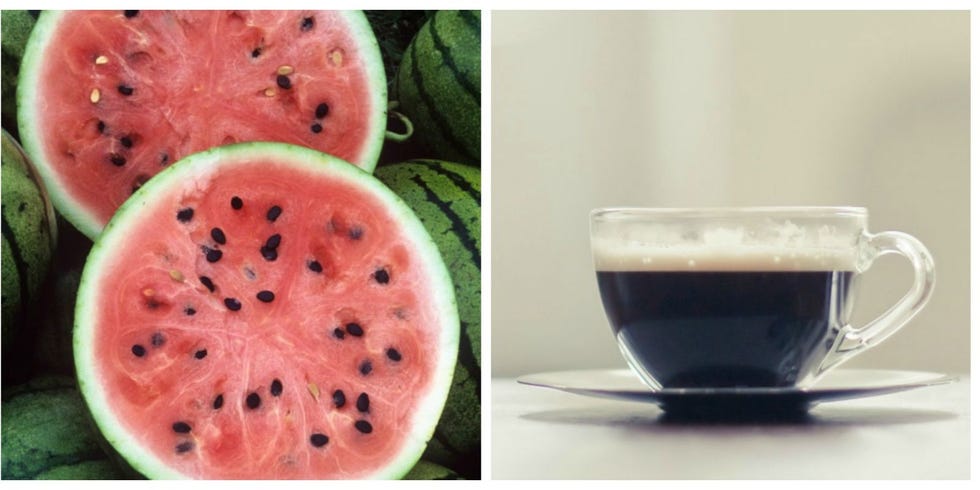 When a headache strikes, you may run through your usual routine: Turn out the lights, lie down and pop a pain pill. But did you know that certain foods may ease, and even prevent, headaches? Add these soothing foods to your shopping list and find out for yourself.