In 1917, the original "Salvation Army Doughnut" was first served by the ladies of the Salvation Army.  It was during WWI that the Salvation Army Lassies went to the front lines of Europe.  Home cooked foods, provided by these brave volunteers, were a morale boost to the troops.
The doughnuts were often cooked in oil inside the metal helmets of American soldiers.  American infantrymen were then commonly called "doughboys."  A more standard spelling is donut.
On this day, many bakeries and coffee shops in the United States offer doughnut deals to their customers.
Here are the deals:
• Cumberland Farms: From 5 to 10 a.m. at participating Cumberland Farms, get a free doughnut with purchase of any dispensed beverage, which includes hot or iced coffee, fountain or frozen beverages. This deal is only valid at "new concept" and remodeled Cumberland Farms, which you can find by searching here.
• Duck Donuts: Customers will receive one free, made-to-order doughnut of their choice with any purchase. Receipts printed Friday also will feature a coupon for a free half dozen doughnuts when you purchase a half dozen. Find its locations in a dozen states here.
• Dunkin' Donuts: At participating Dunkin' Donuts, get a free classic doughnut of your choice with the purchase of any beverage all day Friday while supplies last. Go here to find a Dunkin' Donuts near you.
• Entenmann's: Enter the company's contest for a chance to win free doughnuts for a year. Feeding America also will get a $1 donation for every entry. If you're in New York City, Entenmann's has special festivities 7 a.m. to 1 p.m. on Times Square and at Hard Rock Cafes on Times Square and at Yankee Stadium.
• Fractured Prune Doughnuts: At participating stores in seven states, get a free "OC Sand" doughnut.
• Honey Dew Donuts: Get a free Coco Loco Donut with purchase of any medium or larger beverage at participating locations. Limit one per purchase. Go here to find locations.
• Krispy Kreme: Get one free doughnut of your choice, no purchase necessary at participating locations. Go here to learn more and find participating shops.
• LaMar's Donuts: Print or show their Golden Ticket on your smartphone at its locations in five states for a free doughnut with a hole. Access the coupon here.
• Martin's Super Market: Get a free doughnut from the case or $1 off a dozen donuts at participating stores. Go here to find locations.
• Shipley Do-Nuts: At participating locations from 5 a.m. to noon, make a purchase and get a free glazed doughnut. Go here to find locations.
• Sugar Shack: It has locations in Florida and Virginia, and they offer a Freebie of the Day every day of the year, which is posted on shops' social media accounts.
• Tim Hortons:  Buy a coffee and get a free classic doughnut when you mention National Doughnut Day at participating locations. Go here to find locations.
• Wawa: This National Doughnut Day deal is only for Wawa Rewards members. Check your account for a bonus reward for a free doughnut with purchase of a coffee. Go here to find locations.
HOW TO OBSERVE
Celebrate the day by enjoying your favorite doughnut.
Use #NationalDonutDay or #NationalDoughnutDay when using social media.
HISTORY
National Doughnut Day was created by The Salvation Army in 1938 to honor the women who served the doughnuts to soldiers in World War I.  This day began as a fund-raiser for Chicago's Salvation Army.  The goal of their 1938 fund-raiser was to help the needy during the Great Depression.
Super Easy Doughnuts
Prep: 14 m
Cook: 2 m
Ready In: 16 m
"Really quick and easy donuts made from ingredients you probably already have. My 3 year old loves these because he can have them whenever he wants. There's hardly any waiting time. Use any topping you want. Our favorite is powdered sugar!"
Ingredients
• 2 tablespoons white vinegar
• 3/8 cup milk
• 2 tablespoons shortening
• 1/2 cup white sugar
• 1 egg
• 1/2 teaspoon vanilla extract
• 2 cups sifted all-purpose flour
• 1/2 teaspoon baking soda
• 1/4 teaspoon salt
• 1 quart oil for deep frying
• 1/2 cup confectioners' sugar for dusting
Directions
1. Stir the vinegar into the milk, and let stand for a few minutes until thick.
2. In a medium bowl, cream together the shortening and sugar until smooth. Beat in the egg and vanilla until well blended. Sift together the flour, baking soda, and salt; stir into the sugar mixture alternating with the vinegar and milk. Roll dough out on a floured surface to 1/3 inch thickness. Cut into doughnuts using a donut cutter. Let stand for about 10 minutes.
3. Heat the oil in a large deep skillet to 375 degrees F (190 degrees C). Fry doughnuts in the hot oil until golden, turning over once. Drain on paper towels. Dust with confectioners' sugar while they are still warm, and serve immediately.
8 FOODS THAT CAN HELP SOOTHE A HEADACHE
Reach for one of these healthy ingredients the next time your head is pounding.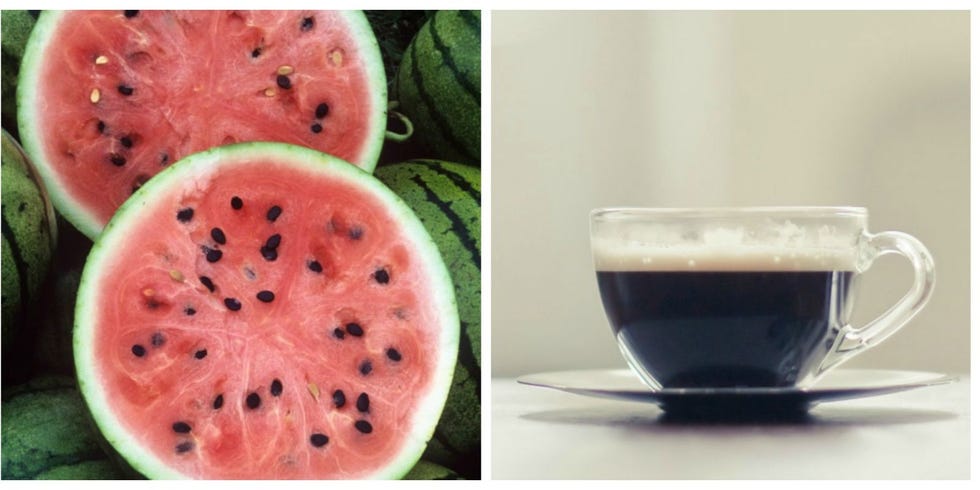 When a headache strikes, you may run through your usual routine: Turn out the lights, lie down and pop a pain pill. But did you know that certain foods may ease, and even prevent, headaches? Add these soothing foods to your shopping list and find out for yourself.