Creme brulee is also known as burnt cream, crema Catalana, and Trinity creme. It is a dessert that consists of a rich custard base that is topped with a contrasting layer of hard caramel and served at room temperature.
The custard base is usually vanilla flavored but has variations of lemon, orange, rosemary, lavender, chocolate, Amaretto, Grand Marnier, cinnamon, coffee, liqueurs, green tea, pistachio, hazelnut, coconut or other fruit.
The earliest known reference of creme brulee, as we know it today, appears in Francois Massialot's 1691 cookbook.

Five Food Finds about Creme Brûlée:
• The custard base is traditionally flavored with vanilla, but is also sometimes flavored with lemon or orange (zest), rosemary, chocolate, coffee, liqueurs, green tea, pistachio, coconut, or other fruit.
• The earliest known reference of crème brûlée as we know it today appears in François Massialot's 1691 cookbook, and the French name was used in the English translation of this book, but the 1731 edition of Massialot's Cuisinier roial et bourgeois changed the name of the same recipe from "crème brûlée" to "crème anglaise".
• In Britain, a version of crème brûlée (known locally as 'Trinity Cream' or 'Cambridge burnt cream') was introduced at Trinity College, Cambridge in 1879 with the college arms "impressed on top of the cream with a branding iron". The story goes that the recipe was from an Aberdeenshire country house and was offered by an undergraduate to the college cook, who turned it down.
• In Catalan language; Crema catalana ('Catalan cream'), crema cremada ('Burnt cream') or crema de Sant Josep, is a Catalan dish similar to crème brûlée. It is traditionally served on Saint Joseph's Day, March 19, although nowadays it is consumed at all times of year. The custard is flavored with lemon or orange zest, and cinnamon. The sugar in crema catalana is traditionally caramelized under an iron broiler or with a specially made iron, not with a flame.
• Crème brûlée is usually served in individual ramekins. Discs of caramel may be prepared separately and put on top just before serving, or the caramel may be formed directly on top of the custard, immediately before serving. To do this, sugar is sprinkled onto the custard, then caramelized under a broiler/salamander, with a butane torch (or similar), or by flambéing a hard liquor on it.
How To Make Creme Brûlée
Total              Yield
     2 h 40 min        5 servings
INGREDIENTS
6 egg yolks
6 tablespoons white sugar, divided
1/2 teaspoon vanilla extract
2 1/2 cups heavy cream
2 tablespoons brown sugar
DIRECTIONS
1. Preheat oven to 300 degrees F (150 degrees C).

2. Beat egg yolks, 4 tablespoons white sugar and vanilla extract in a mixing bowl until thick and creamy.

3. Pour cream into a saucepan and stir over low heat until it almost comes to boil. Remove the cream from heat immediately. Stir cream into the egg yolk mixture; beat until combined.

4. Pour cream mixture into the top pan of a double boiler. Stir over simmering water until mixture lightly coats the back of a spoon, about 3 minutes. Remove mixture from heat immediately and pour into a shallow heat-proof dish.

5. Bake in preheated oven for 30 minutes. Remove from oven and cool to room temperature. Refrigerate for at least 1 hour or overnight.

6. Preheat oven to broil.

7. In a small bowl combine remaining 2 tablespoons white sugar and brown sugar. Sift this mixture evenly over custard. Place dish under broiler until sugar melts, about 2 minutes. Watch carefully so as not to burn.

8. Remove from heat and allow to cool. Refrigerate until custard is set again.
8 FOODS THAT CAN HELP SOOTHE A HEADACHE
Reach for one of these healthy ingredients the next time your head is pounding.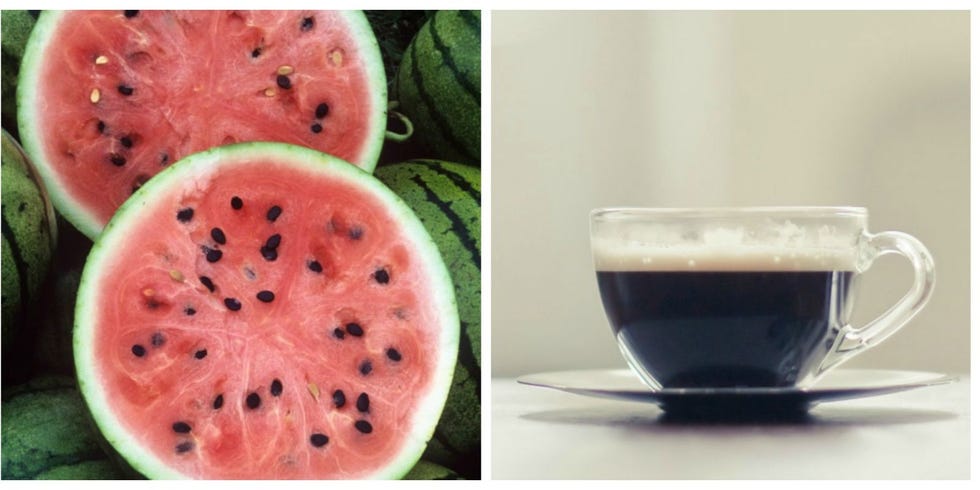 When a headache strikes, you may run through your usual routine: Turn out the lights, lie down and pop a pain pill. But did you know that certain foods may ease, and even prevent, headaches? Add these soothing foods to your shopping list and find out for yourself.