Now December 7th celebrates this sweet delight as it is National Cotton Candy Day.   Each year on December 7th, cotton candy lovers look forward to celebrating the day as they pull puffs of cotton candy from a stick or out of a bag and reminisce about their childhood days.
Dentist William Morrison and confectioner John C. Wharton are credited for the invention of machine-spun cotton candy in 1897.
Cotton candy is also called candy floss or fairy floss.
During the 18th century when cotton candy (spun sugar) was first recorded in Europe, it was very expensive and labor-intensive and generally was not available to the average person.  It was after the invention of machine-spun cotton candy that it was introduced to a wide audience at the 1904 World's Fair as Fairy Floss.  People loved it and bought over 68,000 boxes for 25 cents a box.
Cotton candy is still popular to this day!

Five Food Finds about Cotton Candy:
Cotton candy was originally called fairy floss.

Cotton candy contains only one ingredient: sugar.

The process by which cotton candy is made has been around for over 100
years so chances are you could ask your grandparents about their first
encounter with cotton candy and they'll tell you at great length how much
it cost and how neat it was back in the day.

It was forgotten for a while several decades ago, but cotton candy became
an instant hit when suddenly it was mass produced and became readily
accessible to everyone – not just the ones going to a fair or circus.

Cotton candy doesn't contain all that much sugar – merely as much sugar
as one would get drinking a can of an average soft drink.
HOW TO OBSERVE
Enjoy some cotton candy and use #NationalCottonCandyDay to post on social media.
HISTORY
Within our research, we were unable to find the creator and the origin of National Cotton Candy Day.
---
How to Build a Cotton Candy Cake
        Prep             Cook             Servings
45 m                20 m                   15
INGREDIENTS
For the Cake:
• 1 cup Whole Milk
• 6 large Egg Whites
• 2 teaspoons Cotton Candy Extract
• 2 1/4 cups Cake Flour
• 1 3/4 cups Granulated Sugar
• 4 teaspoons Baking Powder
• Sprinkles
• 12 tablespoons Butter
• a few drops of Pink Food Coloring, Or blue food coloring, if desired
For the Cotton Candy Simple Syrup:
• 1/2 cup Cotton Candy Floss Sugar
• 1/2 cup Water
For the Cotton Candy Frosting:
• 1/2 teaspoon Cotton Candy Extract
• 3 sticks Salted Butter, Softened
• 5 cups Powdered Sugar
• 2-3 tablespoons Heavy Whipping Cream
For Optional Garnish:
• Cotton Candy, Or rock candy
DIRECTIONS
For the Cake:
1. Preheat oven to 350°F. Generously butter and flour two 8 or 9 inch cake pan and set aside.

2. In a large glass liquid measuring cup, whisk together the milk, egg whites, and cotton candy flavoring. Set aside.

3. In a large mixing bowl, whisk together the flour, sugar, baking powder, and sprinkles. Beat the flour mixture and butter on low speed until the mixture is crumbly, about 3 minutes.

4. With the mixer on low, beat in all but 1/2 cup of the milk mixture. Increase speed to medium and beat for about 3 minutes, until smooth. Scrape down sides of bowl as needed. Beat in remaining milk mixture until just mixed.

5. Give batter a final stir with rubber spatula, scraping bottom of the bowl to make sure all is fully combined. Pour evenly into prepared pans, smoothing the tops of the batter. Bake for about 20 minutes or until tops are brown and centers spring back when very lightly touched.

6. Remove from oven and let cool in pans for about 5 minutes before turning onto wire rack to cool completely.
For the Cotton Candy Simple Syrup:
1. In a small, heavy saucepan whisk together cotton candy sugar and water over medium heat until mixture comes to a boil.

2. Boil for 3 minutes, stirring occasionally, until sugar is dissolved and mixture coats the back of a spoon.

3. Pour in a small cup or bowl and place in the refrigerator until cooled.
For the Frosting:
1. In the bowl of your mixer, beat butter, simple syrup and cotton candy flavoring on medium speed until smooth.

2. With the mixer on low, slowly add powdered sugar until just combined. Add heavy cream, then slowly increase mixer speed to high and beat for one minute until light and fluffy.

3. Assemble and frost cooled cake.

4. Garnish with candy, if desired.
8 FOODS THAT CAN HELP SOOTHE A HEADACHE
Reach for one of these healthy ingredients the next time your head is pounding.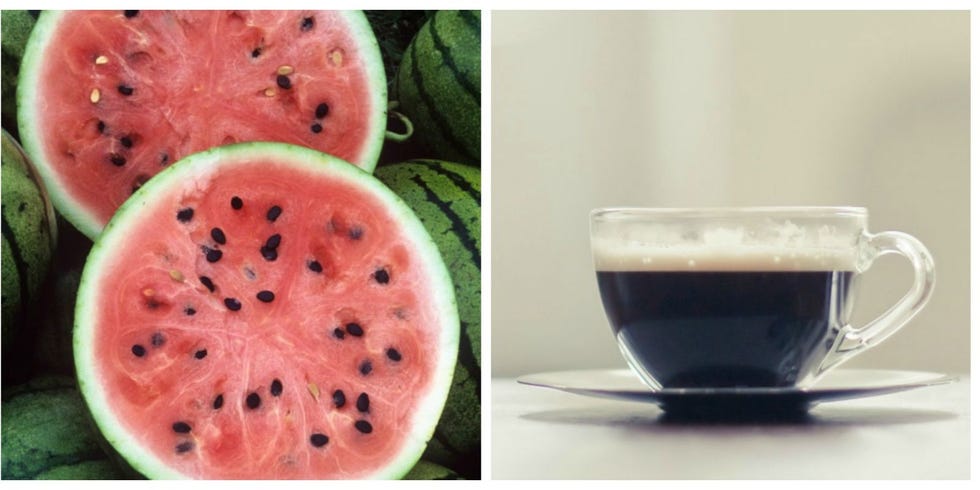 When a headache strikes, you may run through your usual routine: Turn out the lights, lie down and pop a pain pill. But did you know that certain foods may ease, and even prevent, headaches? Add these soothing foods to your shopping list and find out for yourself.