Coq au vin is French braise of chicken, cooked with wine, lardons (salt pork), mushrooms and garlic.
A French staple, Coq au vin translates to "rooster with wine." It's a rustic, peasant-style dish that is easy to serve when entertaining because a lot of the work can be done in advance.
Different legends tell of Coq au vin back in the days of Gaul and Julius Caesar. However, the first documented recipe was in the early 20th century. There was a somewhat similar recipe, poulet au vin blanc, that appeared in an 1864 cookbook.
HOW TO OBSERVE
Enjoy this  delicious Coq Au Vin recipe below.
Use #NationalCoqAuVinDay to post on social media.
HISTORY
Our research was unable to find the creator of National Coq Au Vin Day.
Coq au Vin
Classic French stewed chicken recipe, with bacon, mushrooms, and pearl onions. From Julia Child.
INGREDIENTS
• 1/2 lb bacon slices
• 20 pearl onions, peeled, or 1 large yellow onion, sliced
• 3 lbs chicken thighs and legs, excess fat trimmed, skin ON
• 6 garlic cloves, peeled
• Salt and pepper to taste
• 2 cups chicken stock
• 2 cups red wine (pinot noir, burgundy, or zinfandel)
• 2 bay leaves
• Several fresh thyme sprigs
• Several fresh parsley sprigs
• 1/2 lb button mushrooms, trimmed and roughly chopped
• 2 Tbsp butter
• Chopped fresh parsley for garnish
DIRECTIONS
1. Blanch the bacon to remove some of its saltiness. Drop the bacon into a saucepan of cold water, covered by a couple of inches. Bring to a boil, simmer for 5 minutes, drain. Rinse in cold water, pat dry with paper towels. Cut the bacon into 1 inch by 1/4 inch pieces.
2. Brown bacon on medium high heat in a dutch oven big enough to hold the chicken, about 10 minutes. Remove the cooked bacon, set aside. Keep the bacon fat in the pan. Working in batches if necessary, add onions and chicken, skin side down. Brown the chicken well, on all sides, about 10 minutes. Halfway through the browning, add the garlic and sprinkle the chicken with salt and pepper. (Note: it is best to add salt while cooking, not just at the very end. It brings out the flavor of the chicken.)
3. Spoon off any excess fat. Add the chicken stock, wine, and herbs. Add back the bacon. Lower heat to a simmer. Cover and cook for 20 minutes, or until chicken is tender and cooked through. Remove chicken and onions to a separate platter. Remove the bay leaves, herb sprigs, garlic, and discard.
4. Add mushrooms to the remaining liquid and turn the heat to high. Boil quickly and reduce the liquid by three fourths until it becomes thick and saucy. Lower the heat, stir in the butter. Return the chicken and onions to the pan to reheat and coat with sauce. Adjust seasoning. Garnish with parsley and serve.
Serves 6. Serve with potatoes or over egg noodles. Peas make a good side for this dish.
8 FOODS THAT CAN HELP SOOTHE A HEADACHE
Reach for one of these healthy ingredients the next time your head is pounding.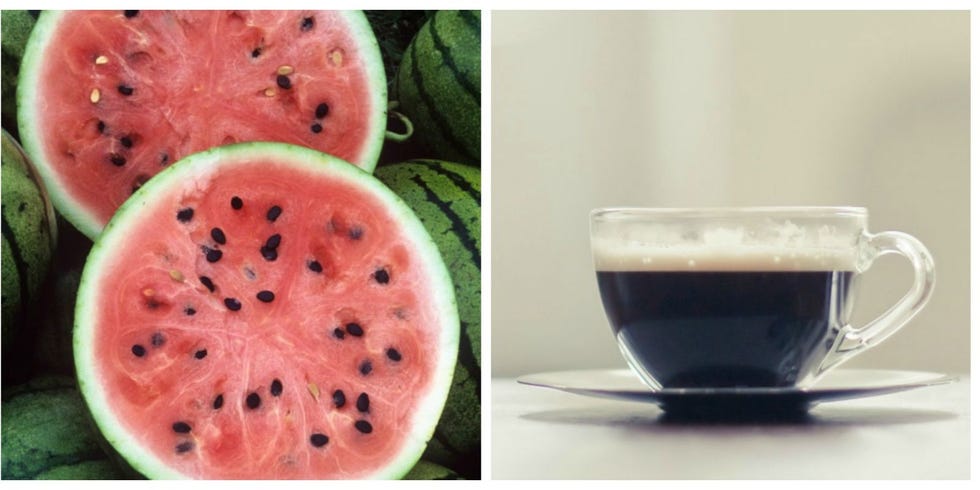 When a headache strikes, you may run through your usual routine: Turn out the lights, lie down and pop a pain pill. But did you know that certain foods may ease, and even prevent, headaches? Add these soothing foods to your shopping list and find out for yourself.