Monday, August 29, 2022
Get your chopsticks ready! National Chop Suey Day is recognized each year on August 29. Check out this great use for leftover rotisserie chicken with the Chop Suey with Baked Wonton Skins recipe listed below.
Chop suey, which means "assorted pieces," is a dish in American Chinese cuisine consisting of meat (chicken, fish, beef, prawns or pork) and eggs that are cooked quickly with vegetables (usually bean sprouts, cabbage and celery) and bound in a starch-thickened sauce. Rice typically accompanies this delicious dish.

Five Food Finds about Chop Suey:
• Chop suey is a Chinese American dish originating in the mid to late 19th century for Chinese immigrants in San Francisco.
• Many believe there are similar recipes in the Toisan region of China.
• A chop suey fad swept the 'big city'. In 1896, Americans began to visit New York Chinese restaurants in large numbers for the first time.
• Chop suey consists of small pieces of meat, chicken or shrimp stir-fried with celery, onions, bean sprouts, water chestnuts, mushrooms and/or other vegetables, and served over rice, usually with soy sauce.
• Most Chinese servers in the 1890's were know for their yellow jackets.
Chop Suey with Baked Wonton Skins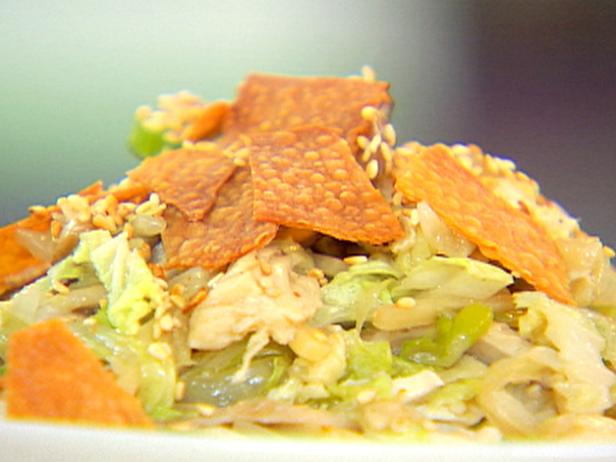 ..................................................................................
Prep                  Cook                    Yield
20 min               16 min              4 Servings
..................................................................................
INGREDIENTS
• 8 (3 by 3-inch) packaged Chinese wonton skins, separated
• 1 tablespoon plus 2 teaspoons canola oil
• 1/4 teaspoon salt
• 2 scallions, greens included, trimmed and thinly sliced (about 1/4 cup)
• 3 cloves garlic, sliced
• 4 cups sliced napa cabbage
• 3/4 cup celery, thinly sliced (about 4 celery hearts or 2 long stalks)
• 1 (8-ounce) can bamboo shoots, drained and julienned
• 2 cups shiitake mushrooms, cleaned, trimmed and thinly sliced (about 6 ounces)
• 3/4 teaspoon sugar
• 1 cup low-sodium chicken broth
• 1 1/2 tablespoons low-sodium soy sauce
• 2 tablespoons toasted sesame oil
• 1 1/2 teaspoons cornstarch dissolved in 1 tablespoon cooking sherry
• 2 cups cubed or shredded cooked turkey or chicken
• 2 cups cooked brown rice
• 1 tablespoon toasted sesame seeds
DIRECTIONS
1. Preheat the oven to 375 degrees F.

2. Brush a baking sheet and the wonton skins lightly on both sides with 2 teaspoons of oil. Season with salt and bake for 10 to 12 minutes, or until browned and crisp. Transfer to a cooling rack and reserve.

3. In a large heavy skillet or wok, heat the remaining 1 tablespoon of canola oil over medium-high heat. Add the scallion, garlic, cabbage, celery, bamboo shoots, and mushrooms and stir-fry until cabbage is soft and wilted, about 3 to 4 minutes. Add the sugar, 3/4 cup of the chicken broth, soy sauce, and sesame oil and cook for 3 minutes. Add the sherry-cornstarch mixture and, if the mixture is a little dry, the additional 1/4 cup chicken stock. Add the turkey or chicken and heat through. Serve the chop suey over the cooked brown rice and top with sesame seeds and reserved crushed wonton skins.
8 FOODS THAT CAN HELP SOOTHE A HEADACHE
Reach for one of these healthy ingredients the next time your head is pounding.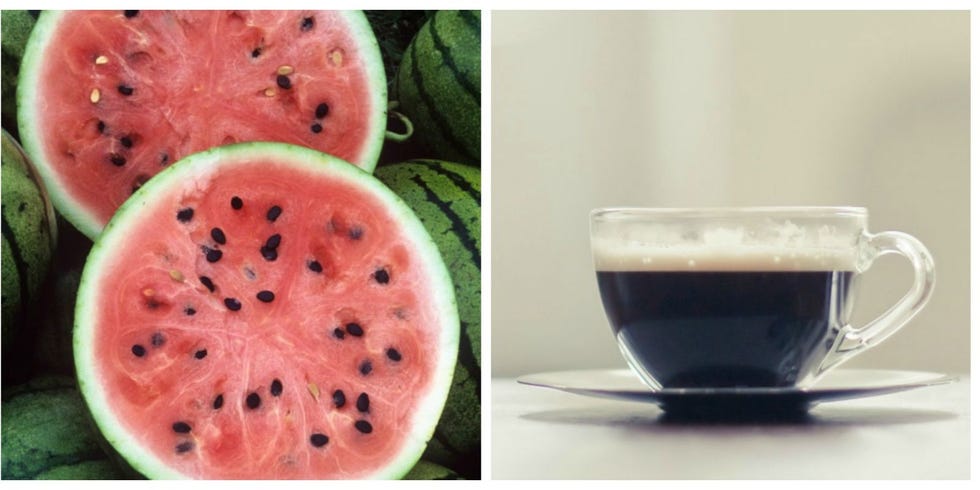 When a headache strikes, you may run through your usual routine: Turn out the lights, lie down and pop a pain pill. But did you know that certain foods may ease, and even prevent, headaches? Add these soothing foods to your shopping list and find out for yourself.