Saturday, August 20, 2022
National Pecan Pie Day is observed each year on July 12. However, if you add some chocolate to this delicious dessert, you can celebrate National Chocolate Pecan Pie Day on August 20. Enjoy and share with your friends and family the delicious Chocolate Pecan Pie Bars recipe listed below.
Pecan pie is a pie of pecan nuts mixed with a filling of eggs, butter, and sugar (typically corn syrup). Variations may include white or brown sugar, sugar syrup, molasses, maple syrup, or honey. It is popularly served at holiday meals and is also considered a specialty of Southern U.S. cuisine. Most pecan pie recipes include salt and vanilla as flavorings. Chocolate and bourbon whiskey are other popular additions to the recipe.

Five Food Finds about Pecan Pie:
• A handful of Pecans provide nearly 10 percent of the recommended Daily Value for zinc.
• It would take 11,624 pecans, stacked end to end, to reach the top of the Empire State Building in New York City.
• Texas adopted the pecan tree as its state tree in 1919. In fact, Texas Governor James Hogg liked pecan trees so much that he asked if a pecan tree could be planted at his gravesite when he died.
• Albany, Georgia, which boasts more than 600,000 pecan trees, is the pecan capital of the U.S. Albany hosts the annual National Pecan Festival, which includes a race, parade, pecan-cooking contest, the crowning of the National Pecan Queen and many other activities.
• Pecan trees usually range in height from 70 to 100 feet, but some trees grow as tall as 150 feet or higher. Native pecan trees – those over 150 years old – have trunks more than three feet in diameter.
Chocolate Pecan Pie Bars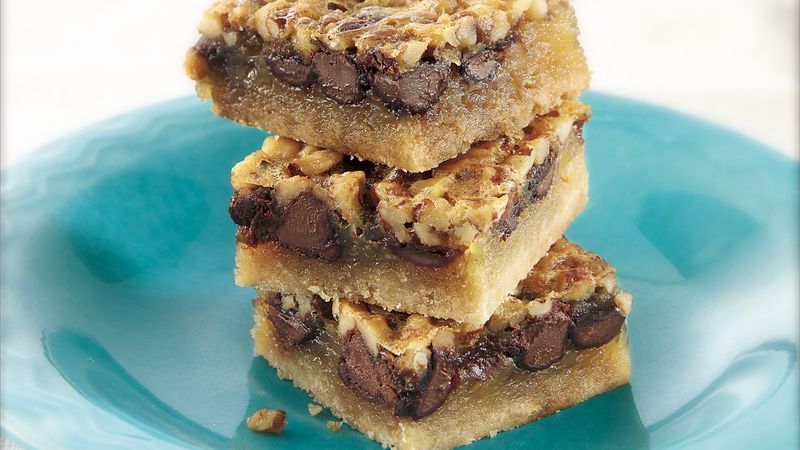 Prep                       Ready In
 15 m                           2 h  15 m
INGREDIENTS
• 1 1/2 cups all-purpose flour
• 1/2 cup packed brown sugar
• 1/2 cup butter or margarine, softened
• 1 cup chopped pecans
• 3/4 cup granulated sugar
• 3/4 cup corn syrup
• 2 tablespoons butter or margarine, melted
• 1 tablespoon bourbon, if desired
• 1/2 teaspoon vanilla
• 3eggs, beaten
• 1 bag (6 ounces) semisweet chocolate chips (1 cup)
DIRECTIONS
1. Heat oven to 350° (if using dark or nonstick pan, heat oven to 325°). Beat flour, brown sugar and butter in large bowl with electric mixer on medium speed, or mix with spoon. Press mixture on bottom and 1/2 inch up sides of ungreased rectangular pan, 13x9x2 inches. Bake 15 to 20 minutes or until golden brown.

2. Stir remaining ingredients in medium bowl until well mixed. Pour over partially baked crust.

3. Bake 30 to 35 minutes or until set. Cool about 15 minutes. Refrigerate at least 1 hour until firm. For bars, cut into 8 rows by 6 rows. Store covered in refrigerator.
NATIONAL ICE CREAM PIE DAY
Thursday, August 18, 2022
National Ice Cream Pie Day is observed annually on August 18th. This food holiday honors this refreshing frozen dessert that comes in many delicious flavors. Plus enjoy a cool and buzzy ice cream pie for a slow summer day with the Chocolate Crunch Ice Cream Pie recipe listed below.