Tuesday, September 27, 2022
Across the country, folks enjoy a tall, frosty glass on National Chocolate Milk Day which is observed annually on September 27. In honor of the cake that is seriously life changing, I know, I know, that's crazy talk, but this is truly a one shockingly good cake it's the Chocolate Milk Bundt Cake recipe listed below.
Invented by Hans Sloane in the late 1680s, today chocolate milk can be purchased premixed or it can be made at home with either cocoa powder and a sweetener or with melted chocolate, chocolate syrup or chocolate milk mix.

Five Food Finds about Chocolate Milk:
• Chocolate milk is a sweetened, usually cold, cocoa-flavored milk drink. It is created when chocolate syrup (or chocolate powder) is mixed with milk (from cows, goats, soy, rice, etc).
• It can be purchased pre-mixed or made at home with either cocoa powder and a sweetener (such as sugar or a sugar substitute), or with melted chocolate, chocolate syrup, or chocolate milk mix.
• Other ingredients, such as starch, salt, carrageenan, vanilla, or artificial flavoring may be added.
• Chocolate milk should be refrigerated like plain milk.
• A suspension is required to blend in the two flavors (milk and chocolate, hence the name of the mixed drink).
Chocolate Milk Bundt Cake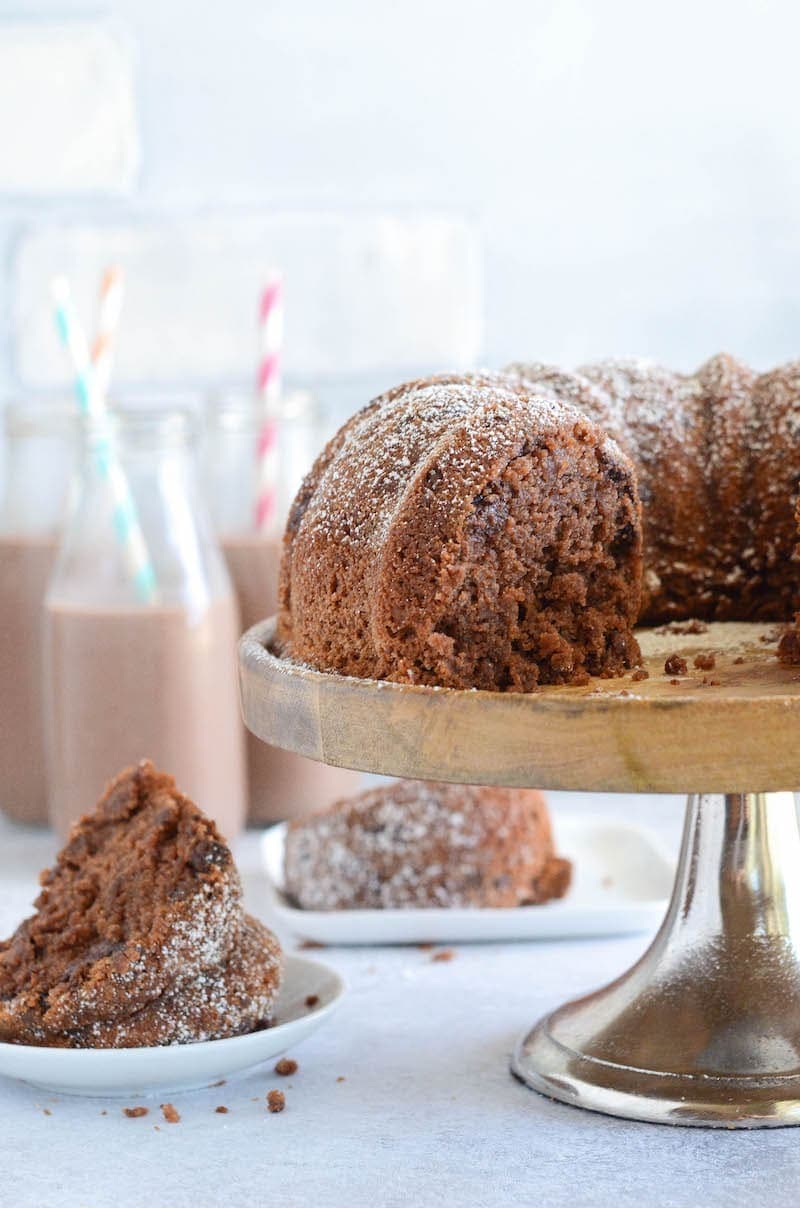 ..................................................................................
Prep                  Cook                    Yield
        15 min               50 min              1 Bundt Cake
..................................................................................
INGREDIENTS
• 1 3/4 cups all purpose flour
• 1/4 cup cocoa powder
• 2 teaspoons baking powder
• 1 teaspoon salt
• 1/2 cup (1 stick) butter, melted
• 2 teaspoons vanilla extract
• 4 large eggs
• 2 cups granulated sugar
• 1 cup a2 Milk® Chocolate 2% Reduced Fat Milk
• 1 cup semi sweet chocolate chips
• powdered sugar, for dusting
DIRECTIONS
1. Preheat the oven to 325°F. Adjust an oven rack to the middle position. Grease and flour a 12-cup Bundt cake pan.

2. In a small bowl, whisk together flour, cocoa powder, baking powder and salt until smooth.

3. In an electric mixer fitted with the whisk attachment, combine eggs and sugar on medium-high speed for 3 minutes, until the mixture triples in size. Add the melted butter and vanilla extract, whisking until well combined.

4. Add the dry ingredients and start mixing. Slowly add the a2 Milk® Chocolate 2% Reduced Fat Milk, whisking until smooth. Fold in chocolate chips.

5. Pour the batter into the prepared pan and bake for 50 to 60 minutes. Cake is done when a toothpick inserted in the center should come out clean, with a few crumbs attached.<

6. Cool in the pan for 10 minutes before inverting onto a cooling rack or serving plate to cool completely. Dust cake with powdered sugar and serve!
Monday, September 26, 2022
The table is set, the batter is mixed, the griddle is hot, and the butter and syrup are ready. This means you are prepared for National Pancake Day. This food holiday is observed each year on September 26, so all the more reason to try this delectable Banana and Pecan Pancakes with Maple Butter recipe listed below.