Tuesday, October 18, 2022
National Chocolate Cupcake Day is observed annually on October 18. With a dollop of frosting, one sweet serving will satisfy chocolate and dessert lovers! Try this Super Easy, Super Moist Chocolate Cupcakes recipe listed below.
Cupcakes were originally baked in heavy pottery cups. Today, some bakers still use individual ramekins, small coffee mugs, large teacups, or other small ovenproof pottery-type dishes for baking their cupcakes.

Five Food Finds about Cupcakes:
• Cupcake liners do more than make it easy to remove them from the pan. Traditionally, sides of tins are greased for easy removal, but also floured because the batter needs to have something to cling to. A cupcake liner takes care of both.
• On August 15, 2009 GourmetGiftBaskets.com broke the world record for largest cupcake ever made. The cupcake was 1,224 pounds, 4 foot tall by 10 foot wide, and had 2 million calories.
• One of the most popular cupcake bakery's in the U.S. is Crumbs in New York City. They have reported $23.5 million in cupcake revenue last year alone!
• The first mention of a cupcake recipe goes as far back as 1796. Amelia Simms wrote a recipe in "American Cookery" which referenced, "a cake to be baked in small cups".
• However, it wasn't until 1828 that the actual word cupcake was used by Eliza Leslie in her cookbook "Seventy-five Receipts for Pastry, Cakes, and Sweetmeats".
Super Easy, Super Moist Chocolate Cupcakes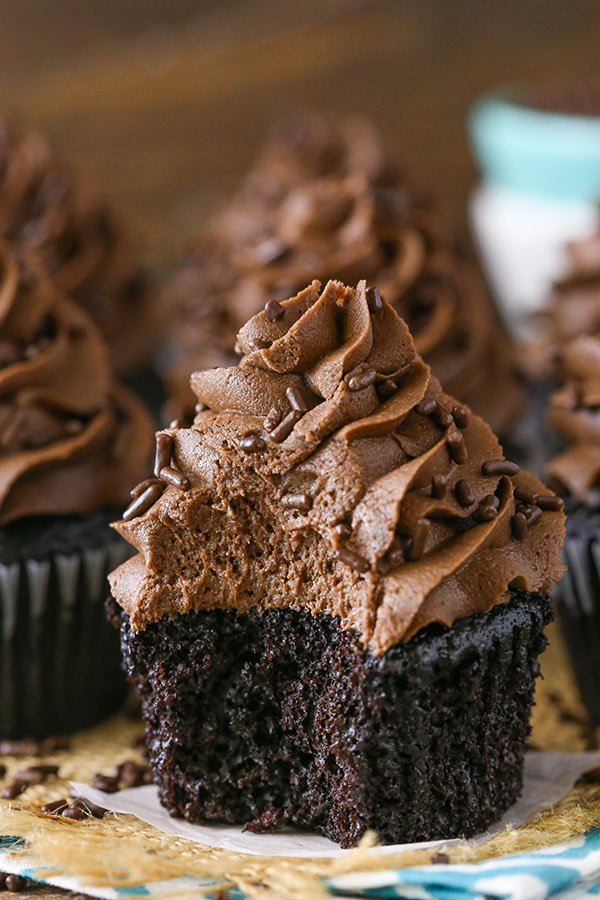 ....................................................
YIELD:  Makes 12 cupcakes
....................................................
INGREDIENTS

Cupcakes:
1 1/2 cups all purpose flour
1/4 cup unsweetened cocoa powder
1 cup granulated sugar
1 teaspoon baking soda
1/2 teaspoon salt
1 cup brewed coffee (or 1 cup of
  warm water mixed with 1 1/2 teaspoons
  of espresso powder or instant coffee
  granules)
1 Tbsp white vinegar
2 teaspoons vanilla extract
6 Tbsp (1/4 cup plus 2 Tbsp) olive oil
 
Frosting:
4 Tbsp butter
1/3 cup unsweetened cocoa powder
1 1/2 cup powdered sugar
3 tablespoons milk
1 tablespoon vanilla extract

DIRECTIONS
Cupcakes:
1. Preheat oven to 350°F
   with a rack in the middle position.
   Prepare a muffin tin with cupcake liners.

2. In a large bowl, vigorously whisk together
   the flour, cocoa powder, sugar, baking soda,
   and salt until there are no visible clumps
   (cocoa tends to clump up).

3. In a separate bowl, mix together the coffee
   (or water plus coffee granules), vinegar,
   vanilla extract, and olive oil.

4. Pour the wet ingredients into the dry
   ingredients and stir only until they just
   come together. The mixture should be thin
   and rather lumpy.

5. Ladle the batter into the cupcake liners,
   filling them about two-thirds of the way full.
   Place in oven and bake for 18 to 20 minutes,
   until a bamboo skewer inserted in the center
   comes out clean.

6. Remove from oven and let cool in the pan for
   5 minutes, then remove from pan and let cool
   on a rack. Once cool, you can eat plain,
   sprinkle with powdered sugar, or drizzle or
   coat with frosting.

Frosting:
1. While the cupcakes are cooking, make the
   frosting. Melt butter in a small saucepan and
   remove from heat. Stir in the cocoa until smooth.
   Sprinkle in about a third of the powdered sugar,
   stir, then sprinkle in about a half of the milk.
   Keep alternating with the powdered sugar and
   either milk or vanilla, stirring after each
   addition, until the frosting is the consistency
   you want, and smooth. If it's too runny, add more
   powdered sugar. If too stiff, add a little more
   milk or vanilla extract.

2. To pipe in a decorative pattern, scoop the
   frosting into the corner of a ziplock freezer bag.
   Use scissors to cut away 1/4-inch or so from the
   tip of the corner. Then just squeeze the frosting
   out of the bag onto the cupcakes in any design you
   like.


8 FOODS YOU DIDN'T KNOW COULD KILL YOU
STILL HUNGRY? FOODS THAT MAKE YOU WANT MORE — HERE'S WHAT TO EAT INSTEAD
NATIONAL CUPCAKE LOVER'S DAY
7 TELLTALE SIGNS TO EASILY SPOT A LIAR
8 FOODS THAT CAN HELP SOOTHE A HEADACHE
Reach for one of these healthy ingredients the next time your head is pounding.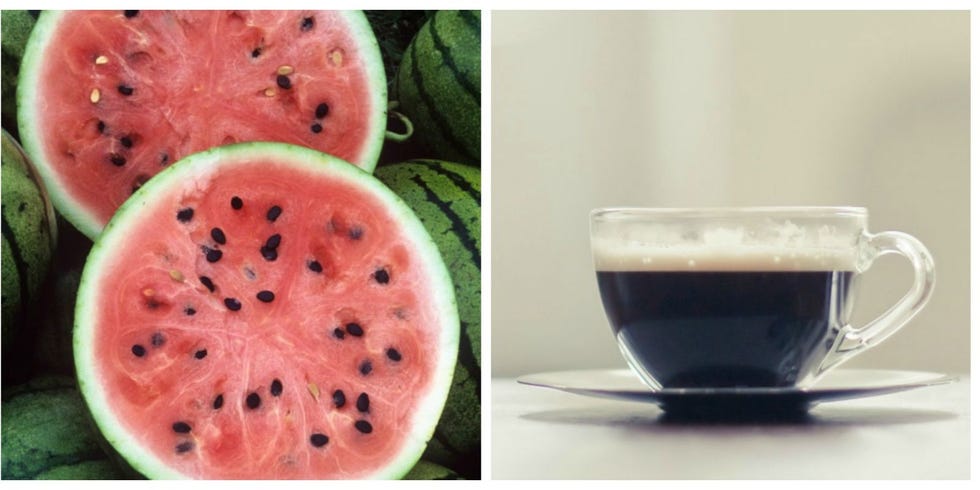 When a headache strikes, you may run through your usual routine: Turn out the lights, lie down and pop a pain pill. But did you know that certain foods may ease, and even prevent, headaches? Add these soothing foods to your shopping list and find out for yourself.
SUFFERING FROM ECZEMA? HERE'S THE RIGHT WAY TO WEAR MAKEUP
STUBBORN CARPET STAINS AND HOW TO REMOVE THEM! (YES, EVEN CAT PEE)
NUTRITIONISTS SELECT THE TOP 15 HEALTHY FAST FOOD RESTAURANTS