Have you ever wondered if an ingredient would work in a recipe? It is hard to imagine where we would be without the invention of chocolate chips.
In 1937, Ruth Graves Wakefield of Whitman Massachusetts must have been curious what a little bit of chocolate would add to her cookies. While working at the Toll House Inn, she added cut-up chunks of semi-sweet Nestle chocolate bar to a cookie recipe.  The cookies were a huge success and in 1939 Wakefield signed an agreement with Nestle to add her recipe to the chocolate bar's packaging.  In exchange for the recipe, Wakefield received a lifetime supply of chocolate.  The Nestle brand Toll House cookies were named for the Inn.
Nestle initially included a small chopping tool with the chocolate bars. Starting in 1941,  Nestle and other competitors started selling the chocolate in chip or morsel form.
Semi-sweet was the original flavor of chocolate chips.  Today the chocolates come in bittersweet, semi-sweet, mint, white chocolate, dark chocolate, milk chocolate, and white and dark swirled.
The imagination is the only thing limiting what recipes chocolate can be used. Today chocolate chips are used in a variety of baking methods from sweet to savory.  Had Ruth Graves Wakefield never wondered what a few chopped up chunks of chocolate would be like in her baking, we wouldn't even have chocolate chip cookies.  
HOW TO OBSERVE
Use #ChocolateChipDay to post on social media.
HISTORY
Within our research, we were unable to find the creator of National Chocolate Chip Day.
Bakery Style Chocolate Chip Muffins
Big, buttery, fluffy & filled with chocolate chips - these bakery style chocolate chip muffins will be your new favorite.
Course:        Breakfast, Dessert
Prep Time:   15 minutes
Cook Time:  18 minutes
Total Time:    33 minutes
Servings:      12
Calories:       367 kcal
Ingredients
• 2 and 1/2 cups all-purpose flour
• 2 teaspoons baking powder
• 1 teaspoon baking soda
• 1/4 teaspoon salt
• 1/2 cup unsalted butter , room temperature
• 1 cup granulated sugar
• 1 tablespoon vanilla
• 2 large eggs , room temperature
• 1/4 cup sour cream , room temperature
• 3/4 cup buttermilk* , room temperature
• 1 1/2 cup mini chocolate chips , or your favorite variety
• coarse/decorating sugar for sprinkling
Instructions
1. Preheat your oven to 425F degrees and butter or line a 12 cavity muffin tin.
2. In a medium bowl, whisk together the flour, baking soda, baking powder and salt. Set aside
3. Using a handheld or stand mixer cream the butter and sugar together on medium until light and fluffy - about 2 minutes. Add in the eggs and vanilla and continue mixing until combined.
4. Turn off your mixer, scrape down the sides & fold in the sour cream and buttermilk.
5. Carefully fold in the flour mixture until almost combined. Then continue to fold in the chocolate chips.
6. Fill your muffin tins to the very top (about a generous 1/3 cup). Optionally sprinkle with a few extra chocolate chips and coarse sugar. Then bake at 425F degrees for 5 minutes. Turn down the oven to 375F degrees and continue baking for 13-15 minutes.
7. Allow muffins to cool in the pan for 5 minutes, then continue cooling on a wire rack.
Recipe Notes
*If you don't have buttermilk, add 2 teaspoons of distilled white vinegar to a liquid measuring cup and fill to the 3/4 cup line with milk (1%, 2% or whole). Allow to sit for 5 minutes to sour before using.
**Muffins are best if eaten the day of. Store in an airtight container at room temperature for up to 3 days.
8 FOODS THAT CAN HELP SOOTHE A HEADACHE
Reach for one of these healthy ingredients the next time your head is pounding.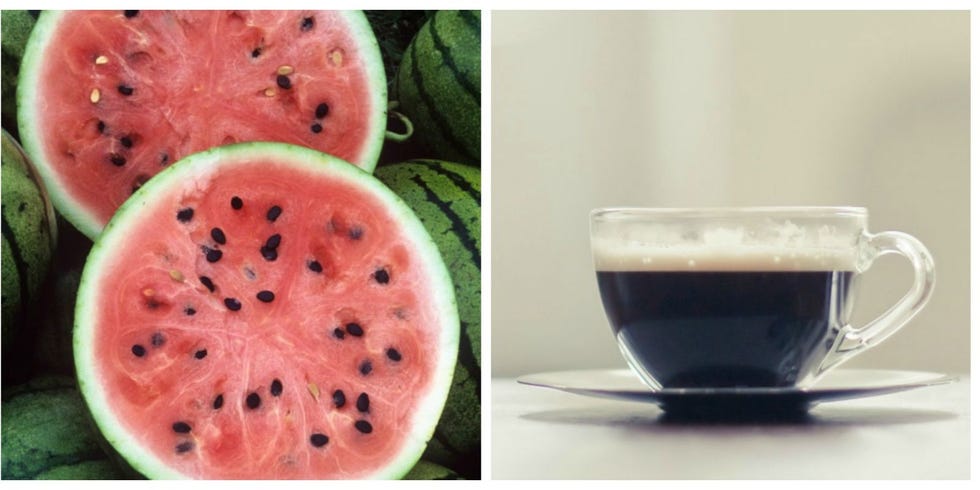 When a headache strikes, you may run through your usual routine: Turn out the lights, lie down and pop a pain pill. But did you know that certain foods may ease, and even prevent, headaches? Add these soothing foods to your shopping list and find out for yourself.