It is a sweet dessert that is a mixture of soft fresh cheese, cream cheese or cottage cheese, eggs and sugar on a crust made from crushed graham crackers, crushed cookies, pastry or sponge cake.
Cheesecakes can be prepared baked or unbaked, can be flavored and are often served topped with fruit, fruit sauce, chocolate or whipped cream. There are many flavors in which cheesecakes can be prepared, some of which are blueberry, strawberry, pumpkin, chocolate, key lime, lemon, orange, raspberry or toffee.
It is possible that an ancient form of cheesecake may have been a popular dish in ancient Greece. It has been found that the earliest attested mention of a cheesecake is by Greek physician Aegimus, who wrote a book on the art of making cheesecakes.
James Kraft developed a form of pasteurized cream cheese in 1912. In 1928, Kraft acquired the Philadelphia trademark and marketed pasteurized Philadelphia Cream Cheese which is now the most commonly used cheese for cheesecake.
North America has several different styles of cheesecakes:
• New York-style cheesecake
• Pennsylvania Dutch-style cheesecake
• Philadelphia-style
• Farmer cheese cheesecake
• Country-style cheesecake
• Lactose-free cheesecake
• Cheesecake Kludys
• Chicago Style cheesecake
• Savory cheesecake


Five Food Finds about Cheesecake:
Pennsylvania Dutch-style cheesecake uses a slightly tangy type of cheese with larger curds and less water content, called pot or farmer's cheese.

Philadelphia-style cheesecake is lighter in texture, yet richer in flavor than New York style cheesecake.

Farmer's cheese cheesecake is the contemporary implementation for the traditional use of baking to preserve fresh cheese and is often baked in a cake form along with fresh fruit like a tart.

Country-style cheesecake uses buttermilk to produce a firm texture while decreasing the pH (increasing acidity) to extend shelf life.

Lactose free cheesecake may be made either with lactose-free cream cheese or as an imitation using Vegan recipes combining non-dairy cream cheese alternatives with other lactose-free ingredients.
How to Make Easy Homemade New York Style Cheesecake
No Fuss Recipe
Total: 5 hours (includes cooling time)
Yield: 16 servings
INGREDIENTS
Crust
• 1 1/2 cups graham cracker crumbs
• 1/4 cup of sugar
• 8 tablespoons butter, (1 stick) melted
Filling
• 4 (8 oz) packages of cream cheese, softened
• 1 1/4 cup sugar
• 2 teaspoons vanilla
• 2 tablespoon lemon juice
• 5 eggs
• 2 tablespoons of flour
Sour Cream Layer
• 1 pint of sour cream
• 1/3 cup of sugar
• 1/2 teaspoon vanilla
• 1 tablespoon lemon juice
Garnish (optional)
• Fresh sliced strawberries
• Strawberry sundae syrup
• Whipped cream – See my video for how to make home made Whipped Cream
DIRECTIONS
1. HEAT oven to 325°F.

2. In a bowl mix graham cracker crumbs, sugar and butter, press onto bottom and slightly up the sides of 10-inch spring-form pan. Bake in oven for 10 minutes.

3. While crust is baking, make the filling by beating the cream cheese, sugar, vanilla and lemon with electric mixer until smooth and well blended. Add eggs, 1 at a time, mixing at medium speed after each egg is added until all is blended making sure to scrape down the batter with a spatula. Add flour and mix until smooth.

4. Remove crust from oven, but keep oven on and let the crust cool for 5-10 minutes then pour the filling over crust. Bake for about 50-55 minutes or until cake is cooked but has a slight giggle in the center.

5. Remove from oven, again keeping oven on and set aside for 5-10 minutes so it cools slightly while you make the sour cream topping. In a small bowl mix the sour cream, sugar, vanilla and lemon. Spoon over the top of the cheesecake and spread evenly. Put cake back in oven and bake for 10 minutes.

6. Remove from oven and loosen cake from rim of pan with knife. Cool before refrigerating. Cover and refrigerate at least 3 hours or over night.

7. Before serving, remove rim from pan and plate and slice cake. Garnish each slice with fresh strawberries and a drizzle of strawberry sundae syrup along with some whipped cream.

Cooking Tips:

Wrapping foil around the bottom of the pan helps to keep anything from dripping out while baking.

It is best to store the cheesecake in the spring-form pan until ready to serve. The pan will protect it from getting bumped in the refrigerator.

Slice cake using a hot, wet knife, wiping knife blade clean in between slices.

Store leftover cheesecake in the refrigerator.

Whipped Cream Cheese can be replaced for half of the recipe. I sometimes like to use 2 whipped and 2 regular 8 oz. packages.

Other options for the crust: You can replace the Graham Crackers with Chocolate cookies or vanilla wafer,

If making this recipe for Passover you can use crushed macaroons or crushed matzo for the crust in place of the Graham Crackers. If you need to replace the flour in the recipe you can use potato starch.

8 FOODS THAT CAN HELP SOOTHE A HEADACHE
Reach for one of these healthy ingredients the next time your head is pounding.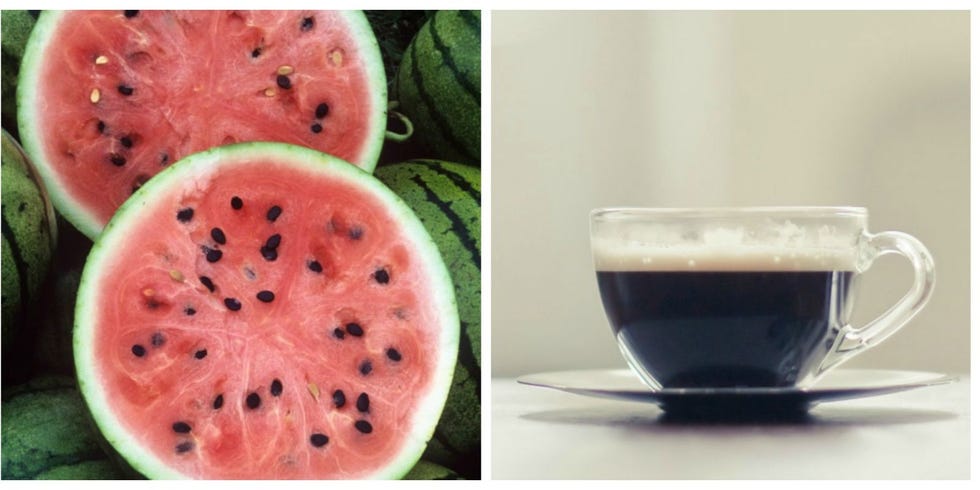 When a headache strikes, you may run through your usual routine: Turn out the lights, lie down and pop a pain pill. But did you know that certain foods may ease, and even prevent, headaches? Add these soothing foods to your shopping list and find out for yourself.