Monday, September 5, 2022
On September 5th, one of the most popular varieties of pizzas gets its day of honor. Hold the toppings, please. It's National Cheese Pizza Day! Using the oil from sun-dried tomatoes to make the topping try this incredible Creamy Pizza Macaroni and Cheese recipe listed below.
In ancient Greece, the Greeks covered their bread with oils, herbs and cheese which some believe is the beginning of the "pizza". In Byzantine Greek, the word was spelled "πίτα", pita, meaning pie, and a sheet of dough topped with cheese and honey, then flavored with bay leaves was developed by the Romans.

Five Food Finds about Cheese Pizza:
• About 93% of Americans eat at least one pizza every month.
• About 350 slices of pizza are consumed every second in the United States.
• The most pizzas are delivered (and eaten) on New Year's Day, New Year's Eve, Halloween, Thanksgiving Eve, and Super Bowl Sunday.
• The three dots in the Domino's Pizza logo represent the first three Domino's Pizza stores.
• Pepperoni is the most popular pizza topping in the United States.
Creamy Pizza Macaroni and Cheese
..................................................................................
Prep                  Cook                    Yield
10 min               35 min              8-10 Servings
..................................................................................
INGREDIENTS
• Kosher salt
• 1 pound elbow macaroni
• 2 1/2 cups half-and-half
• 3/4 teaspoon dried oregano
• 1/2 to 1 teaspoon crushed red pepper
• 1 pound cream cheese, room temperature
• 8 ounces sharp Cheddar, shredded (about 3 cups)
• 3 ounces Gruyere, shredded (about 1 cup)
• 1/2 cup prepared marinara sauce
• 1/2 cup sun-dried tomatoes packed in olive oil, roughly chopped, and 1/4 cup sun-dried tomato oil
• 3 ounces pepperoni, thinly sliced into 1/4-inch rounds
• 1 cup Italian bread crumbs
• 1/4 cup grated Parmesan
DIRECTIONS
1. Set an oven rack 6 inches from the heat source and preheat the oven to 425 degrees F.

2. Bring a large pot of salted water to a boil. Add the macaroni and cook until it is al dente, about 6 minutes. Strain, reserving 1 3/4 cups of the pasta water. Set aside.

3. Heat the half-and-half, oregano and crushed red pepper in a large saucepan over medium heat until the mixture just comes to a simmer. Continue simmering until the half-and-half is reduced to 1 1/2 cups, about 15 minutes. Add the cream cheese and stir until melted. Whisk in the Cheddar and Gruyere until all the cheese is melted and the sauce is smooth.

4. Add the macaroni and reserved pasta water to the saucepan and stir to combine. (The mixture will look very loose, but the pasta will suck up a lot of the sauce as it bakes.) Gently stir in the marinara sauce, sun-dried tomatoes and pepperoni and season with more salt if needed. Pour into a 13-by-9-inch baking dish. Toss the bread crumbs, Parmesan and sun-dried tomato oil together in a small bowl and sprinkle evenly over the macaroni and cheese. Bake until the cheese is bubbly and the bread crumbs are lightly browned and crispy, about 10 minutes.
NATIONAL MACADAMIA NUT DAY
Sunday, September 4, 2022
National Macadamia Nut Day is observed annually on September 4th. Macadamia nuts, with their rich, buttery taste, are known by many to be one of the most delectable of all nuts. Think of the creamy rich taste of a macadamia nut, plus consider its crunch with the Dried Cherry, Macadamia and White Chocolate Chip Cookies recipe listed below.
STILL HUNGRY? FOODS THAT MAKE YOU WANT MORE — HERE'S WHAT TO EAT INSTEAD
7 TELLTALE SIGNS TO EASILY SPOT A LIAR
MOVE OVER KALE, SEAWEED IS THE NEW SUPERFOOD
8 FOODS THAT CAN HELP SOOTHE A HEADACHE
Reach for one of these healthy ingredients the next time your head is pounding.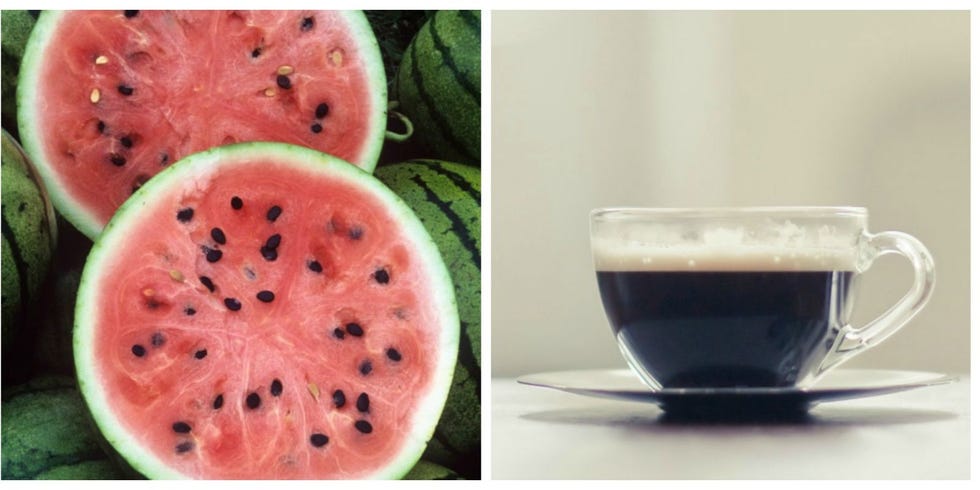 When a headache strikes, you may run through your usual routine: Turn out the lights, lie down and pop a pain pill. But did you know that certain foods may ease, and even prevent, headaches? Add these soothing foods to your shopping list and find out for yourself.
STUBBORN CARPET STAINS AND HOW TO REMOVE THEM! (YES, EVEN CAT PEE)
NUTRITIONISTS SELECT THE TOP 15 HEALTHY FAST FOOD RESTAURANTS