Sunday, October 31, 2021
National Caramel Apple Day is observed annually on October 31. Try this flavorful cake that stays moist as long as it lasts, which isn't long! Here's the Caramel Apple Cake recipe listed below.
A fun memory from many people's childhoods is eating caramel apples in the fall. It may have been at a fair, carnival, Halloween party or just home with family and friends, but the memory is a good one and part of the fun was making them.

Five Food Finds about Caramel Apples:
• Caramel apples (sometimes called taffy apples) are made by dipping apples, on a stick, in hot caramel.
• For caramel apples in high production, a sheet of caramel can be wrapped around the apple and then heated to melt the caramel evenly onto it.
• The most commonly preferred apples used in making caramel apples are tart, crisp apples such as Granny Smith or Fuji apples.
• Caramel apples are enjoyed by millions of people, young and old, across the nation.
• This holiday has been perfectly coordinated to coincide with Halloween as that is the most popular time that caramel apples are made and shared.
Caramel Apple Cake recipe
....................................................
YIELD:  Makes 16 servings
....................................................
INGREDIENTS
1-1/2 cups vegetable oil
1-1/2 cups sugar
1/2 cup packed brown sugar
3 eggs
3 cups all-purpose flour
2 teaspoons ground cinnamon
1/2 teaspoon ground nutmeg
1 teaspoon baking soda
1/2 teaspoon salt
3-1/2 cups diced peeled apples
1 cup chopped walnuts
2 teaspoons vanilla extract

CARAMEL ICING:
1/2 cup packed brown sugar
1/3 cup light cream
1/4 cup butter or margarine
Dash salt
1 cup confectioners' sugar
Chopped walnuts, optional

DIRECTIONS

1. In a mixing bowl, combine oil and sugars. Add eggs, one at a time, beating well after each addition. Combine dry ingredients; add to batter and stir well. Fold in apples, walnuts and vanilla. Pour into a greased and floured 10-in. tub pan. Bake at 325° for 1-1/2 hours or until cake tests done. Cool in pan 10 minutes; remove to a wire rack to cool completely.

2. In the top of a double boiler over simmering water, heat brown sugar, cream, butter and salt until sugar is dissolved. Cool to room temperature. Beat in confectioners' sugar until smooth; drizzle over cake. Sprinkle with nuts if desired.


Saturday, October 30, 2021
National Candy Corn Day is observed annually on October 30th.  Did you know candy corn started as a gimmick to prove the goodness of corn sugar? Upgrade those packets of store bought candy corn with this 100% vegan version! Made with brown rice syrup and a kiss of vanilla, it's easy try this Vegan Candy Corn recipe listed below.
8 FOODS YOU DIDN'T KNOW COULD KILL YOU
STILL HUNGRY? FOODS THAT MAKE YOU WANT MORE — HERE'S WHAT TO EAT INSTEAD
7 TELLTALE SIGNS TO EASILY SPOT A LIAR
8 FOODS THAT CAN HELP SOOTHE A HEADACHE
Reach for one of these healthy ingredients the next time your head is pounding.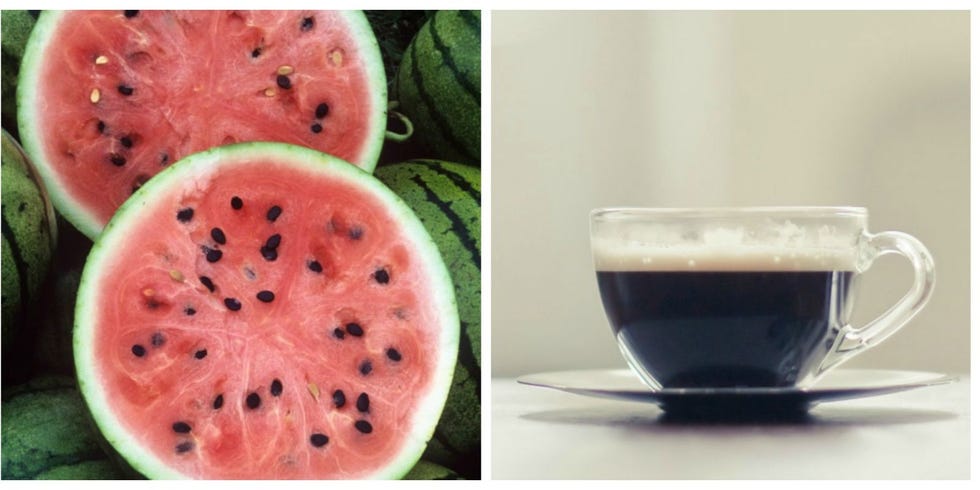 When a headache strikes, you may run through your usual routine: Turn out the lights, lie down and pop a pain pill. But did you know that certain foods may ease, and even prevent, headaches? Add these soothing foods to your shopping list and find out for yourself.
SUFFERING FROM ECZEMA? HERE'S THE RIGHT WAY TO WEAR MAKEUP
STUBBORN CARPET STAINS AND HOW TO REMOVE THEM! (YES, EVEN CAT PEE)
NUTRITIONISTS SELECT THE TOP 15 HEALTHY FAST FOOD RESTAURANTS