Monday, November 8, 2021
National Cappuccino Day is observed annually on November 8. A nice hot cup of cappuccino is perfect on a frosty morning, meeting with friends or just to enjoy a creamy cuppa. The essence of coffee in desserts tend to add a depth that no other ingredient can reach. Try this recipe for French Vanilla Cappuccino Cupcakes listed below.
Traditionally prepared with espresso, hot milk, and steamed-milk foam, a cappuccino is an Italian coffee drink. The word cappuccino comes from the Capuchin friars and is the diminutive form of cappuccio in Italian, meaning hood or something that covers the head. This popular coffee beverage got its name not from the hood on their habits but from the color of the hooded robes that the friars wore. (The Capuchin friars is an Order of friars in the Catholic Church, among the chief offshoots of the Franciscans.)

Five Food Finds about Cappuccino:
• In 1945 Achille Gaggia invented the modern espresso machine which further popularized the cappuccino.
• The Mid 1990s – Cappuccino was made more widely available to North Americans as upscale coffee houses sprang up.
• Late 1990′s to Early 2000′s – Cappuccinos became popular in the United States concurrent with the boom in the American coffee industry.
• The start of 21st Century – A modified short-cut version of the cappuccino started being served at fast-food chains.
• While steaming the milk you must pay close attention to attain the correct ratio of foam, thus making the cappuccino one of the most difficult espresso-based beverages to make properly.
French Vanilla Cappuccino Cupcakes
....................................................
YIELD:  Makes 24 cupcakes
....................................................
INGREDIENTS
Cake:
1 Box Duncan Hines White Cake Mix
3.9 oz. Package Jell-O Vanilla Instant Pudding Mix
4 Egg Whites
1/2 cup Sour Cream
1/3 cup Vegetable Oil
1 cup Milk
1 tbsp Coffee Extract
1 tsp Vanilla Extract
1/4 tsp Sea Salt

Frosting:
1 cup 2 sticks Unsalted Butter (room temp)
4-5 cups Confectioners' Sugar
1 cup French Vanilla Cappuccino Powder
2 tsp Coffee Extract
4-5 tbsp Heavy Cream
1/8 cup Instant Espresso Grounds

DIRECTIONS
Cupcake:
1. Preheat oven to 400 F.

2. Line cupcake pan.

3. Combine all ingredients in a stand mixer and beat until combined.

4. Fill cupcake liners 1/2 - 2/3 full.

5. Reduce heat to 375 F.

6. Bake for 15-18 minutes until toothpick comes clean.

7. Remove from oven and transfer cupcakes to cooling racks to finish cooling.
Frosting:
1. Cream butter in a stand mixer or use a hand held mixer.

2. Add confectioners' sugar a 1/2 cup at a time until combined.

3. Add in french vanilla cappuccino powder and coffee extract.

4. Add in heavy cream a tbsp at a time until you reach desired consistency.

5. Transfer to a piping bag or decorator tool and frost cooled cupcakes.

6. Sprinkle the top of the frosting with a little instant espresso powder.

Recipe Notes
Some readers have experienced sinking cupcakes while others, like myself have had great success. I will be retesting this recipe soon, but I recommend baking the cupcakes according to package instructions and adding in the coffee extract until then for best results.
8 FOODS YOU DIDN'T KNOW COULD KILL YOU
STILL HUNGRY? FOODS THAT MAKE YOU WANT MORE — HERE'S WHAT TO EAT INSTEAD
7 TELLTALE SIGNS TO EASILY SPOT A LIAR
8 FOODS THAT CAN HELP SOOTHE A HEADACHE
Reach for one of these healthy ingredients the next time your head is pounding.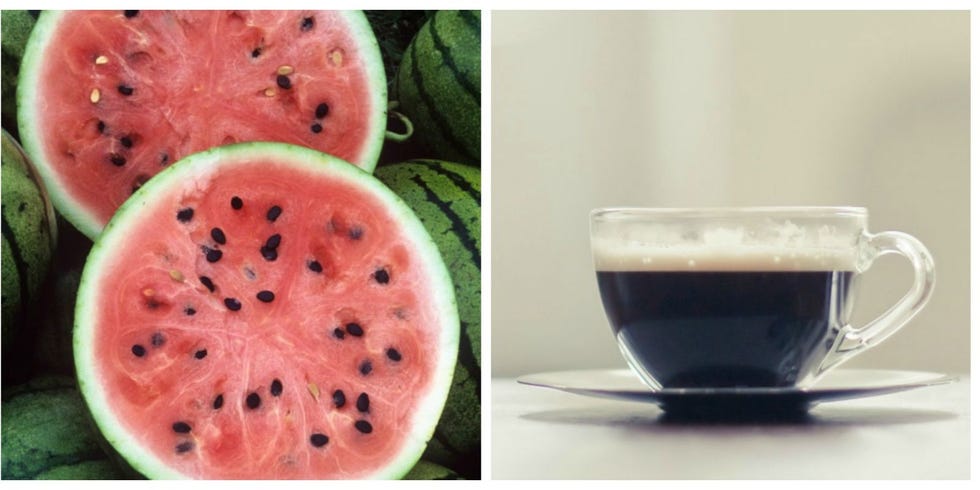 When a headache strikes, you may run through your usual routine: Turn out the lights, lie down and pop a pain pill. But did you know that certain foods may ease, and even prevent, headaches? Add these soothing foods to your shopping list and find out for yourself.
SUFFERING FROM ECZEMA? HERE'S THE RIGHT WAY TO WEAR MAKEUP
STUBBORN CARPET STAINS AND HOW TO REMOVE THEM! (YES, EVEN CAT PEE)
NUTRITIONISTS SELECT THE TOP 15 HEALTHY FAST FOOD RESTAURANTS