Saturday, October 30, 2021
National Candy Corn Day is observed annually on October 30th.  Did you know candy corn started as a gimmick to prove the goodness of corn sugar? Upgrade those packets of store bought candy corn with this 100% vegan version! Made with brown rice syrup and a kiss of vanilla, it's easy try this Vegan Candy Corn recipe listed below.
Candy Corn was created by George Renninger of Wunderle Candy Company in the late 1800s. He created this sweet treat to represent the bright colors of corn kernels. Originally, Candy Corn was yellow, orange and white, but it has become popular in other colors as well.

Five Food Finds about Candy Corn:
• One serving of candy corn contains only about 140 calories.
• Candy corn has 3.57 calories per kernel.
• More than 35 million pounds of candy corn will be produced this year. That equates to nearly 9 billion pieces — enough to circle the moon nearly four times if laid end-to-end.
• Halloween accounts for 75% of the annual candy corn production.
• A cup of candy corn has fewer calories than a cup of raisins.
How to Make Vegan Candy Corn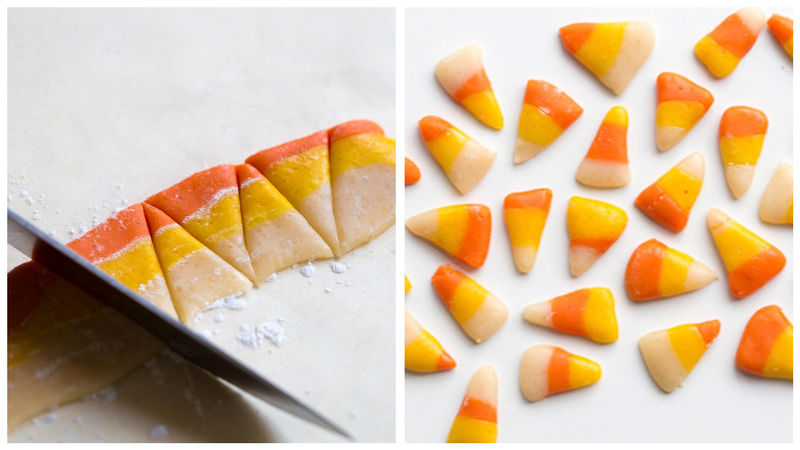 ....................................................
YIELD:  Servings 8
....................................................
INGREDIENTS

1/4 cup brown rice syrup
1/2 teaspoon vanilla
1 tablespoon coconut oil, softened
1/4 cup powdered sugar
3/4 cup tapioca flour (plus 2 tablespoons for kneading)
Betty Crocker™ gel food color, yellow and red

DIRECTIONS

1. Gather your ingredients. Line a large workspace and a large baking dish with parchment paper.

2. In a bowl, mix together brown rice syrup, vanilla, coconut oil, powdered sugar and tapioca flour until a thick dough forms. Separate into 3 evenly sized balls.

3. Tint one dough ball orange (by using red and yellow food coloring). Tint another ball yellow. Knead about 1/2 teaspoon of food coloring into dough until evenly colored. If needed, add just enough additional tapioca to mixture to keep dough from becoming overly sticky. It should be the texture of Play-Doh™. Leave the last dough ball uncolored.

4. Sprinkle a little tapioca flour on the parchment paper. Roll about 1 tablespoon of each color of dough into long, thin ropes. Place the ropes next to each other and gently press down until about 1/2 inch thick. Slice the rope into triangle-shaped wedges.

5. Gently remove each candy corn piece and shape as desired. Place on prepared baking sheet. Allow candy corn to air dry for 24 hours to harden. Serve and enjoy!

8 FOODS YOU DIDN'T KNOW COULD KILL YOU
STILL HUNGRY? FOODS THAT MAKE YOU WANT MORE — HERE'S WHAT TO EAT INSTEAD
7 TELLTALE SIGNS TO EASILY SPOT A LIAR
8 FOODS THAT CAN HELP SOOTHE A HEADACHE
Reach for one of these healthy ingredients the next time your head is pounding.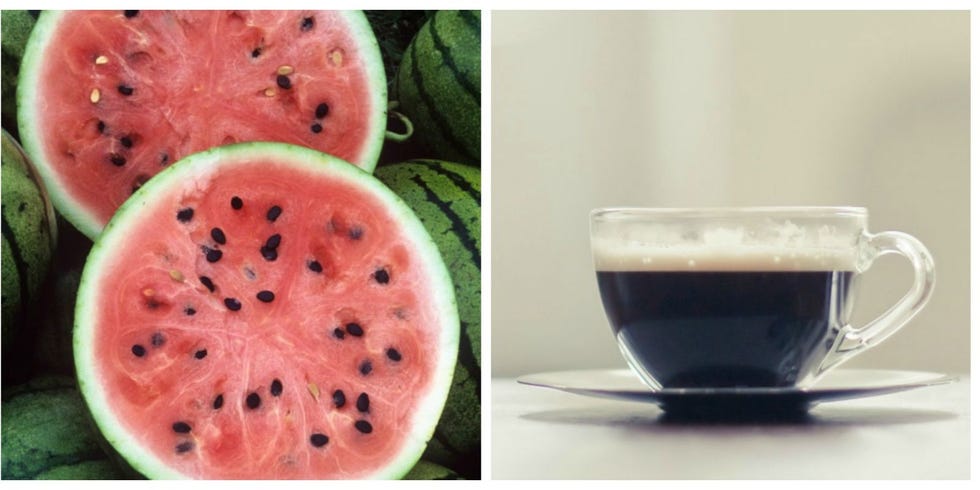 When a headache strikes, you may run through your usual routine: Turn out the lights, lie down and pop a pain pill. But did you know that certain foods may ease, and even prevent, headaches? Add these soothing foods to your shopping list and find out for yourself.
SUFFERING FROM ECZEMA? HERE'S THE RIGHT WAY TO WEAR MAKEUP
STUBBORN CARPET STAINS AND HOW TO REMOVE THEM! (YES, EVEN CAT PEE)
NUTRITIONISTS SELECT THE TOP 15 HEALTHY FAST FOOD RESTAURANTS