Monday, November 1, 2021
If the air is resplendent with the aroma of garlic and tomato sauce on November 1, it might just be that it's National Calzone Day. Taste this real calzone, because there is no tomato sauce INSIDE of it! We eat it at least once a week. Have a bowl of tomato or spaghetti sauce on the table for people to top their calzone with, if desired. Here's the Real Italian Calzones recipe listed below.
Calzones take the delicious toppings and cheese of a pizza and tuck it up tight in a warm garlicky, crusty package. Also known as calzoni in some parts of Italy, like the pizza, it originated in Naples. It looks much like a turnover, and as varied as pizzas come these days, so does the calzone.

Five Food Finds about Calzones:
• Also known as calzoni in some parts of Italy, like the pizza, it originated in Naples.
• The loose translation of the word calzone to trouser legs from Italian to English may explain the purpose of what essentially is a pizza hand pie.
• On National Calzone Day, the dough will be infused with garlic and butter to add flavor.
• Sauces made from scratch with Italian herbs and spices will lend that old world flair to every calzone recipe.
• By the time the mozzarella, provolone or parmesan melts into the sausage, spinach or whatever choice ingredients, aromas will be filling the air and mouths will be watering.
Real Italian Calzones recipe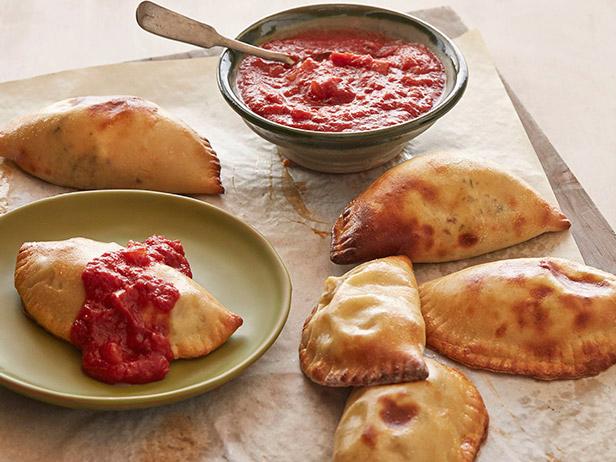 ....................................................
YIELD:  Makes 8 servings
....................................................
INGREDIENTS

1 (.25 ounce) package active dry yeast
1 cup warm water
1 tablespoon olive oil 
1 teaspoon white sugar
1 teaspoon salt 
2 1/2 cups all-purpose flour, divided
1 teaspoon olive oil
1/2 cup ricotta cheese 
1 1/2 cups shredded Cheddar cheese 
1/2 cup diced pepperoni 
1/2 cup sliced fresh mushrooms 
1 tablespoon dried basil leaves 
1 egg, beaten

DIRECTIONS

1. To Make Dough: In a small bowl, dissolve yeast in water. Add the oil, sugar and salt; mix in 1 cup of the flour until smooth. Gradually stir in the rest of the flour, until dough is smooth and workable. Knead dough on a lightly floured surface for about 5 minutes, or until it is elastic. Lay dough in a bowl containing 1 teaspoon olive oil, then flip the dough, cover and let rise for 40 minutes, or until almost doubled.

2. To Make Filling: While dough is rising, combine the ricotta cheese, Cheddar cheese, pepperoni, mushrooms and basil leaves in a large bowl. Mix well, cover bowl and refrigerate to chill.

3. Preheat oven to 375 degrees F (190 degrees C).

4. When dough is ready, punch it down and separate it into 2 equal parts. Roll parts out into thin circles on a lightly floured surface. Fill each circle with 1/2 of the cheese/meat filling and fold over, securing edges by folding in and pressing with a fork. Brush the top of each calzone with egg and place on a lightly greased cookie sheet.

5. Bake at 375 degrees F (190 degrees C) for 30 minutes. Serve hot.

NUTRITIONISTS SELECT THE TOP 15 HEALTHY FAST FOOD RESTAURANTS
STUBBORN CARPET STAINS AND HOW TO REMOVE THEM! (YES, EVEN CAT PEE)
NATIONAL CARAMEL APPLE DAY
SUFFERING FROM ECZEMA? HERE'S THE RIGHT WAY TO WEAR MAKEUP
8 FOODS THAT CAN HELP SOOTHE A HEADACHE
Reach for one of these healthy ingredients the next time your head is pounding.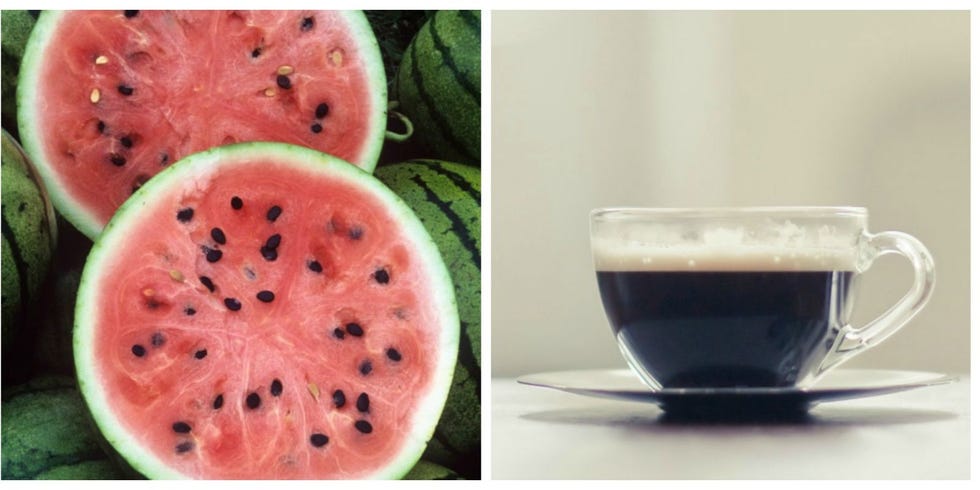 When a headache strikes, you may run through your usual routine: Turn out the lights, lie down and pop a pain pill. But did you know that certain foods may ease, and even prevent, headaches? Add these soothing foods to your shopping list and find out for yourself.
7 TELLTALE SIGNS TO EASILY SPOT A LIAR
STILL HUNGRY? FOODS THAT MAKE YOU WANT MORE — HERE'S WHAT TO EAT INSTEAD
8 FOODS YOU DIDN'T KNOW COULD KILL YOU