Blueberry Pie:
• Has been enjoyed since the early American settlers
• Is the official state dessert of Maine
• Was documented in the Appledore Cook Book in 1872
Blueberries:
• One of the healthiest fruits on the market
• Inhibit cancer development
• Can help prevent urinary tract disease
• Assist in maintaining normal blood pressure
• Helps reduce blood sugar and symptoms of depression
• Enhance memory
HOW TO OBSERVE
Give this sweet recipe listed below a try:  Blueberry Pie recipe.
Use #BlueberryPieDay to post on social media.
HISTORY
Within our research, we were unable to identify the creator of National Blueberry Pie Day.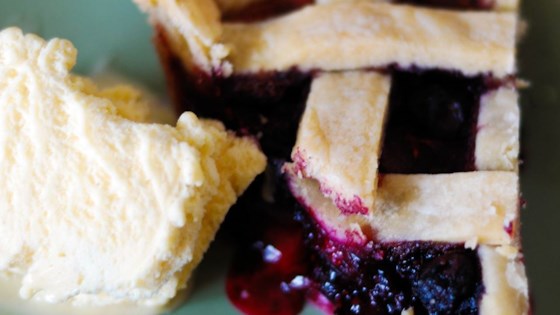 Blueberry Pie
Ingredients
3/4 cup white sugar
3 tablespoons cornstarch
1/4 teaspoon salt
1/2 teaspoon ground cinnamon
4 cups fresh blueberries
1 recipe pastry for a 9 inch double crust pie
1 tablespoon butter
Directions
Prep: 15 m
Cook: 50 m
Ready In: 1 h 5 m
1. Preheat oven to 425 degrees F (220 degrees C).
2. Mix sugar, cornstarch, salt, and cinnamon, and sprinkle over blueberries.
3. Line pie dish with one pie crust. Pour berry mixture into the crust, and dot with butter. Cut remaining pastry into 1/2 - 3/4 inch wide strips, and make lattice top. Crimp and flute edges.
4. Bake pie on lower shelf of oven for about 50 minutes , or until crust is golden brown.
Footnotes
Tip
Aluminum foil can be used to keep food moist, cook it evenly, and make clean-up easier.
Teach Your Children to Behave Themselves in Public (5 Easy Steps)
It's almost inevitable. Kids behaving badly in public and moms wanting to hide under a rock.
It happens to the best of moms!
So what's a mom to do when her child begins to behave badly in public? How can a mom teach her children to behave themselves?