Blueberries offer health benefits. They contain vitamin C, high levels of disease-fighting antioxidants and fiber. In addition they have very little fat. Disadvantages may outweigh advantages when the blueberries are baked into batter that is made of high-fat ingredients, such as butter, milk and sugar. Instead boost the benefits of a blueberry muffin by choosing a variety that includes healthier ingredients. Suggestions include skim milk, nuts, bran or wheat flour.

Five Food Finds about Blueberries:
• The blueberry muffin is the official muffin of Minnesota.
• If all the blueberries grown in North America in one year were spread out in a single layer, they would cover a four-lane highway that stretched from New York to Chicago.
• The blueberry is the second most popular berry in the US (the strawberry is number one).
• Blueberries contain anthocyanin, which is good for eyesight.
• Blueberries contain significant quantities of both antibacterial and antiviral compounds, and have a reputation in northern Europe of fighting infections. They may also help protect against heart disease.
HOW TO OBSERVE
Give this blueberry muffin recipe below a try!
Blueberry Coffee Cake Muffins recipe
Post on social media using #BlueberryMuffinDay.
HISTORY
National Day Calendar has not determined the origins of National Blueberry Muffin Day.
---
Blueberry Coffee Cake Muffins
Ingredients
• 12 tablespoons (1 1/2 sticks) unsalted butter, at room temperature
• 1 1/2 cups sugar
• 3 extra-large eggs, at room temperature
• 1 1/2 teaspoons pure vanilla extract
• 8 ounces (about 1 cup) sour cream
• 1/4 cup milk
• 2 1/2 cups all-purpose flour
• 2 teaspoons baking powder
• 1/2 teaspoon baking soda
• 1/2 teaspoon kosher salt
• 2 half-pints fresh blueberries, picked through for stems
Directions
• Preheat the oven to 350 degrees F. Place 16 paper liners in muffin pans.
• In the bowl of an electric mixer fitted with the paddle attachment, cream the butter and sugar until light and fluffy, about 5 minutes. With the mixer on low speed, add the eggs 1 at a time, then add the vanilla, sour cream, and milk. In a separate bowl, sift together the flour, baking powder, baking soda, and salt. With the mixer on low speed add the flour mixture to the batter and beat until just mixed. Fold in the blueberries with a spatula and be sure the batter is completely mixed.
• Scoop the batter into the prepared muffin pans, filling each cup just over the top, and bake for 25 to 30 minutes, until the muffins are lightly browned on top and a cake tester comes out clean.
8 FOODS THAT CAN HELP SOOTHE A HEADACHE
Reach for one of these healthy ingredients the next time your head is pounding.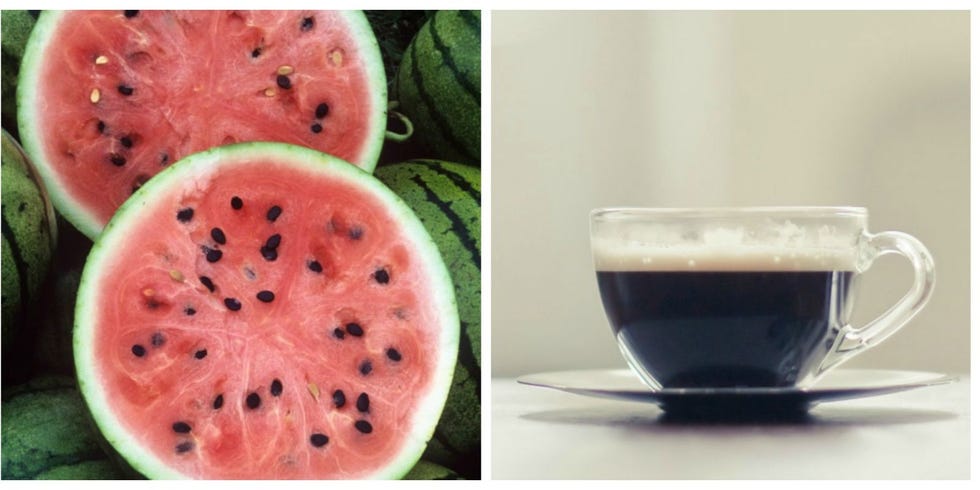 When a headache strikes, you may run through your usual routine: Turn out the lights, lie down and pop a pain pill. But did you know that certain foods may ease, and even prevent, headaches? Add these soothing foods to your shopping list and find out for yourself.