Cheesecake is a sweet dessert that is a mixture of fresh soft cheese, cream cheese or cottage cheese, eggs and sugar on a crust made from crushed graham crackers, crushed cookies, pastry or sponge cake. Cheesecakes can be prepared baked or unbaked and are often served topped with fruit, chocolate or whipped cream.  There are many varieties of cheesecake. However, this day honors the blueberry cheesecake.
Here are today's five food facts about Cheesecake:
• Cheesecake is a dessert formed of a topping made with soft, fresh cheese upon a base made from biscuit, pastry or sponge. The topping is frequently sweetened with sugar and flavored or topped with a puree or compote of fruit.
• Savory cheesecakes also exist, served sometimes as hors d'oeuvre or with accompanying salads. Despite their name, cheesecakes are technically tarts; the word 'cake' was formerly applied to a much broader category of foods than it is today.
• Cato the Elder's De Agri Cultura includes recipes for two cakes for religious uses: libum and placenta. Of the two placenta is most like modern cheesecakes having a crust that is separately prepared and baked.
• Cheesecakes can be broadly categorised into two basic types – baked and unbaked – and each comes in a variety of styles determined by region.
• Japanese-style cheesecake relies upon the emulsification of cornstarch and eggs to make a smooth flan-like texture and almost plasticine appearance.
HOW TO OBSERVE
Enjoy a blueberry cheesecake at your favorite restaurant.  If you're handy in the kitchen, try this easy recipe listed below.
 
Post photos of your celebration on social media using #BlueberryCheesecakeDay.
HISTORY
Within our research, we were unable to find the creator of National Blueberry Cheesecake Day.
No-Bake Blueberry Cheesecake with Graham Cracker Crust
Yield: Makes 10 servings
Chill this overnight to develop the blueberry flavor and give the filling time to set.
Ingredients
Crust:
• 9 whole graham crackers
• 1/2 cup old-fashioned oats
• 3 tablespoons (packed) golden brown sugar
• 1/8 teaspoon salt
• 5 tablespoons unsalted butter, melted
• 1 teaspoon vanilla extract
Filling:
• 1/4 cup water
• 1 tablespoon unflavored gelatin (measured from 2 envelopes)
• 12 ounces Philadelphia-brand cream cheese, room temperature
• 1 cup heavy whipping cream
• 1 cup sugar
• 1 tablespoon fresh lemon juice
• 3 cups fresh blueberries
Topping:
• 1 cup chilled heavy whipping cream
• 1 tablespoon sugar
• 4 1/2-pint baskets blueberries
• 2/3 cup blueberry jam
Directions
For crust:
Preheat oven to 350°F. Blend first 4 ingredients in processor until graham crackers are finely ground. Add butter and vanilla; process until moist crumbs form. Press crumb mixture onto bottom and 1 inch up sides of 9-inch-diameter springform pan. Bake crust until deep golden brown, about 12 minutes. Cool.
For filling:
Pour 1/4 cup water into small saucepan; sprinkle gelatin over. Let stand 10 minutes. Stir over very low heat just until gelatin dissolves. Set aside.
Blend cream cheese, cream, sugar, and lemon juice in processor until smooth. Add berries; puree until smooth (some blueberry bits will remain). With machine running, add warm gelatin mixture through feed tube and blend well. Pour filling into crust. Cover; chill overnight. (Can be made 2 days ahead. Keep chilled.) Run knife around pan sides to loosen cake. Release pan sides. Transfer to platter.
For topping:
Beat cream and sugar in medium bowl until firm peaks form. Spread cream mixture thickly over top of cheesecake. Place berries in bowl. Heat jam in small saucepan over low heat until just melted. Pour jam over berries; toss to coat. Mound coated berries in center of cream, leaving 1-inch plain border. Chill cake at least 1 hour and up to 1 day.
8 FOODS THAT CAN HELP SOOTHE A HEADACHE
Reach for one of these healthy ingredients the next time your head is pounding.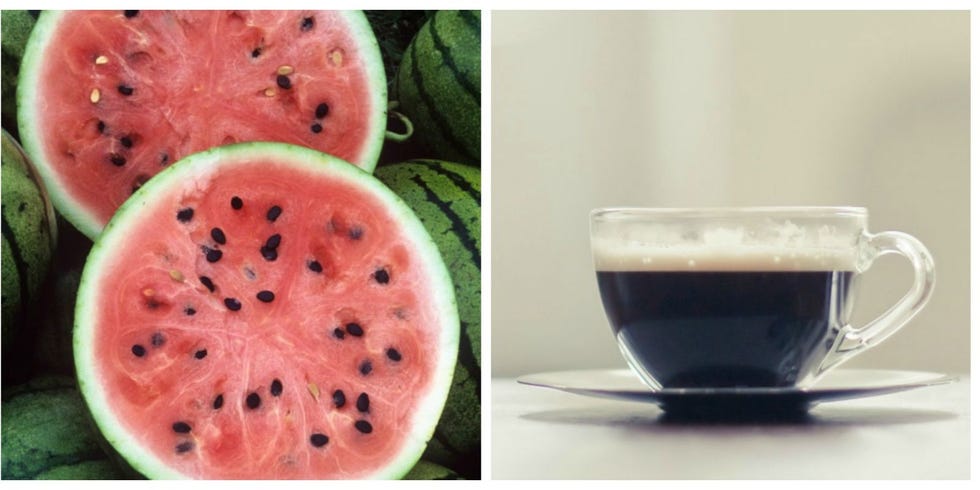 When a headache strikes, you may run through your usual routine: Turn out the lights, lie down and pop a pain pill. But did you know that certain foods may ease, and even prevent, headaches? Add these soothing foods to your shopping list and find out for yourself.