This crunchy on the outside and chewy in the middle bread is very popular in the USA and Canada.  Served with a variety of toppings as well as produced in a variety of flavors, bagel shops are a staple in most communities across the country.
Introduced to the United States by immigrant Polish-Jews, bagels were a thriving business that developed in New York City. Controlled for decades by Bagel Bakers Local 338, the union held contracts with nearly all bagel bakeries in and around the city for its workers.  It was founded in 1907 under the name International Beigel Bakers' Union.
Handmade bagels were the norm until the 1960s when Daniel Thompson invented the bagel maker.  The heated debate over man vs. machine, handcrafted beigels vs. manufactured bagels began.
The bagel came into more general use throughout North America in the last quarter of the 20th century, which was due at least partly to the efforts of bagel baker Harry Lender, his son, Murray Lender, and Florence Sender, who pioneered automated production and distribution of frozen bagels in the 1960s. Murray also invented pre-slicing the bagel.

Five Food Finds about Bagels:
• Bagel history dates back to 1783, according to popular belief. They were created to honor King John III Sobieski of Poland, after he protected Austria's people from an attack by Turkish invaders. Rumor has it a local Austrian baker created the bagel in the shape of a stirrup to honor the renowned horseman, and named it a "beugel" (the Austrian word for stirrup).
• Bagels are the only bread that are boiled before baked. Once the bagel dough is shaped into a circle, they are dipped in boiling water for 3 to 5 minutes on each side. After that, they are drained and baked for about 10 minutes.
• That little hole in the center isn't just for looks. Rumor has it the age old "role with the hole" design is rather efficient! The bagel hole comes in handy to thread multiple bagels onto a dowel, making transport easily, especially for street vendors selling the doughy delights.
• Too busy to down breakfast and your morning cuppa Joe? Try combing your caffeine fix with your breakfast bite with a Buzzed Bagel! Molecular biologist Robert Bohannon created a bagel that actually contains the caffeine equivalent of one to two cups of coffee.
• Believe it or not, despite the myriad bagel flavors available from blueberry to the "everything" bagel, the most popular choice is plain, followed closely by sesame.
HOW TO OBSERVE
Grab some bagels and post on social media using #NationalBagelfestDay.
HISTORY
The day is credited to Murray Lender, owner of Lenders Bagels.  In 1986, Murray started the festival in Mattoon, Illinois, home of the world's largest bagel factory.
Real Homemade Bagels
Prep           Cook             Ready In
30 m               20 m                 3 hr 20 m
INGREDIENTS
1 1/4 cups water
4 1/2 cups bread flour
3 tablespoons white sugar
1 teaspoon salt
2 tablespoons vegetable oil
1 tablespoon instant yeast
4 quarts water
1 cup honey (optional)

TOPPINGS
• 2 tablespoons poppy seeds (optional)
• 2 tablespoons sesame seeds (optional)
• 2 tablespoons dried onion flakes (optional)
• 1 tablespoon coarse salt (optional)
DIRECTIONS
1. Combine 1 1/4 cup water, flour, sugar, 1 teaspoon salt, vegetable oil, and yeast in the mixing bowl of a stand mixer. Mix on low speed using the dough hook until well-developed, about 8 minutes. To ensure the gluten has developed fully, cut off a walnut-sized piece of dough. Flour your fingers, and then stretch the dough: if it tears immediately, the dough needs more kneading. Fully developed dough should form a thin translucent "windowpane."

2. Transfer the dough to a lightly oiled bowl, cover it with plastic wrap and a kitchen towel, and let rise for 2 hours.

3. Punch the dough down, place it on a lightly floured work surface, and use a knife or dough scraper to divide the dough into 6 pieces (or more, for smaller bagels). Roll each piece of dough into a sausage shape about 6 inches long. Join the ends to form a circle. Repeat with the remaining dough, and let the bagels rest for 15 minutes.

4. Preheat oven to 475 degrees F (245 degrees C). Line a baking sheet with parchment paper. Arrange small plates with poppy seeds, sesame seeds, and onion flakes next to the baking sheet.

5. Bring 4 quarts water to a boil in a large pot. Add honey, if desired (see Editor's Note). Boil the bagels, three at a time, until they rise to the surface of the pot, about 1 minute per side. Remove the bagels with a slotted spoon and place them on the parchment-lined baking sheet.

6. Dip the tops of the wet bagels into the toppings and arrange them, seeds up, on the baking sheet. Sprinkle with coarse salt, if desired. Bake in the preheated oven until the bagels begin to brown, 15 to 20 minutes.

Footnotes
Editor's Note:
Adding honey or barley malt syrup to the boiling water bath gives the bagels a pleasing chewy texture with a hint of sweetness. You may omit the honey, if desired. The nutrition data for this recipe includes the full amount of the honey. The actual amount of the honey consumed will vary.
8 FOODS THAT CAN HELP SOOTHE A HEADACHE
Reach for one of these healthy ingredients the next time your head is pounding.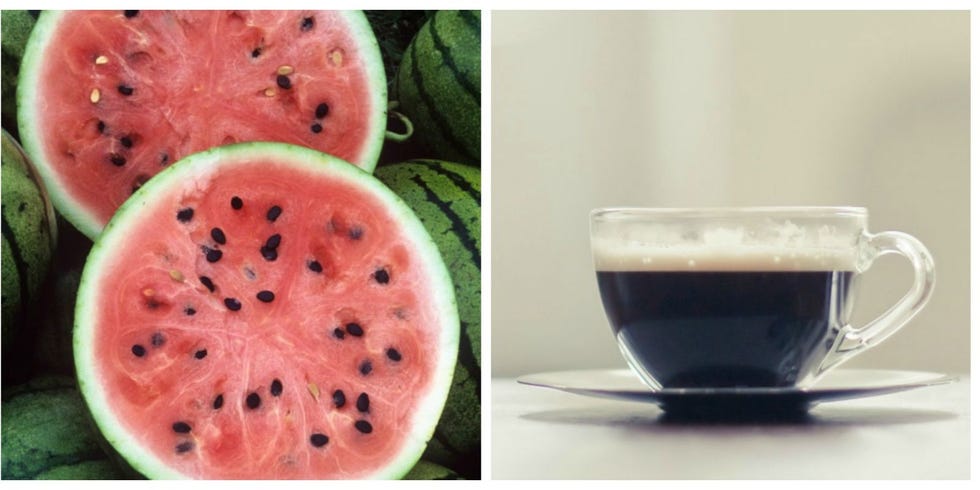 When a headache strikes, you may run through your usual routine: Turn out the lights, lie down and pop a pain pill. But did you know that certain foods may ease, and even prevent, headaches? Add these soothing foods to your shopping list and find out for yourself.