Monday, October 10, 2022
The delicious, light and fluffy angel food cake is the center of attention on National Angel Food Cake Day which is observed each year on October 10. Check out the mouth-watering Mint Chocolate Chip Angel Food Cake recipe listed below.
Originating in the United States and first becoming popular in the late 19th century, angel food cake was so named because of its airy lightness. It was said to be the "food of the angels". Making angel food cake requires whipping egg whites until they are stiff then adding cream of tartar to the mixture to stabilize the egg whites. Additional ingredients are then folded into the egg white mixture.

Five Food Finds about Angel Food Cake:
• Angel food cake is a type of sponge cake that is originated in the United States.
• It is named because of the cake's lightness that was said to be the "food of the angels".
• Angel food cakes are a traditional African-American favorite for post-funeral meals
• Angel food cake requires egg whites whipped until they are stiff, Cream of tartaris added to the mixture to stabilize the egg whites.
• A variety of chocolate cake known as Devil's food cake, is considered as Angel food's "counterpart"
Mint Chocolate Chip Angel Food Cake Recipe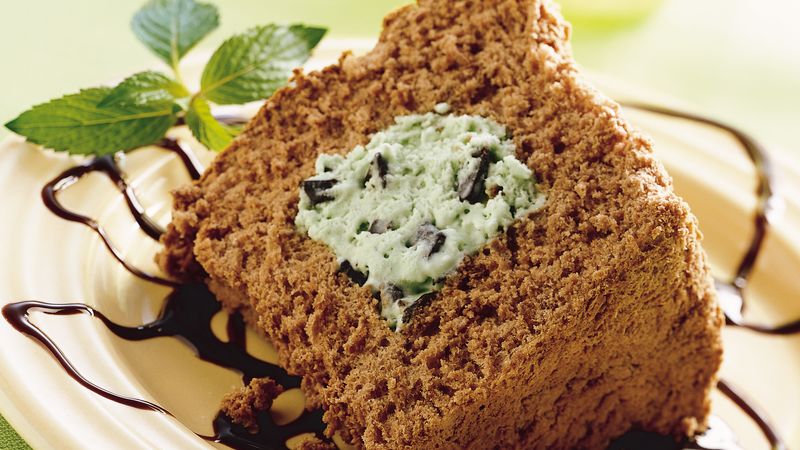 ....................................................
YIELD:  Servings 16
....................................................
INGREDIENTS
1 box Betty Crocker™ white angel food cake mix
2 tablespoons unsweetened baking cocoa
1 1/4 cups cold water
3 cups mint chocolate chip ice cream, softened
Chocolate-flavor syrup, if desired

DIRECTIONS
1. Move oven rack to lowest position (remove other racks).
   Heat oven to 350°F. In extra-large glass or metal bowl,
   beat cake mix, cocoa and water with electric mixer on
   low speed 30 seconds. Beat on medium speed 1 minute.
   Pour into ungreased 10-inch angel food (tube) cake pan.
   (Do not use fluted tube cake pan or 9-inch angel food
   pan or batter will overflow.)

2. Bake 37 to 47 minutes or until top is dark golden brown
   and cracks feel very dry and not sticky. Do not underbake.
   Immediately turn pan upside down onto glass bottle until
   cake is completely cool, about 2 hours.

3. Run knife around side of pan to loosen cake; remove from
   pan. Cut off top of cake about 1 inch from top; set aside.
   Cut down into cake 1 inch from outer edge and 1 inch from
   edge of center hole, leaving substantial "walls" on each
   side. Remove cake within cuts with curved knife or spoon,
   being careful to leave a base of cake 1 inch thick. Spoon
   ice cream into cake cavity; smooth top. Replace top of cake.
   Cover and freeze about 3 hours or until firm. Serve with
   chocolate-flavor sauce.


NATIONAL MOLDY CHEESE DAY
Sunday, October 9, 2022
National Moldy Cheese Day is a unique holiday that is observed each year on October 9. A cheesemonger is a person who specializes in cheeses, butter, and other dairy products. They may take offense at the common person's offense of moldy cheese. So to not offend the cheesemonger bake these green cheese balls that look past their prime, but their "mold" is just an herb coating that adds to the flavor try this Moldy Cheese Balls recipe listed below.
8 FOODS YOU DIDN'T KNOW COULD KILL YOU
STILL HUNGRY? FOODS THAT MAKE YOU WANT MORE — HERE'S WHAT TO EAT INSTEAD
7 TELLTALE SIGNS TO EASILY SPOT A LIAR
8 FOODS THAT CAN HELP SOOTHE A HEADACHE
Reach for one of these healthy ingredients the next time your head is pounding.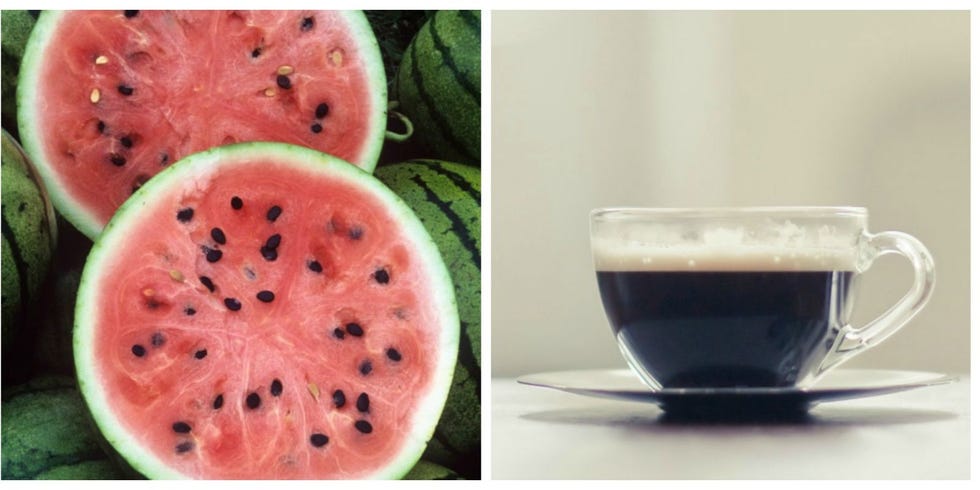 When a headache strikes, you may run through your usual routine: Turn out the lights, lie down and pop a pain pill. But did you know that certain foods may ease, and even prevent, headaches? Add these soothing foods to your shopping list and find out for yourself.
SUFFERING FROM ECZEMA? HERE'S THE RIGHT WAY TO WEAR MAKEUP
STUBBORN CARPET STAINS AND HOW TO REMOVE THEM! (YES, EVEN CAT PEE)
NUTRITIONISTS SELECT THE TOP 15 HEALTHY FAST FOOD RESTAURANTS