Amaretto in Italian means "a little bitter" and is made from bitter almonds or apricot kernels or both. The nuts are infused in pure alcohol or brandy resulting in a strong almond flavor. This traditionally Italian liqueur is fragrant with legend.
Taking us back to 1525 Renaissance in Saronno, Italy, painter Bernardino Luini selected a young innkeeper as his model for a fresco of the Madonna of the Miracles. In gratitude for being selected the innkeeper gave the artist a gift of her own secret blend of almond and brandy.
It's not until centuries later that well-guarded recipe was produced on a larger scale in Saronno, Italy. At the turn of the 20th century, Disaronno began producing their amaretto for a broad market. It began appearing for sale in advertisements in the United States in the late 1940s.  The family still bottles their recipe today.
Another Amaretto tale comes from the same area of Italy but is of a young Lazzaroni couple blessed by the Cardinal of Milan in 1718. The couple honored his visit with a special recipe of their own, producing an amaretto cookie like no other. This one came in a bottle. Their recipe was also a closely guarded family secret for generations. The Lazzaroni family began selling their amaretto liqueur in 1851, and it is still being produced today.
HOW TO OBSERVE
Enjoy this Almond Amaretto Bars recipe below and have a Happy National Amaretto Day!  Use #NationalAmarettoDay to share on social media.
HISTORY
Our research failed to find the creator of National Amaretto Day.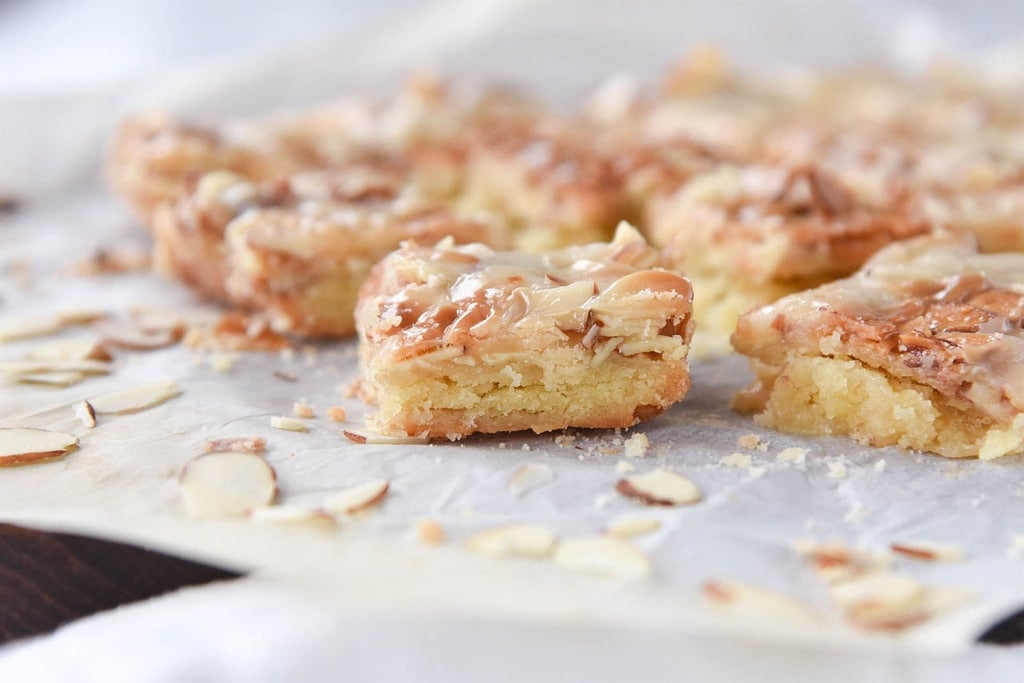 Almond Amaretto Bars Recipe
INGREDIENTS
1 cup (2 sticks or 16 Tablespoons) ice cold butter, cut into cubes
1/2 teaspoon salt
1/2 cup powdered confectioners' sugar
2-1/4 cups all-purpose flour, divided use
4 eggs, slightly beaten
2 cups granulated white sugar
1/3 cup amaretto (almond) liqueur
1/4 teaspoon almond extract
1 cup sliced almonds
PREPARATION
Preheat oven to 350 F. Line 9- x 13-inch baking pan with nonstick foil.
Place butter, salt, powdered sugar, and 2 cups of the flour into a food processor. Pulse until a soft dough forms. Do not over-process.
Press dough evenly into the bottom of the prepared pan. Bake for 15 to 20 minutes, until golden brown. Remove from oven and reduce oven temperature to 325 F.
Place remaining 1/4 cup of flour, eggs, granulated sugar, amaretto, and almond extract in a large bowl.
Beat on medium speed until smooth. Pour evenly over the baked crust and sprinkle with almonds.
Bake an additional 30 to 35 minutes, until filling is firm. Cool to room temperature. Lift out on the foil and cut to desired size to serve.
Yield: 24 to 36 bar cookies, depending on cut size
Prep Time: 15 minutes
Cook Time: 45 minutes
Total Time: 60 minutes
Teach Your Children to Behave Themselves in Public (5 Easy Steps)
It's almost inevitable. Kids behaving badly in public and moms wanting to hide under a rock.
It happens to the best of moms!
So what's a mom to do when her child begins to behave badly in public? How can a mom teach her children to behave themselves?