Making buttercrunch calls for a good candy thermometer and some cooking experience. Creating the toffee involves caramelizing sugar at high temperatures, which requires precision, timing, the right tools and safety techniques for a successful outcome. Buttercrunch can be served on top of ice cream or enjoyed on its own. Buttercrunch flavored cookies or cakes are other ways to enjoy the sweet treat.

Five Food Finds about Almonds:
• There are 5,639 people in the U.S. listed on whitepages.com with the last name 'Almond'.
• Chocolate manufacturers use 40% of the worlds almonds (2008).
• California produced 998 million pounds of almonds in 2004. The largest crop on record was in 2002, with 1.084 billion pounds.
• It takes more than 1.2 million bee hives to pollinate California's Almond crop (over 550,000 acres).
• Chocolate manufacturers currently use 40 percent of the world's almonds and 20 percent of the world's peanuts.
HOW TO OBSERVE
Try the Almond Buttercrunch recipe below or stop by a local candy shop for a taste of this sweet treat.  Use #NationalAlmondButtercrunchDay to share on social media.
HISTORY
Within our research, we were unable to identify the creator of National Almond Buttercrunch Day.
Almond Buttercrunch Candy I
Prep:        10 m
Cook:       20 m
Ready In:  2 h 30 m
"This recipe has been in our family for years, and it is our favorite. It is delicious and addicting. Get ready to go on a diet after the holidays!"
Ingredients
• 2 (11.5 ounce) packages milk chocolate chips, divided
• 2 cups butter
• 1 pound brown sugar
• 1 cup blanched slivered almonds, divided
Directions
1. Preheat oven to 200 degrees F (95 degrees C). Grease a 14 x 18 inch cookie sheet.
2. Sprinkle one package of chocolate chips on prepared pan. Place in warm oven until chips melt, about 5 minutes. Remove from oven, and spread melted chocolate over bottom of pan; set aside.
3. In a large heavy saucepan over medium-high heat, combine butter and brown sugar. Stirring constantly, heat to 300 to 310 degrees F (149 to 154 degrees C), or until a small amount of syrup dropped into cold water forms hard, brittle threads. Immediately remove from heat. Stir in 3/4 cup slivered almonds and pour onto pan with melted chocolate; spread mixture evenly.
4. Sprinkle remaining package of chocolate chips over the almond layer. The heat from the almond layer will melt the chocolate chips; spread melted chocolate evenly. Sprinkle remaining 1/4 cup almonds over chocolate.
5. Cut into squares, or allow to harden in a solid sheet and break it apart like brittle. Cool completely before removing from pan.
8 FOODS THAT CAN HELP SOOTHE A HEADACHE
Reach for one of these healthy ingredients the next time your head is pounding.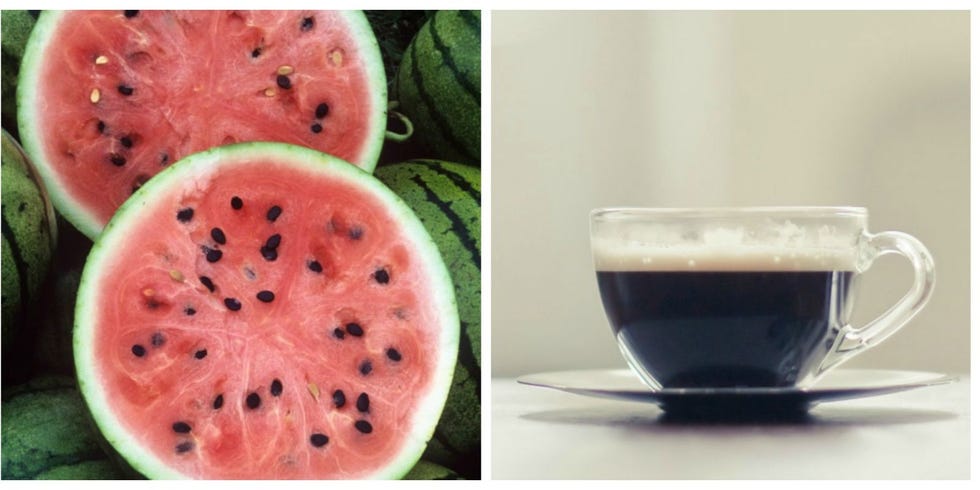 When a headache strikes, you may run through your usual routine: Turn out the lights, lie down and pop a pain pill. But did you know that certain foods may ease, and even prevent, headaches? Add these soothing foods to your shopping list and find out for yourself.
MOVE OVER KALE, SEAWEED IS THE NEW SUPERFOOD
7 TELLTALE SIGNS TO EASILY SPOT A LIAR
JUST IN TIME FOR THE 4TH OF JULY ON HOW TO MAKE PATRIOTIC POPCORN