Our family is strange … mostly in a good way.  We started a tradition a few years ago of pre-celebrating  holidays.  Holidays are so crazy for us.  We are usually rushing someplace or trying to clean the house or some other such nonsense. We decided to take the night before a holiday to get together and have a small celebration.  I don't know how it started, but our pre-holiday celebration usually involves popcorn.  While I don't know how it started, I know why … we LOVE popcorn.  This Patriotic Popcorn is a direct result.  I hope you enjoy it as much as our family did.
How to make Patriotic Popcorn
You will need:
• 10 Cups of Popped Popcorn
• 3 tbsp. Butter (Sweet Cream, Salted)
• 3 cups Mini Marshmallows
• Red and Blue Regular M&M's
• Red and Blue Pretzel M&M's
1. Start with approximately 10 cups of popcorn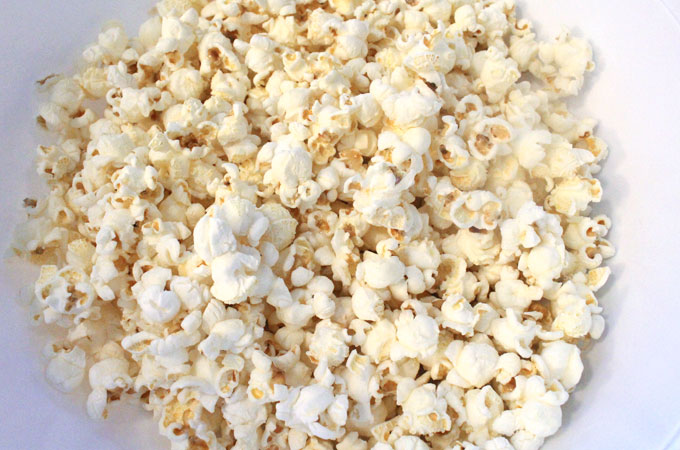 Make sure you get out all of the un-popped kernels.  You don't want to bite down on one of those!  We pop our popcorn on the stove, but you can use air-popped or microwave.  Once you have the popcorn made, salt it liberally.  It is so nice to taste the salty with the sweet marshmallow coating.  Not quite like Kettle Corn but close.
2. Make the Marshmallow Mixture for the Patriotic
Popcorn melt 3 tablespoons of butter in a medium sauce pan.  Once the butter is melted, add 3 cups of mini marshmallows. Stir until the marshmallows are melted. Turn off the heat as soon as the last marshmallow has melted.
3. Slowly pour the marshmallow mixture over the salted popcorn
Gently fold the marshmallow mixture in with the popcorn until the popcorn is mostly covered.
4. The amount of marshmallow mixture you want to add is really up to your own taste.
The more you add, the stickier the popcorn will be so we suggest that you add it a bit at a time, stir the popcorn and give it a taste before you add more. Leave a little bit of the marshmallow mixture for the next step.
5. Now pour the popcorn onto a cookie sheet covered with foil or a silpat liner.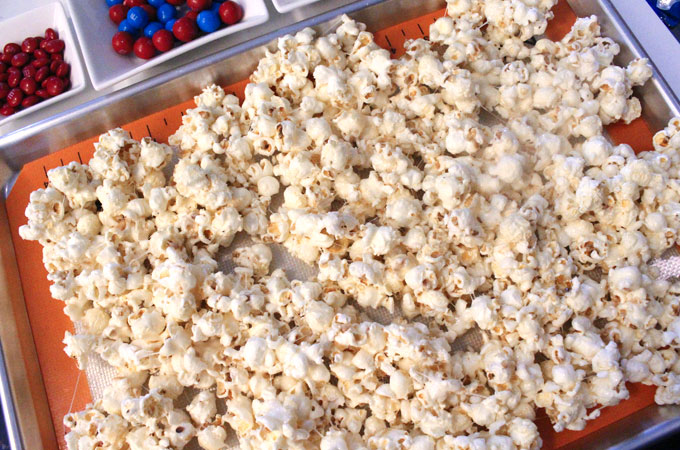 Drizzle a little bit of the remaining marshmallow mixture over the popcorn but do not mix it up. You will need the mixture at the top so the candy will have something to stick to.
6. We added Red and Blue Regular M&M's and Red and Blue Pretzel M&M's to our Patriotic Popcorn.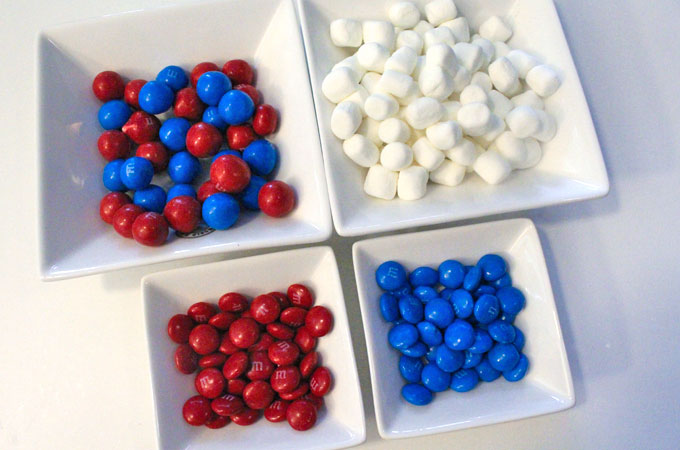 We also added a handful of Mini Marshmallows.
7. Finally, we topped our Patriotic Popcorn with some Red White and Blue sprinkles!
This is super easy to do and really makes your desserts look special! We have all the directions you'll need to make your own sprinkles right here.
8. Once the popcorn is covered in marshmallow mixture it is time to add the candy
But don't wait too long. You want the marshmallow mixture to still be warm and sticky. Sprinkle the candy onto the popcorn, concentrating on the areas with the most drizzled marshmallow mixture. Allow the Patriotic Popcorn to cool. Break apart into pieces and serve.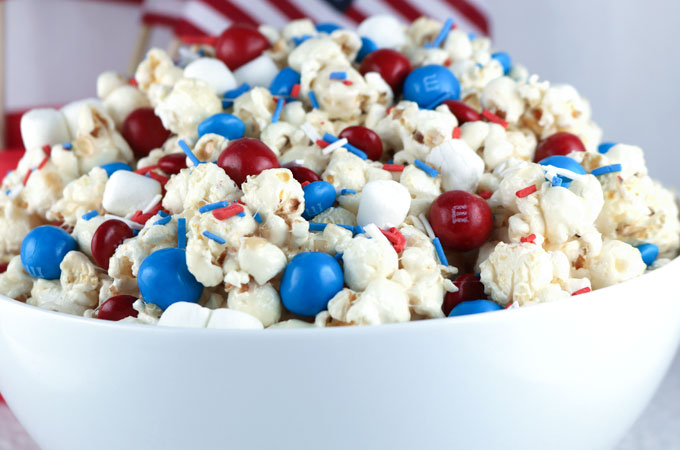 Our family loves this popcorn so it has never lasted longer than a day at our house.  This popcorn definitely tastes best right after it is made but will keep for a few days in an airtight container. The popcorn is a little chewier the next day because the popcorn absorbs some of the moisture from the marshmallow mixture but it still tastes good. Our Patriotic Popcorn is a fun and delicious 4th of July treat.  And it is so easy to make. It is a perfect dessert for a 4th of July party, a Memorial Day barbecue or an Olympics viewing party.
Teach Your Children to Behave Themselves in Public (5 Easy Steps)
It's almost inevitable. Kids behaving badly in public and moms wanting to hide under a rock.
It happens to the best of moms!
So what's a mom to do when her child begins to behave badly in public? How can a mom teach her children to behave themselves?
STILL HUNGRY? FOODS THAT MAKE YOU WANT MORE — HERE'S WHAT TO EAT INSTEAD
EASY AS 1-2-3 STEPS TO VISIBLY REDUCE SKIN DISCOLORATION
6 SIMPLE WAYS TO RESPOND TO AN ANGRY PERSON
7 TELLTALE SIGNS TO EASILY SPOT A LIAR
A FATHER'S INFLUENCE ON KID'S EATING BEHAVIOR
8 FOODS THAT CAN HELP SOOTHE A HEADACHE
Reach for one of these healthy ingredients the next time your head is pounding.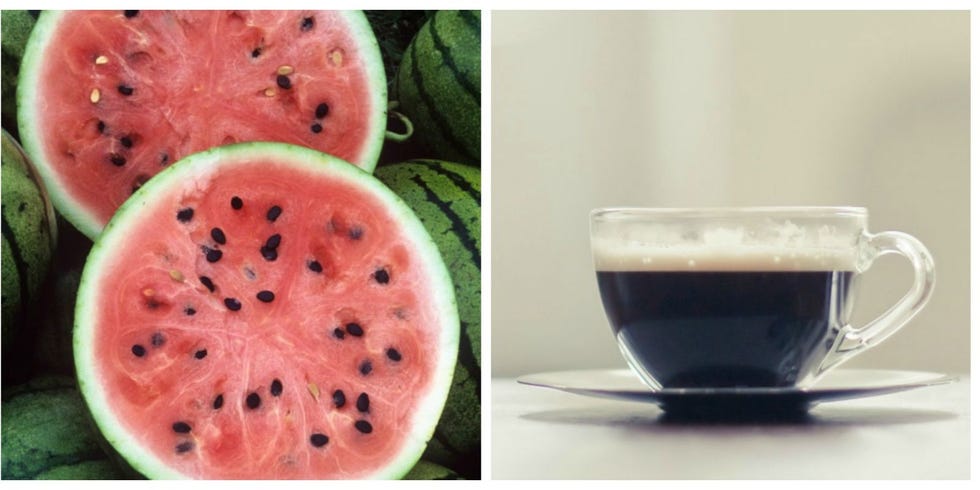 When a headache strikes, you may run through your usual routine: Turn out the lights, lie down and pop a pain pill. But did you know that certain foods may ease, and even prevent, headaches? Add these soothing foods to your shopping list and find out for yourself.
FINANCIAL STRUGGLES? Find Help for Rent, Food, Heat & More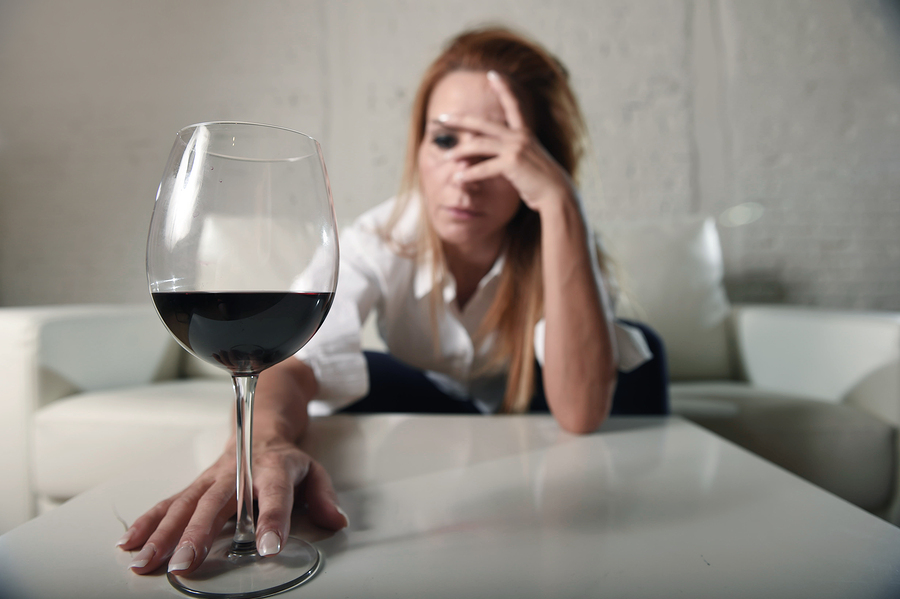 Are you living paycheck to paycheck and still struggling to pay your bills?  What do you do when you max out your unemployment? Is there anything worse than not knowing where your next meal is going to come from? We don't think so; this is why we've put together a list of places that you can find help when you really need it.
FIGHT THE RIGHT WAY – ARGUING IN FRONT OF CHILDREN