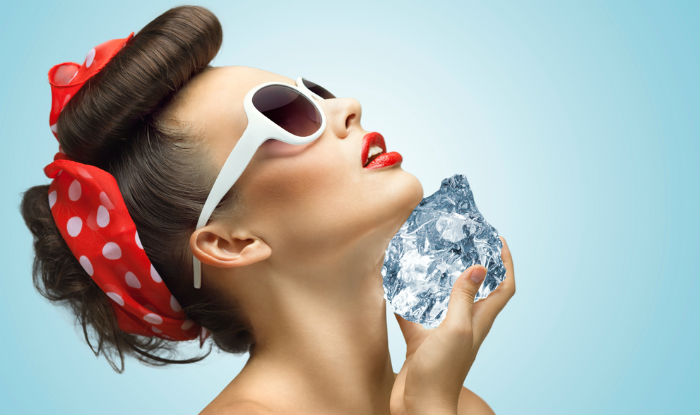 The perfect beauty regime leaves your skin clear, glowing and wrinkle free doesn't it.  Wouldn't you like to eliminate any puffiness and redness leaving flawless skin for all to admire?  Ice cubes, YES ice cubes tighten your pores, boost circulation and makes your skin feel smooth. They make puffy, tired skin look and feel instantly awake.  Here's how to get flawless skin by adding ice cubes to your skincare regimen.
1. Reduce redness with ice cubes
You can reduce the redness of your skin using ice cubes. If you have an allergic reaction or an inflamed skin or any kind of rash, you can use an ice cube to soothe your skin and reduce the redness.
2. Shrink a pimple fast
You can use an ice cube directly on the pimple or wrap few ice cubes in  a cotton cloth before applying it on your pimple. It will shrink the pimple fast and also relieve the pain.
3. Get that fresh look
You can get that perfect dewy skin  by using ice cubes on your skin. All you have to do is rub an ice cube on your face, it will improve blood circulation and keep fine lines and wrinkles at bay, giving you that natural glow.
4. Tweezing will be less painful
If you use ice cubes before tweezing, the whole process of tweezing eyebrows will be less painful. Not only will it make the process less painful, but will also reduce the redness and inflammation that happens post tweezing.
---
HEALTH STORY: Are your experiencing weakness, fatigue, constipation, weight loss, or a loss of appetite? All are related to B12 deficiency see how to reverse these symptoms.
---
5. Reduce puffy eyes with ice
If you wake up often with puffy eyes, you can use an ice cube to reduce the puffiness. Using ice under your skin will also relax your eyes and tighten the skin around the eyes.
6. Sooth sunburn
Use some ice cubes wrapped in a zip lock pouch or a clean cotton cloth to sooth the stinging from sunburned skin for instant relief.
7. Makeup setter
You can also use it to set your makeup. Apply ice cubes on the face before your apply makeup so that it lasts longer, as it tightens the pores and help makeup to set well on the face.
8. Dry painted nails faster
If you want your nail polish to dry faster, dip your freshly painted nails in a bowl filled with ice water. The ice cold water will seal the nail paint in place instantly.
Beauty Tips to Remember:
• Be careful not to use more than two ice cubes. Using too many cubes causes skin problems that make the situation even worse.
• The delicate capillary under your skin can break if you use ice cubes directly. So, only use cubes wrapped up in a clean cloth.
Now that you know how beneficial ice cubes can be for your skin, use them in the correct way and get maximum benefits from them. Keep the tips in mind, and use them as effectively as you can.