• Cupcake liners do more than make it easy to remove them from the pan. Traditionally, sides of tins are greased for easy removal, but also floured because the batter needs to have something to cling to. A cupcake liner takes care of both.

• On August 15, 2009 GourmetGiftBaskets.com broke the world record for largest cupcake ever made. The cupcake was 1,224 pounds, 4 foot tall by 10 foot wide, and had 2 million calories.

• One of the most popular cupcake bakery's in the U.S. is Crumbs in New York City.

• The first mention of a cupcake recipe goes as far back as 1796. Amelia Simms wrote a recipe in "American Cookery" which referenced, "a cake to be baked in small cups".

• However, it wasn't until 1828 that the actual word cupcake was used by Eliza Leslie in her cookbook "Seventy-five Receipts for Pastry, Cakes, and Sweetmeats".

Filled Rich Chocolate Cupcakes

Filled with cream cheese, these rich, moist dark chocolate cupcakes are a perfect dessert for any occasion your family is celebrating.
INGREDIENTS
FILLING (recipe follows)
• 3 cups all-purpose flour
• 2 cups sugar
• 2/3 cup HERSHEY'S Cocoa
• 2 teaspoons baking soda
• 1 teaspoon salt
• 2 cups water
• 2/3 cup vegetable oil
• 2 tablespoons white vinegar
• 2 teaspoons vanilla extract
DIRECTIONS
1. Prepare FILLING; set aside. Heat oven to 350°F. Line muffin cups (2-1/2 inches in diameter) with paper bake cups.
2. Stir together flour, sugar, cocoa, baking soda and salt in large bowl. Add water, oil, vinegar and vanilla; beat on medium speed of mixer 3 minutes. Fill muffin cups 2/3 full with batter. Spoon 1 level tablespoon FILLING into center of each cupcake.
3. Bake 20 to 25 minutes or until wooden pick inserted in cake portion comes out clean. Remove from pan to wire rack. Cool completely. About 2-1/2 dozen cupcakes.
FILLING
• 1 package (8 oz.) cream cheese, softened
• 1/3 cup sugar
• 1 egg
• 1/8 teaspoon salt
• 1 cup HERSHEY'S Semi-Sweet Chocolate Chips or HERSHEY'S
Mini Chips Semi-Sweet Chocolate
4. Beat cream cheese, sugar, egg and salt in small bowl until smooth and creamy. Stir in chocolate chips.
VARIATIONS:
• GOBLIN'S DELIGHT FILLING: Add 2 teaspoons grated orange peel, 4 drops yellow food color and 3 drops red food color to FILLING before stirring in chips.
• VALENTINE FILLING: Stir 4 to 5 drops red food color into FILLING.
• PEANUT BUTTER CHIP FILLING: Omit chocolate; stir in 1 cup REESE'S Peanut Butter Chips.
8 FOODS THAT CAN HELP SOOTHE A HEADACHE
Reach for one of these healthy ingredients the next time your head is pounding.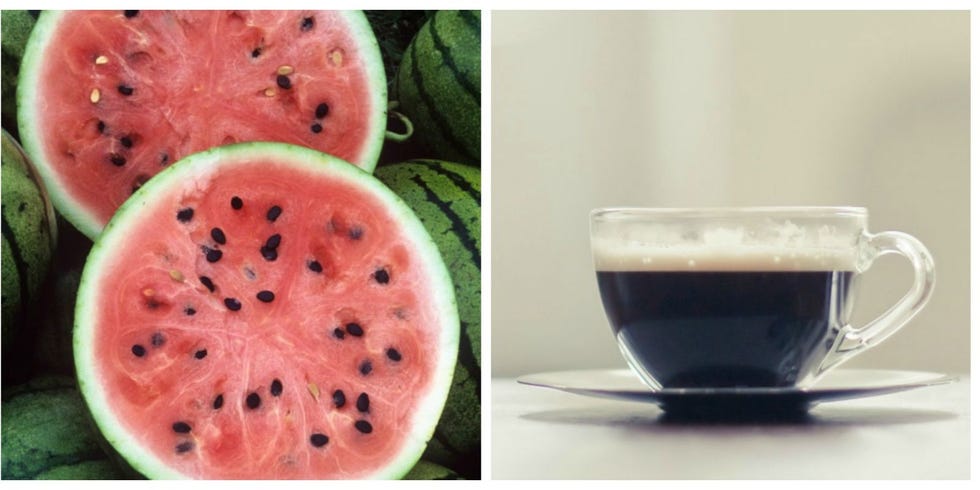 When a headache strikes, you may run through your usual routine: Turn out the lights, lie down and pop a pain pill. But did you know that certain foods may ease, and even prevent, headaches? Add these soothing foods to your shopping list and find out for yourself.