Around the country, rhubarb is a perennial favorite for home gardens. One of the first fruits of their labors, gardeners begin to harvest rhubarb in the middle of May and early June, and it finds its way into desserts and preserves.  Since it takes on the flavor of the fruit or vegetable it is paired with, it is an excellent compliment to many recipes.  
Not only is rhubarb known for making deliciously baked goods and satisfying the hankering for something from the garden early in the season, but it also has many other qualities.  Rub a cut stalk of rhubarb over a burnt skillet and let the high oleic acid content do the work.  It's been a primary ingredient in many cleansers for over a 100 years.  
Rhubarb is so high in oleic acid, in fact, the leaves are toxic to humans.  The stalks, however, are a consumable, rich and healthful source of oleic acid. The benefits of enjoying rhubarb could help reduce blood pressure, increase your body's ability to burn fat and generate brain myelin. Now, that's a reason to celebrate National Strawberry Rhubarb Pie Day!

• Did you know that even though rhubarb is eaten as a fruit, it is actually a vegetable?
• The rhubarb plant was originally from Asia, although it is very widespread in Ireland now.
• It is a perennial plant, which means that it lives for more than two years.
• It has large triangular green leaves that look very much like cabbage leaves, and very small flowers that are greenish-white to red in colour.
• The stalks of the rhubarb plant are thick, firm and stumpy.
HOW TO OBSERVE
Give the following Strawberry Rhubarb Pie recipe a try and share with friends and family.
Use #StrawberryRhubarbPieDay to post on social media.
HISTORY
Within our research, we were unable to find the creator of National Strawberry Rhubarb Pie Day.
Strawberry Rhubarb Pie

 
This is as fool-proof as can be and is really delicious. The crust was my grandmother's and it's flaky and mistake proof."
 
Ingredients
• 2 1/4 cups all-purpose flour
• 1 teaspoon salt
• 1/2 cup vegetable oil
• 6 tablespoons milk
• 5 medium stalks rhubarb, cut into 1 1/2 inch pieces
• 1 1/2 cups sliced fresh strawberries
• 1 1/2 cups white sugar
• 3 1/2 tablespoons tapioca
• 1 pinch salt
• 1 1/2 teaspoons ground nutmeg
Directions
1. To Make Crust: In a large bowl, combine the flour and the salt. Place the 1/2 cup oil in a 1 cup sized measuring cup and top with the 6 tablespoons of milk. DO NOT MIX! Pour oil and milk over flour and blend with a fork until it forms a ball of dough. Divide dough into 2 balls. Place one ball on sheet of waxed paper. Top with another sheet of waxed paper and roll out to fit your pie plate. Repeat with remaining ball of dough. Peel top paper off of one crust and flip dough into pie plate. Peel off paper and press dough in. Save remaining dough for top crust.
2. Preheat oven to 425 degrees F (220 degrees C).
3. To Make Filling: Mix the rhubarb, strawberries, sugar, tapioca, salt and nutmeg until the fruit is well coated. Pour filling into the crust and dot with butter. Cover with top crust, seal edges and cut three 1 inch slits in top of crust.
4. Bake pie at 425 degrees F (175 degrees C) for 20 minutes. Reduce temperature to 375 degrees F (190 degrees C) and bake for an additional 20 minutes. Let pie cool before cutting.
8 FOODS THAT CAN HELP SOOTHE A HEADACHE
Reach for one of these healthy ingredients the next time your head is pounding.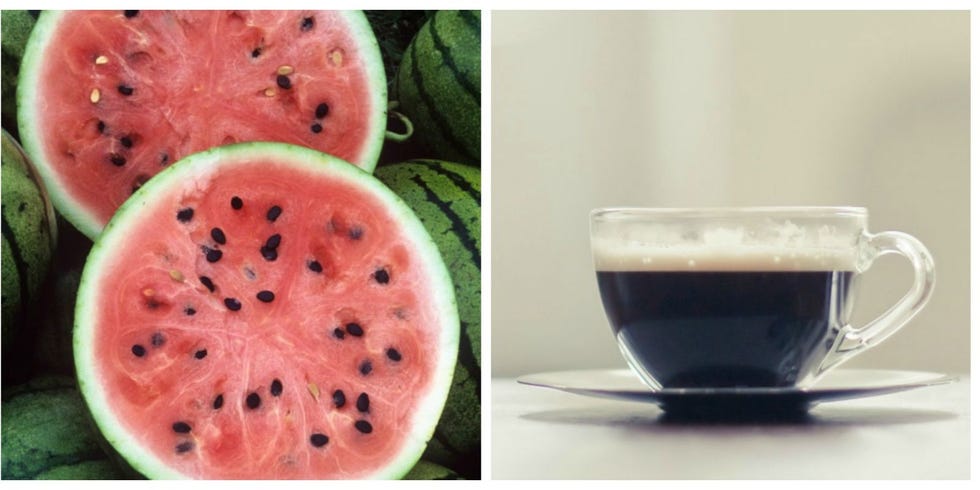 When a headache strikes, you may run through your usual routine: Turn out the lights, lie down and pop a pain pill. But did you know that certain foods may ease, and even prevent, headaches? Add these soothing foods to your shopping list and find out for yourself.