One 8 ounce serving of orange juice has 124 mg of vitamin C and also supplies potassium, thiamine and folate.  That little bit of sunshine in the morning can add a boost to your day.
Another excellent way to add orange juice to your diet if you are watching your sugar intake is to include it as an ingredient in a recipe.  Orange juice can add great flavor to smoothies, whole grain waffles or french toast.
Health Benefits Of Orange Juice
Immune System: Oranges and orange juice have long been known as a powerhouse of healing properties, and one of the richest sources of vitamin-C that you can add to a diet. A single service of orange juice has more than 200% of the vitamin C requirement of the body. Vitamin C, also known as ascorbic acid, functions as a primary antioxidant in the body, and it destroys or neutralizes free radicals before they can do damage to the body's systems. Our bodies need vitamin C to stimulate other aspects of our immune system as well. Furthermore, ascorbic acid is one of the fundamental components of collagen, which is necessary to repair cells and for the growth of new tissues in the body.
 
Cancer Prevention: As mentioned, vitamin C works as an antioxidant, and one of the most important functions of antioxidants is to prevent cancer. Antioxidants keep the DNA of healthy cells from mutating into cancerous cells, so antioxidants like vitamin C are the first line of defense for cancer and other serious diseases. Along with vitamin C, orange juice also contains the antioxidant hesperidin, which has been connected to reducing tumor growth and even stimulating apoptosis, or programmed cell death, in cancerous cells. Although research is ongoing, it has positively been linked to colon cancer prevention, but it is likely that hesperidin is effective in terms of many types of cancer.
 
Detoxifying Properties: Along with vitamin C, orange juice is also very high in vitamin A, which acts as a moderate antioxidant. Beyond that, it detoxifies the body by increasing the function of the kidneys. Vitamin A has long been connected to eye health, and adding enough vitamin A to your diet can also boost your ability to see at night, as well as macular degeneration. A single cup serving of orange juice has nearly 50% of the daily required intake of that precious vitamin.
 
Blood Circulation and Creation: There is another very powerful aspect of oranges and orange juice, its folate content. Folate is a member of the B complex, technically it is vitamin B9. This important vitamin is essential in the creation of DNA and the growth of new cells. Folate also keeps cells safe from mutation, which is one of the ways that free radicals damage the body. Furthermore, folate plays a role in building new red blood cells, as well as stimulating the flow of blood to the extremities. This means that the organ systems are well-oxygenated and are working at full capacity. This supports the overall metabolism of the body and the functioning of all the systems, making them more efficient.
 
Inflammation: Citrus fruits are commonly considered anti-inflammatory agents, and orange juice is no exception. High sugar and high fat meals can lead to inflammation of various body parts, and this, in turn, can lead to the development of increased insulin resistance. This is one of the major underlying causes of type 2 diabetes and atherosclerosis. Studies have shown that orange juice can inhibit this insulin resistance by reducing inflammation, thereby protecting the heart and guaranteeing overall cardiovascular protection. Also, being able to reduce the chances of developing diabetes is a major bonus of this property of orange juice.
HOW TO OBSERVE
Enjoy a nice cold glass of orange juice with your breakfast. Use #NationalOrangeJuiceDay to post on social media.
HISTORY
Within our research, we were unable to find the creator of National Orange Juice Day.
8 FOODS THAT CAN HELP SOOTHE A HEADACHE
Reach for one of these healthy ingredients the next time your head is pounding.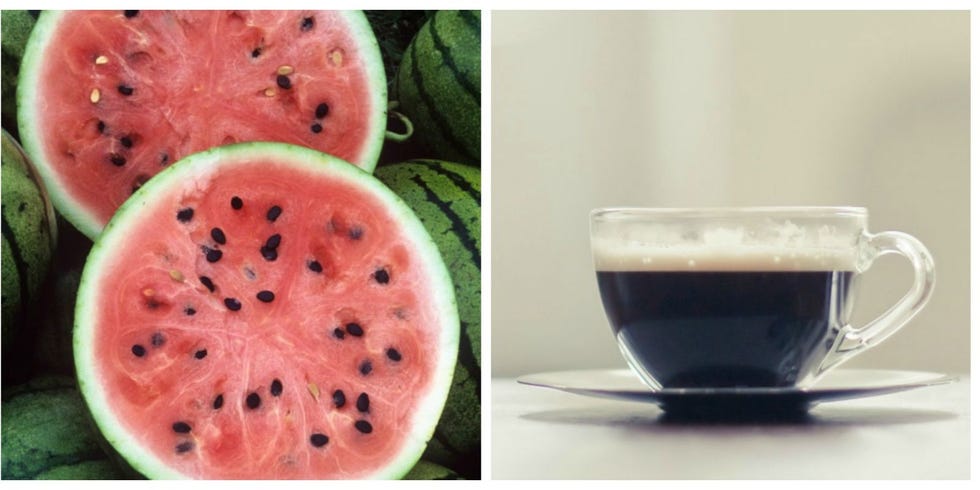 When a headache strikes, you may run through your usual routine: Turn out the lights, lie down and pop a pain pill. But did you know that certain foods may ease, and even prevent, headaches? Add these soothing foods to your shopping list and find out for yourself.