Saturday, November 13, 2021
National Indian Pudding Day is observed each year on November 13. This day honors a cold-weather classic, which is a traditional New England dessert, Indian pudding. Few desserts look so completely unappetizing yet taste so incredibly good. One bite of this lumpy, brown mush, with a dab of vanilla ice cream, and you'll be sold. Try this delectable Indian Pudding recipe listed below.
It was in the seventeenth century that English colonists brought hasty pudding to North America and completely transformed it. Although it was initially made with wheat, they substituted cornmeal due to a shortage of the grain at the time.

Five Food Finds about Indian Pudding:
• It is interesting to note that the name Indian pudding does not refer to the natives but in fact is used to identify the main ingredient which is cornmeal and was earlier called Indian meal.
• The Native Indian pudding is a combination of cornmeal and molasses and is often mixed with fruits like Apple and raisins before being baked.
• Native American Indians were a very important part of the first Thanksgiving feast ever celebrated in the Americas.
• Indian pudding is still associated with autumn holidays and is occasionally served by some restaurants.
• Vanilla ice cream or whipped cream are usually served with Indian pudding.
Indian Pudding Recipe
....................................................
YIELD:  Serves 8-10
....................................................
INGREDIENTS

6 cups of milk
1/2 cup (1 stick) butter
1/2 cup yellow cornmeal
1/4 cup flour
1 teaspoon salt
1/2 cup molasses
3 eggs, beaten
1/3 cup of granulated sugar
1 teaspoon of cinnamon
1 teaspoon of nutmeg
1 cup golden raisins (optional)
Whipped cream or vanilla ice cream

DIRECTIONS
1. Scald the milk and butter: Scald the milk and butter in a large double boiler. Or heat the milk and butter for 5 or 6 minutes on high heat in the microwave, until it is boiling, then transfer it to a pot on the stove. Keep hot on medium heat.

2. Preheat oven to 250°F.

3. Make cornmeal milk base: In a separate bowl, mix cornmeal, flour, and salt; stir in molasses. Thin the mixture with about 1/2 cup of scalded milk, a few tablespoons at a time, then gradually add the mixture back to the large pot of scalded milk. Cook, stirring until thickened.

4. Temper the eggs, combine with milk cornmeal mixture: Temper the eggs by slowly adding a half cup of the hot milk cornmeal mixture to the beaten eggs, whisking constantly. Add the egg mixture back in with the hot milk cornmeal mixture, stir to combine.

5. Add sugar, spices, raisins if using: Stir in the sugar and spices, until smooth. At this point, if the mixture is clumpy, you can run it through a blender to smooth it out. Stir in the raisins (optional).

6.  Bake: Pour into a 2 1/2 quart shallow casserole dish. Bake for 2 hours at 250°F.

7. Cool for an hour: Allow the pudding to cool about an hour to be at its best. It should be reheated to warm temperature if it has been chilled.

8. Serve with whipped cream or vanilla ice cream.

Monday, November 8, 2021
National Cappuccino Day is observed annually on November 8. A nice hot cup of cappuccino is perfect on a frosty morning, meeting with friends or just to enjoy a creamy cuppa. The essence of coffee in desserts tend to add a depth that no other ingredient can reach. Try this recipe for French Vanilla Cappuccino Cupcakes listed below.
8 FOODS YOU DIDN'T KNOW COULD KILL YOU
STILL HUNGRY? FOODS THAT MAKE YOU WANT MORE — HERE'S WHAT TO EAT INSTEAD
7 TELLTALE SIGNS TO EASILY SPOT A LIAR
8 FOODS THAT CAN HELP SOOTHE A HEADACHE
Reach for one of these healthy ingredients the next time your head is pounding.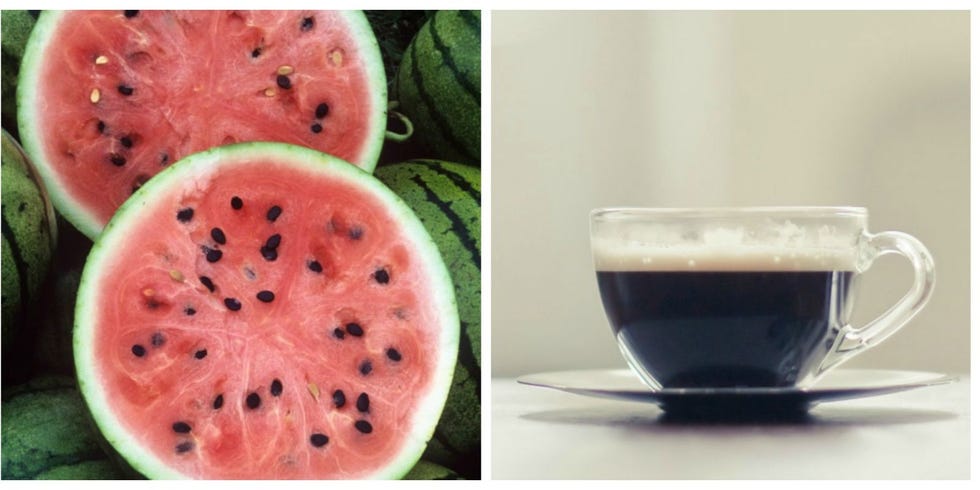 When a headache strikes, you may run through your usual routine: Turn out the lights, lie down and pop a pain pill. But did you know that certain foods may ease, and even prevent, headaches? Add these soothing foods to your shopping list and find out for yourself.
SUFFERING FROM ECZEMA? HERE'S THE RIGHT WAY TO WEAR MAKEUP
STUBBORN CARPET STAINS AND HOW TO REMOVE THEM! (YES, EVEN CAT PEE)
NUTRITIONISTS SELECT THE TOP 15 HEALTHY FAST FOOD RESTAURANTS