JUL 22, 2019: The connection you've got cookin' with someone else is getting more complicated right now, and today you might want to step back and look at things from an outsider's perspective. Don't get nervous that the potential you see isn't really there. It is. But you have to be ready to accept that this person has a few opportunistic tendencies and other negative qualities that could become an issue later. No one is perfect, including them—and you need to realize that.
JUL 22, 2019: If you want to have a unique day, all you need to do is take a unique approach. All you need to do is see things from another perspective—try seeing the world as an audience you must entertain, and your charm will rise to the surface. Get creative about how you dress, and you'll get more attention (of course, it could be good or bad attention). Be more flirtatious with everyone—you'll put smiles on faces, have a lot of fun and feel like a star!
JUL 22, 2019: Try. This one little word could mean big things for you today. You see, there is a tremendous amount of value to be gained when you at least attempt things. You can't always be successful at everything on the first go, but you can always try again. It's time for you to reacquaint yourself with the scrappier side of your personality—the part of you that says "I'll never give up!" when a challenge forces you into a corner. You will prove your tenacity to skeptical onlookers.
JUL 22, 2019: A person you used to have a great deal of faith in has let you down recently, but there is more to the story than you realize. You'll get one more glimpse at their motivations today, which could create a different impression about what the truth actually is. Things are going to work out differently than the way you assumed they would. And whether you'll respond really well or really badly is still up in the air. Take guidance from how other people react.
JUL 22, 2019: Sure, you know that you are supposed to look before you leap, but do not forget that you also need to listen before you leap! Take in all the instructions that are given before you act today. If you just plow full steam ahead without making sure you understand everything you're supposed to do, you'll end up getting lost—or at least not arriving at the best possible destination. Do not shortcut your abilities by making the faster-is-better mistake. It is most decidedly not, especially today.
JUL 22, 2019: It's the perfect day for you to stop what you're doing and take a moment to reach up and pat yourself on the back! It took you a lot of hard work to get to where you are right now, and you should enjoy all the fruits of your labor. Take yourself out for a nice meal, and invite someone along who's also been having a great month. The two of you can have your own mutual appreciation society and enjoy feeling proud without having to worry about coming off as too cocky.
JUL 22, 2019: The limits and restrictions you have put on yourself recently are no longer useful for your life right now. Whether you put yourself on a tighter budget, a new diet, or some other type of strict regime, today the universe gives you permission to go off the plan for just a day. Step out and do what you want to do today—take advantage of a great bargain, a wonderful dinner invitation or some other opportunity that is just too good for you to pass up!
JUL 22, 2019: Your ideas are large and impressive right now—perhaps even too big for other people to understand! So if you want your ideas to be adopted, you will definitely have to simplify them so people can wrap their heads around what you're saying. Show them what you see. Think about your audience—what is most important to them? Focus on that, and show them how they can get what they want out of your plan, too. You have a lot of great sales skills that you don't always use.
JUL 22, 2019: There is a very simple solution to your complex financial problem—stop spending money for a while! Try to think more like a fiscal conservative and hold on to your wallet like it's your lifeline. Your already-complicated relationship with money is getting more and more complex—but only because you are succumbing to trends and peer pressure too much. The bottom line is still the same: Don't spend more than you have, and save more than you need.
JUL 22, 2019: Displaying too much aggression will do you more harm than good right now, so try hard to play nice—especially with the people who just love pushing your buttons! Focus on breathing through the frustration and looking on the brighter side of things. There are many positive things to think about—these will put a smile on your face instead of a scowl. You are good at knowing when to pick your battles, and this is a skill you should rely on heavily today.
JUL 22, 2019: If something confusing is starting to build between you and another person, don't try and fight it today. Even if you know this is definitely not what you want, one more day of experiencing it won't hurt anybody. Try this new thing on for size—not to see if it fits, but to see why you don't like the way it feels. This is a wonderful opportunity for you to figure out what you don't want your life to be, and how you can avoid letting it get that way.
JUL 22, 2019: You are going to get a lot of positive attention very soon—get ready to have a permanent blush! If a group is looking for a leader, you should step up and nominate yourself for the job. The way things are going today, you're sure to win any type of popularity contest or election in a landslide! There's simply no getting away from the fact that you have star power in a very exciting group. And all of this new attention will remind you about the true value of old friends.
8 FOODS THAT CAN HELP SOOTHE A HEADACHE
Reach for one of these healthy ingredients the next time your head is pounding.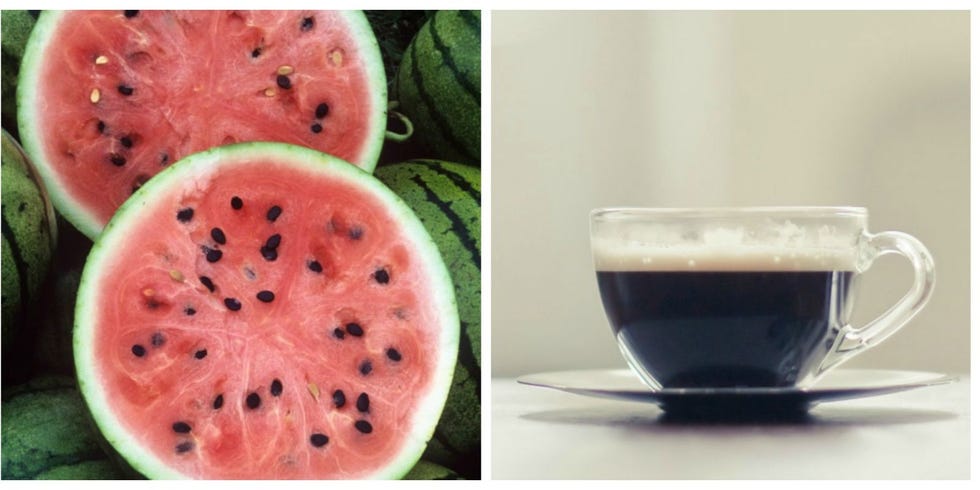 When a headache strikes, you may run through your usual routine: Turn out the lights, lie down and pop a pain pill. But did you know that certain foods may ease, and even prevent, headaches? Add these soothing foods to your shopping list and find out for yourself.