May 26, 2020: There may have been some positive changes in your earning ability, and your wallet could be heaving a sigh of relief right about now. Just make sure that you stay ahead of the curve! Now is not the time to spend all your money just because having some to spend feels so nice. Stick to your budget and let the savings accrue. And then in a little while you'll have a nice big chunk to spend on something worthwhile.
May 26, 2020: You're feeling good this morning, which bodes well for the entire day. Add a bit more flirtation and flattery to a few serious conversations and watch what happens. There will be a lot of fun-loving people who want to talk to you today. They like your style so much that they want to be in your social circle. This might cause a few growing pains, but any stretching to accommodate new people will be worth the energy that they bring to your life.
May 26, 2020: There are some obstacles to overcome before you can get closer to someone you've had your eye on for a while, but those walls are going to start tumbling down soon. This means that it's a great time to make your big move and dive into something new! There is a social net there to catch you when you take that leap, so don't worry about it. The last thing on your mind should be doubt. It's time to make a stronger connection.
May 26, 2020: Your generosity is legendary, and it could come into play in a big way today. You're going to use it to help lots of people before you even eat your lunch! But putting smiles on faces will make your day. Just be careful how you go about giving the gift of your wisdom. Make sure you're not making people believe that they need to do exactly what you tell them to do. Otherwise, your ideas will seem less like help and more like rules to obey.
May 26, 2020: You're learning to appreciate the fact that when a goal is too easy to attain, it isn't as valuable as something that takes sweat and toil to reach. Don't hesitate to take a more difficult route than everyone else is taking. They might get there more quickly or easily, but they aren't going to learn as much from the experience. In the end, your journey will reward you. Your newfound pride will feed your ego and get you noticed by the people who matter.
May 26, 2020: Your energy is slower today, and you might find it difficult to communicate with people who don't already know you inside and out. In conversations with newer acquaintances, you might start to feel like you're waist deep in mud, immobile and incapable of any forward progress. But if you adjust your expectations and try to be okay with little or no progress today, you'll still be able to enjoy all your interactions. Just don't expect too much.
May 26, 2020: Despite the fact that you always try to seek equality, you know that the world can be an unfair place. If someone you care about gets the short end of the stick today, you should focus more on consoling them than on getting righteously indignant about their situation. You'll be a better friend for helping them get over the slight than getting them all riled up about it. Everything can't be completely equitable all the time, and they need to accept that.
May 26, 2020: Some of the people you'll be dealing with today don't have your same priorities, so you need to double-check their work and make sure they don't have too much authority over group issues. While you want to get things done, they may just want to goof off. Be prepared to deal with interruptions from them today. You'll have to take the heat if the work isn't done, so any extra effort you make is in your own best interests.
May 26, 2020: Your mind is sharply tuned in to small details, and you're extremely focused on work today, but, unfortunately, that may not be the case for everyone else. Most folks just want to have fun, a fact you'll have to accept if you don't want to have a very frustrating day. Let people do what they want while you take care of the work you need to do. Trying to force people to do what you want them to do is a lost cause. Don't waste your energy.
May 26, 2020: The best way to ramp up the romance in your life right now is to put yourself in more challenging situations! When you make yourself feel a little uncomfortable, you force yourself to rely on your wit and bravado to get through, and that's when you positively shine! People won't be able to resist the energy you bring to the conversation, and they won't be shy about wanting to know more about what makes you tick.
May 26, 2020: At first it might look like one of your past mistakes is coming back to haunt you, but don't worry! This close call will pass you by, and you should feel free to keep smiling all day without worry. You can't let your imagination run wild with fears about something that doesn't really exist, especially when you have so many wonderful things in your reality right now! Whatever happens today, you need to stay positive. The storm clouds are passing.
May 26, 2020: Your creativity is itching for a new way to express itself, and you might find that new way in the kitchen! Cooking is a wonderful blend of order and chaos, and it lets you really express yourself. Plus, it gives you a great opportunity to do something nice for someone you care about by feeding them delicious food! Start going through some of your favorite recipes. You've got a good meal to prepare.
8 FOODS THAT CAN HELP SOOTHE A HEADACHE
Reach for one of these healthy ingredients the next time your head is pounding.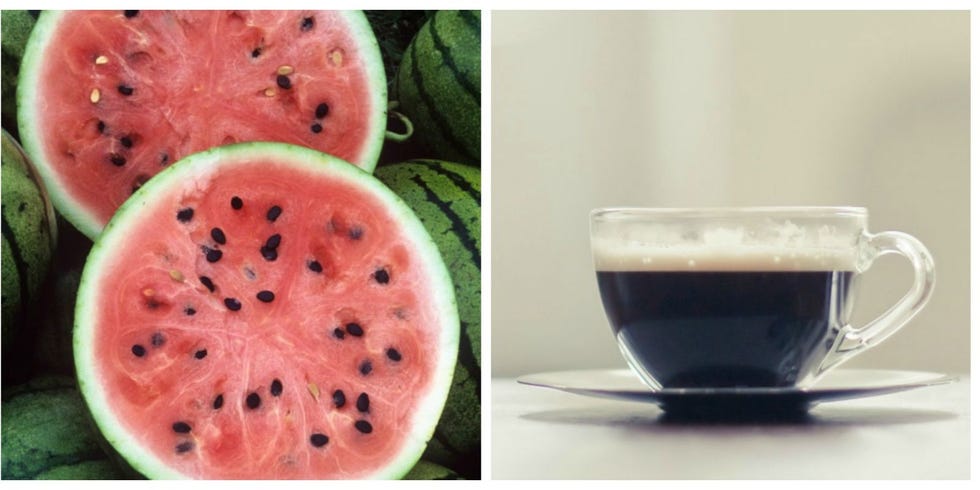 When a headache strikes, you may run through your usual routine: Turn out the lights, lie down and pop a pain pill. But did you know that certain foods may ease, and even prevent, headaches? Add these soothing foods to your shopping list and find out for yourself.